Friday Short Haul - Weight limits increase, food trucks not wanted in rest areas, FMCSA extends HOS exemptions
Last Updated: Thu, April 9, 2020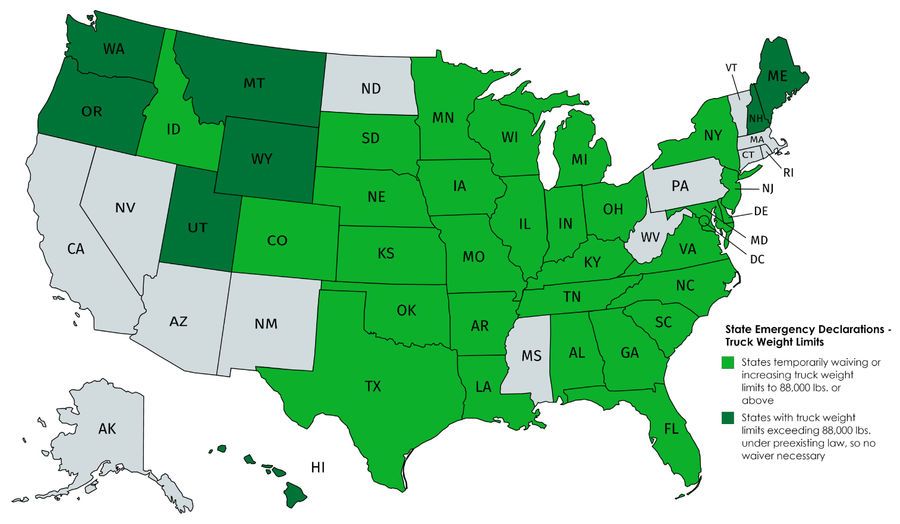 States increase weight limits for trucks hauling COVID-19 essential freight
FMI, the Food Industry Association, has released an "issue paper" illustrating which states have declared a state of emergency in answer to the COVID-19 crisis, and have relaxed regulations restricting the gross weight for transporting freight in their states.
They have provided a map, updated daily at 4 pm, which shows which states have temporarily waived weight restrictions.
Many states have increased the allowable weight limit to 90,000 pounds for trucks of at least five axles involved in the relief effort. The waiver, however, does not apply to load limits at bridge crossings.
In the map above, the states colored in light green have declared emergencies and have declared changes in hours of service and weight limits. The dark green states already have weight limits exceeding 88,000 pounds.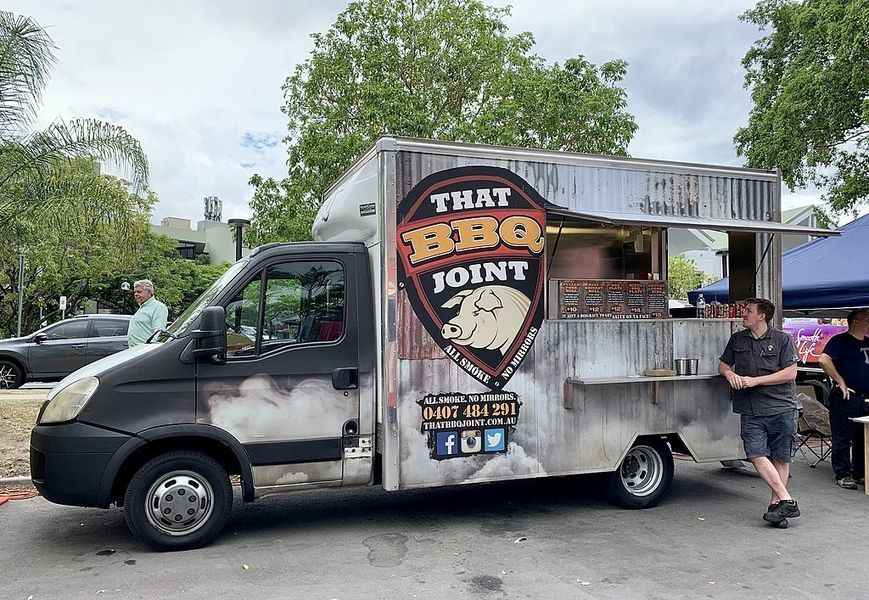 Truck stop owners challenge allowing food trucks in rest areas
A declaration last week by the Federal Highway Administration allowing food trucks to park at rest areas in order to serve truck drivers during the COVID-19 panic has sparked some contention between the agency and a coalition of truckstop operators, restaurants, convenience stores and gas stations.
And, of probably no surprise to anybody, the Owner-Operator Independent Drivers Association has jumped into the fray, siding with the FHWA.
The FHWA received a letter on Wednesday from the coalition of 11 groups representing tens of thousands of off-highway food service businesses cautioning the agency about future problems that might ensue from allowing food trucks to operate at rest areas.
The coalition acknowledged the importance of providing truck drivers with food services during the crisis, but told the FHWA of their concerns that many food service businesses are struggling to stay open and keep people employed.
The letter went on to suggest that since truck stops are still open with at least limited food service available food trucks be allowed only at rest areas "that are located on stretches of the interstate system where there are no open food service operations in close proximity that are available to truck drivers," in order not to siphon off business from those open establishments.
The coalition asked for an exit plan for the FHWA declaration:
"In addition, we respectfully ask that you commit to not further expanding this non-enforcement guidance beyond food trucks during this epidemic, and once the state of emergency ends immediately revert back to enforcing the long-standing ban on commercializing interstate rest areas," the letter stated.
Members of the group making up the coalition include the National Association of Truck Stop Owners, the National Restaurant Association, National Association of Convenience Stores and the Petroleum Marketers Association of America.
OOIDA, in its letter to the FHWA supporting the agency for its decision and thanking them noted that "many restaurants, travel centers and truck stops have closed entirely, reduced hours of operations, restricted access to drive-thru or implemented other limitations that hamper the ability of drivers to find meals."
Saying that it really comes down to a competition issue, OOIDA stated:
"It looks as though NATSO wants drivers to remain largely beholden to truck stops at all times, even during a national crisis," said OOIDA President and CEO Todd Spencer in an OOIDA news release.
"With such a totally self-centered and short-sighted perspective, we are not surprised they are fighting even temporary support for truckers in getting the meals they desperately need and are struggling to find while on the road," Spencer added.
FMCSA extends HOS exemption to May 15
As the April 12 deadline approaches for the original recent emergency declaration by the Federal Motor Carrier Safety Administration to waive some hours of service regulations, the agency has now declared an extension through May 15.
Saying the nationwide COVID-19 emergency still exists, the FMCSA extended the time period for carriers to use the HOS exemption for transportation of essential supplies, equipment and persons, and added a new exemption to cover liquefied gases to be used in refrigeration or cooling systems.
As previously reported at Trucking Truth the HOS exemption is not a blanket one.
FMCSA is clear in stating the exemption applies only to drivers engaged in transporting specific essential items required to deal with the virus emergency:
medical supplies and equipment related to the testing, diagnosis and treatment of COVID-19;
supplies and equipment necessary for community safety, sanitation, and prevention of community transmission of COVID-19 such as masks, gloves, hand sanitizer, soap and disinfectants;
food, paper products and other groceries for emergency restocking of distribution centers or stores;
immediate precursor raw materials -- such as paper, plastic or alcohol -- that are required and to be used for the manufacture of items in the above categories;
fuel; now including liquefied gases to be used in refrigeration or cooling systems;
equipment, supplies and persons necessary to establish and manage temporary housing, quarantine, and isolation facilities related to COVID-19;
persons designated by Federal, State or local authorities for medical, isolation, or quarantine purposes; and
persons necessary to provide other medical or emergency services, the supply of which may be affected by the COVID-19 response.
Direct assistance does not include routine commercial deliveries, including mixed loads with a nominal quantity of qualifying emergency relief added to obtain the benefits of this emergency declaration.
Sources: FMI, FreightWaves, OOIDA news release, FMCSA
Tagged Under:
Adverse Conditions
FMCSA
Hours Of Service
Truck Stops
Weight and Scales