Starsky Robotics calls it quits
Last Updated: Mon, March 23, 2020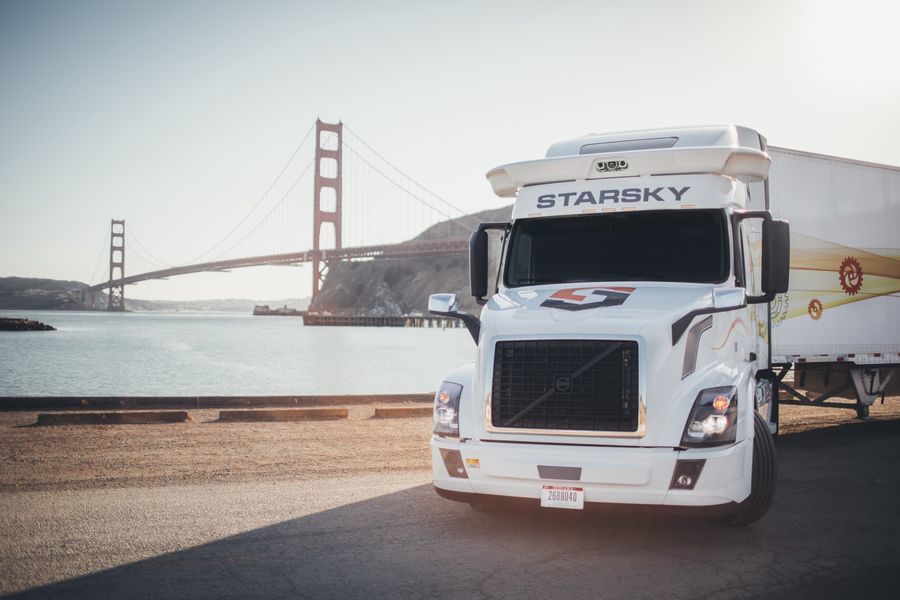 "Ironically, we were planning on launching a fleet of 10 v2 trucks by January 2020. These systems were designed to be consistent enough to enable us to prove safety across the broader fleet, allowing unmanned regular service by June 2020." – Starsky co-founder Stefan Seltz-Axmacher in a Medium blog post.
Investor money going to other autonomous vehicle startups instead of to his company, and a downturn in freight rates, is the reason given by Starsky Robotics co-founder Stefan Seltz-Axmacher for ending Starsky's experiment with remote-driven trucks.
In a blog post at Medium.com titled "The End of Starsky Robotics," Seltz-Axmacher noted some of the company's firsts:
"In 2015, I got obsessed with the idea of driverless trucks and started Starsky Robotics. In 2016, we became the first street-legal vehicle to be paid to do real work without a person behind the wheel. In 2018, we became the first street-legal truck to do a fully unmanned run, albeit on a closed road. In 2019, our truck became the first fully-unmanned truck to drive on a live highway."
But then the autonomous vehicle startup became one of the first to call it quits.
"Timing, more than anything else, is what I think is to blame for our unfortunate fate. Our approach, I still believe, was the right one, but the space was too overwhelmed with the unmet promise of AI to focus on a practical solution. As those breakthroughs failed to appear, the downpour of investor interest became a drizzle."
Barely three years old, the autonomous vehicle startup took a unique approach to developing self-driving commercial trucks. Their model was to put driverless trucks on the road in autonomous mode for the bulk of the trip, and then have a "driver" at a remote location handle the tricky situations involved in the final miles and at the shippers and receivers.
Seltz-Axmacher noted that he believes society is still "at least 10 years away from self-driving cars."
"There are too many problems with the AV industry to detail here: the professorial pace at which most teams work, the lack of tangible deployment milestones, the open secret that there isn't a robotaxi business model, etc.," he wrote in his Medium blog post.
"The biggest, however, is that supervised machine learning doesn't live up to the hype. It isn't actual artificial intelligence akin to C-3PO, it's a sophisticated pattern-matching tool," he added.
The problem, according to Seltz-Axmacher, arose from their dependence on an increase in AI technology keeping pace with Starsky's need to implement AI into their systems.
"Back in 2015, everyone thought their kids wouldn't need to learn how to drive. Supervised machine learning (under the auspices of being "AI") was advancing so quickly — in just a few years it had gone from mostly recognizing cats to more-or-less driving," he wrote.
But that kind of growth hasn't yet happened. "Five years later and AV professionals are no longer promising Artificial General Intelligence after the next code commit. Instead, the consensus has become that we're at least 10 years away from self-driving cars," he said.
The stumbling block to the kind of AI technology required to get a commercial truck safely from point A to point B is that the technology still can't deal with situations that happen uncommonly – something that Seltz-Axmacher calls the "edge cases."
According to FreightWaves, Starsky began experiencing growing pains by December 2019, and sent out feelers to other autonomous startups like Embark, Cruise, Tesla, Nikola Motor and Amazon asking if they would be interested in purchasing Starsky.
But Starsky got no takers. "Unfortunately, when investors cool on a space, they generally cool on the entire space," he wrote. "We also saw that investors really didn't like the business model of being the operator, and that our heavy investment into safety didn't translate for investors," Seltz-Axmacher wrote.
Starsky had managed to raise more than $20 million in funding, but failed to boost that funding to the amounts acquired by some of the other startups like the almost $300 million raised by TuSimple, the $200 million raised by Plus.ai, or the $52 million raised by Ike.
Then in November 2019 their "$20m Series B fell apart," according to Seltz-Axmacher's blog post, and they began laying off most of their engineers and office personnel.
"We furloughed most of the team on the 15th (probably the worst day of my life), and then started work on selling the company and making sure the team didn't go without shelter (or visa status, or healthcare for the new and expectant parents)," he wrote.
"We were able to land many of the vulnerable jobs by the end of January and I'm in the process of selling the assets of the company (which includes a number of patents essential to operating unmanned vehicles). Like the captain of a sinking ship, I've gotten most of the crew on lifeboats and am now noticing the icy waters at my ankles while I start to think about what I do next."
Even Starsky's over-the-road commercial freight division took a hit from the lack of funding and the downturn in freight rates, and by December 2019 the trucking operation was operating at a loss. They decided to park all the trucks and lay off all the drivers.
In the close to his blog post Selt-Axmacher waxed philosophical: "The aging workforce which will almost certainly start to limit economic growth in the next 5–10 years; the 4,000 people who die every year in truck accidents seem a needless sacrifice."
"If we showed anything at Starsky, it's that this is buildable if you religiously focus on getting the person out of the vehicle in limited-use cases. But it will need to be someone else to realize that vision."
Sources: Medium blog post, FreightWaves, Overdrive
Tagged Under:
Autonomous Trucks
Self-Driving Vehicles
Truckers Technology
Trucking News