Friday Short Haul - Embark gets financing, FMCSA announces safety grants, Covenant exits Mexico routes, and trucking statistics
Last Updated: Fri, September 27, 2019
Local drivers do pickup and drop-off while Embark trucks operate hub-to-hub, separating long-haul driving from other traditional driver tasks. To begin, a human driver ferries freight from origin to Embark's transfer hub, located just outside the origin city. The freight is then transferred to an Embark truck by a qualified Hub Technician, who performs docking, pre-trip inspection, and other responsibilities of a long-haul driver. Once cleared for departure by the Hub Technician, the Embark truck leaves the transfer hub, drives onto the interstate, and travels hundreds or thousands of miles under computer control. Once the Embark truck reaches its destination transfer hub, a local driver receives the freight and delivers it to its final destination. -- Embark News Release
Embark gets infusion of investment to expand, creates LA and Phoenix hubs
Apparently, all (autonomous) truck roads lead to Phoenix.
Embark Trucks Inc., featured previously at Trucking Truth, has raised $70 million in funding, and will use that boon in capital to grow its fleet of trucks and open hubs for dedicated routes between Los Angeles and Phoenix.
Embark joins two other relatively new autonomous big-rig innovators, Starsky Robotics and TuSimple, in basing at least one leg of their transportation hubs in Phoenix. Starsky and TuSimple routes head south and east out of town, while Embark intends to cover the westward route.
Embark leaders say their development of driverless trucks is motivated, in part, by wanting to help alleviate the driver-shortage problem.
The company is using the hub concept to cover the long-mile freight from hub to hub knowing that shippers and distribution centers will not be changing their processes any time soon to accommodate driverless vehicles. Traditional drivers will then take over moving the freight from Embark's hubs to receivers and distribution centers.
"One of our greatest learnings from spending time with customers over the last two years is that the transition to self-driving trucks involves a lot more than getting a truck to drive safely on its own," wrote Embark CEO Alex Rodrigues. "Our customers rely on truck drivers to navigate their yards, load freight, and process paperwork — distribution centers aren't going to change these practices anytime soon."
So far, Embark has signed up five Fortune 500 companies to begin using Embark's Los Angeles to Phoenix network.
Embark has doubled the number of its employees to 70 in the past 12 months, and has announced it is now hiring again. And is expanding their fleet of 13 trucks.
FMCSA announces $77 million in safety grants
In an effort to assist state and local officials in preventing commercial motor vehicle crashes the Federal Motor Carrier Safety Administration has released $77.3 million in grants to state and educational institutions.
Among the projects to be funded are included:
$43.3 million in High Priority (HP) grants to enhance states' commercial motor vehicle safety efforts, as well as advance technological capability within states.
$32 million in Commercial Driver's License Program Implementation (CDLPI) grants to enhance efforts by states to improve the national commercial driver's license (CDL) program.
$2 million in Commercial Motor Vehicle Operator Safety Training grants to sixteen education institutions to help train veterans for jobs as commercial bus and truck drivers.
High Priority (HP) grant programs help fund state commercial vehicle safety efforts, and provide financial assistance in promoting the development of intelligent transportation systems for commercial motor vehicle operations.
Commercial Driver's License Program Implementation (CDLPI) grants go to states' to help them achieve compliance with FMCSA regulations concerning driver's license standards and programs.
And the Commercial Motor Vehicle Operator Safety Training grants are given to a variety of educational institutions that provide commercial truck and bus driving training, including accredited public or private colleges, universities, vocational-technical schools, post-secondary educational institutions, truck driver training schools, associations, and state and local governments, including federally recognized Native American tribal governments.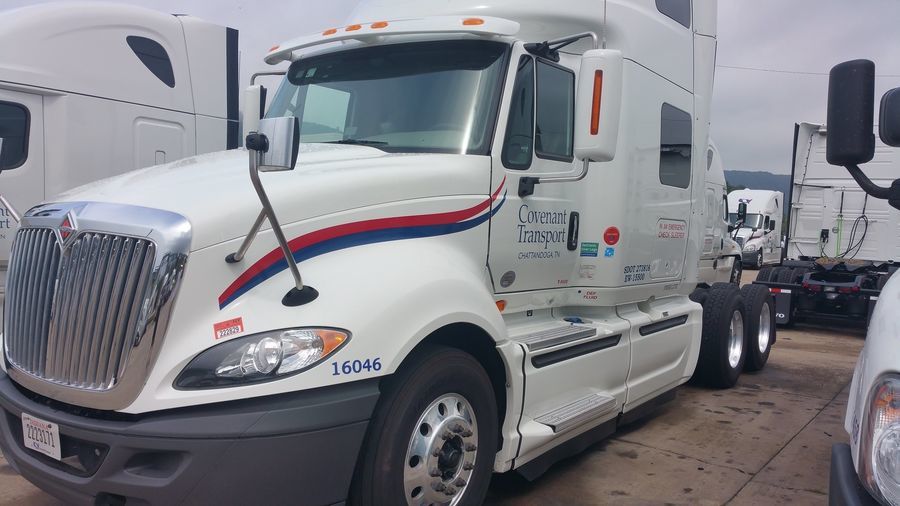 Covenant Transport ending service to Mexico
Citing difficulties and delays with border crossings, a drop in spot market pricing, increasing detention times and freight density not meeting goals Covenant Transport announces it will no longer serve customers in the interior of Mexico.
The Tennessee-based large carrier -- Covenant has more than 7,000 trailers on the road -- will continue to service gateways at Laredo and El Paso crossings.
Andy Vanzant, senior vice president of Highway Services at Covenant Transport Services, told FreightWaves, "Our drivers experience major delays at the borders, with long transloading and inspection times. These delays have negatively impacted our business and created driver-unfriendly conditions and freight. We have been unable to gain the density needed to balance the gateways to our reefer flagship, not to mention in the interior of Mexico."
Covenant joins another large carrier, U.S. Xpress, which also ended its inner Mexico routes this year.
To offset the drop in capacity from these two major carriers abandoning Mexican lanes, industry leaders say they will begin transloading freight, particularly sensitive refrigerated or frozen products, into large border warehouses.
Some things about trucking you might not know
UpKeep, a website for the maintenance field, has published a list of interesting facts about the trucking industry. At the risk of being accused of "preaching to the choir," we're betting that some of these facts and statistics here might be news to even the most-experienced Trucking Truth veterans.
General Points of Interest
If the American trucking industry was its own nation, it would take the 33rd spot globally in 2017.
Over five percent of jobs in the USA are related to the trucking industry in some way.
70%+ of all goods in America have been on a truck at some point in time.
The average grocery store will run out of food in three days if it's not replenished–by trucks.
A truck needs 40% more time to stop than the average car.
Business and Financial Matters
Most trucking companies are small businesses.
Trucking is about a $680 billion industry that employs around 7 million people.
Sadly, as of February 2019, no overseer in the Federal Motor Carrier Safety Administration has ever been a trucker.
EPA emission regulations over the last few years have cut the exhaust output of trucks by over 95%.
Maintenance Stats
Because of the 4 million-plus miles of road that the industry uses, truckers have a vested interest in road maintenance and infrastructure.
Compared to other industry segments, maintenance and repair costs are much higher.
Repair and maintenance costs have gone steadily up over the last few years.
Sources: Embark news release, FMCSA, FreightWaves, UpKeep
Tagged Under:
Autonomous Trucks
Covenant Transport
FMCSA
Self-Driving Vehicles
Truckers Technology
Trucking Industry Concerns