Friday Short Haul - Operation Safe Driver Week, Canadian border, fuel cell semis hit the road
Last Updated: Fri, July 10, 2020

37-point inspection to be part of Roadcheck blitz next week
The International Roadcheck inspection blitz originally scheduled for May was postponed because of virus concerns. The Commercial Vehicle Safety Alliance has now rescheduled the Roadcheck to happen next week … this time with a different focus.
Now called "Operation Safe Driver Week" the inspection blitz is set for July 12 through July 18. Both commercial vehicles and cars will be brought to the side of the road this time.
CVSA says that because of the increase in speeding incidences brought upon by there being less traffic on the roads due to virus lockdowns CVSA has selected speeding as the focus for alerting officers to take a deeper look at drivers and vehicles.
Originally, the focus of the May Roadcheck was driver requirements – CDLs are in order, medical cards up to date, seat belts being used and ELD compliance for records of duty status – with a special emphasis on ELD compliance because of recent implementation of the ELD mandate.
Once a commercial vehicle is at the side of the road, however, inspectors will conduct a full 37-point North American Standard Level I inspection, checking brake systems, cargo securement, driveline components, exhaust systems, frames, fuel systems, lights, steering, suspension, tires, etc.
During last year's inspection blitz inspectors took more than 12,000 trucks and 2,700 drivers out of service. Of those drivers, 32 percent were found to have hours of service violations, 22.5 percent held the wrong class of license, and 14.7 percent had falsified their logs.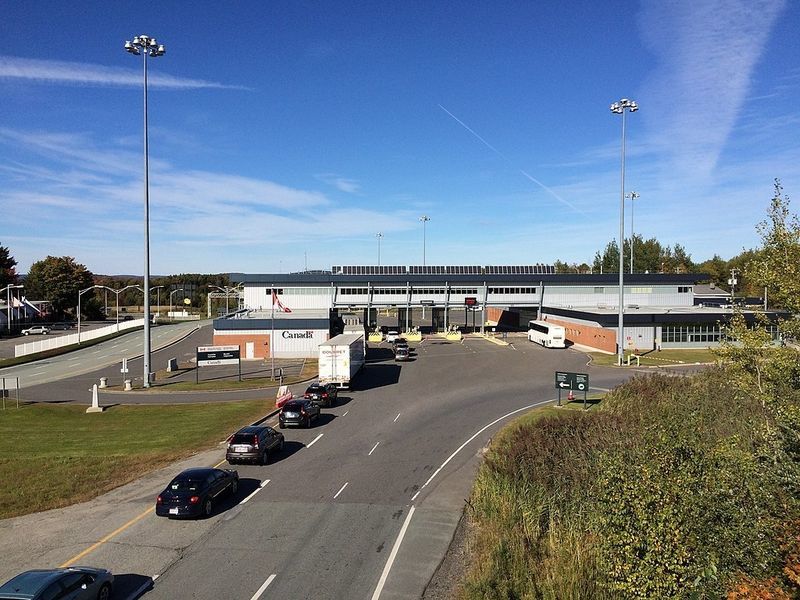 Canada border inspection station at Stanstead 55
Truckers crossing into Canada no longer exempt from having to submit contact information
Beginning in March, Canada instituted a policy where travelers into the country had to complete a Traveler Contact Information form that allowed officials to monitor and enforce the mandated 14-day quarantine.
Some essential workers, particularly commercial truck drivers were exempt from the quarantine and from having to divulge personal contact information if they showed no symptoms of the COVID-19 virus.
Now, officials at certain U.S. to Canada border crossings are requiring truck drivers to give out personal email address and cell phone numbers so officials can track the spread of the virus around the country.
The purpose of requiring this contact information from truck drivers is so they may be contacted any time during the 14-day quarantine period that begins for them the day when they crossed the border into Canada.
Currently, personal contact information will be required from truck drivers at the following checkpoints:
St. Stephen, NB 3rd Bridge/Calais ME
St. Armand, QC/Highgate Springs, VT
Lansdowne, ON/Alexandria Bay, NY
Queenston-Lewiston Bridge, Queenston, ON/Lewiston, NY
Coutts, AB/Sweet Grass, MT
Pacific Highway, Surrey, BC/Blaine, WA
Health officials may add more entry locations as the country continues to track the spread of COVID-19 across their border.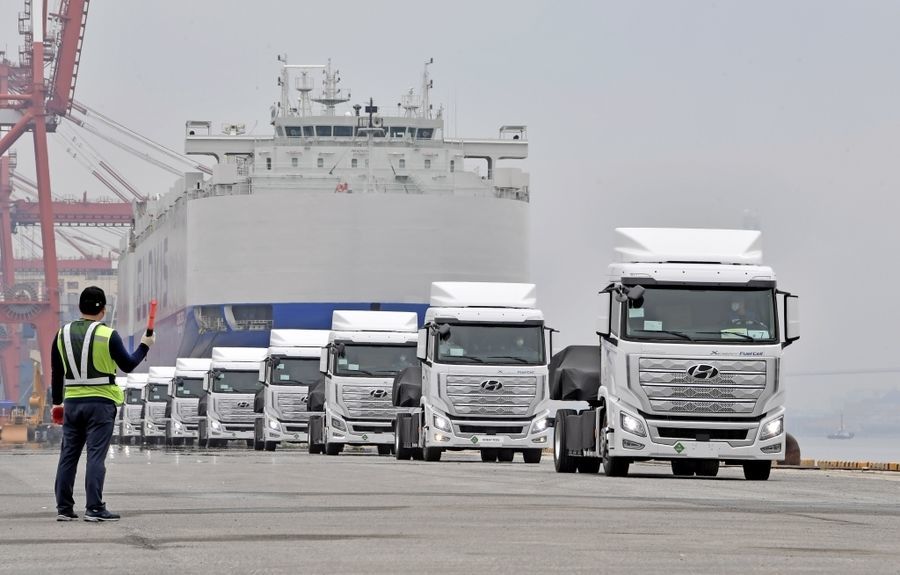 World's First Fuel Cell Heavy-Duty Truck, Hyundai XCIENT Fuel Cell, Heads to Europe for Commercial Use
Hyundai ships fuel-cell semis to Switzerland, eyes North America next
In a move that must have California clean-air proponents salivating, Hyundai Motor Company announces the shipment of 10 Hyundai XCIENT Fuel Cell equipped Class 8 trucks to Switzerland, with plans to up that to 50 later this year.
The company expects to produce 1,600 fuel cell trucks by 2025, with an eye toward entering the North American market.
The trucks going to Switzerland have limited range.
"The driving range per charge for XCIENT Fuel Cell is about 400km, which was developed with an optimal balance between the specific requirements from the potential commercial fleet customers and the charging infrastructure in Switzerland. Refueling time for each truck takes approximately 8 to 20 minutes," according to a Hyundai news release.
However, by the time fuel cell trucks hit the North American market the range will be increased to 1,000 kilometers on a single charge.
Sources: Truck Parts and Service, CDL Life, Hyundai News
Tagged Under:
Adverse Conditions
Truck Equipment
Truck Maintenance
Trucking Industry Concerns