Operation Safe Driver Week is under way, ends July 17
Last Updated: Tue, July 13, 2021
The Commercial Vehicle Safety Alliance's Safe Driver Week is under way, running from July 11 through July 17 throughout the United States, Canada and Mexico.
Different than the recent International Roadcheck, Operation Safe Driver is meant to be an outreach for safe-driving awareness where law enforcement personnel are on roads and highways watching for commercial truck drivers driving unsafely, as well as passenger car drivers who are operating unsafely around the big rigs.
The emphasis for Safe Driver Week this year is on speeding because:
Speeding was a factor in 26% of all traffic fatalities in 2018, killing 9,378 people or an average of more than 25 people per day.
Data shows that even a 10 mph (16 km/h) increase in speed ups the risk of a crash by 9.1%.
Speeding continues to be the number one cited driver-related factor in highway fatal crashes. Besides speeding, law enforcement personnel will also be watching for unsafe and dangerous practices like distracted driving. Drivers who are identified as unsafe will be cited or will be given a warning.
CVSA is concerned that although total miles driven in 2020 had decreased by 13 percent because of the COVID lockdowns, fatalities increased by 24 percent over the previous 12-month period.
According to the CVSA, "With the decrease in the number of vehicles on our roadways last year due to the pandemic, we expected a decrease roadway fatalities; however, not only did the rate of roadway deaths increase, that increase is the highest estimated year-over-year jump the National Safety Council has calculated in 96 years. This is, simply put, unacceptable. And the members of CVSA will do everything they can to reverse that alarming trend. Operation Safe Driver Week is part of that commitment."
The organization cited studies showing that interaction with law enforcement tends to change drivers' behaviors.
CVSA President Sgt. John Samis with the Delaware State Police explained the rationale for Operation Safe Driver.
"We know that roadway fatalities and crashes have increased, we know that drivers' actions are often the cause of crashes, and we know that after a person is pulled over and warned or cited by a member of law enforcement, that person's driving actions improve," Samis said.
"We took what we know about causes of crashes and interventions to reduce the number of crashes, and made that into an actionable and measurable traffic enforcement safety initiative – Operation Safe Driver Week."
Samis also explained why passenger car drivers are included in a program sponsored by an organization that it primarily interested in commercial vehicle safety.
"Although CVSA is a commercial motor vehicle safety organization, it was important that passenger vehicle drivers were also involved in this annual week-long driver safety enforcement initiative," he said.
"When commercial motor vehicles and passenger vehicles collide, no matter who was at fault, the results can be catastrophic, especially for the smaller and lighter passenger vehicle. Preventing crashes from happening requires every driver – commercial and personal – to be aware of how to safely share the road with other types of vehicles."
During the week, enforcement officers throughout North America will keep track of their interactions with commercial and passenger vehicle drivers, and then will submit a report to the CVSA, which will then be compiled into a report later in the year.
The program is co-sponsored by the United States Federal Motor Carrier Safety Administration, the Canadian Council of Motor Transport Administrators, and Mexico's Ministry of Communications and Transportation and its National Guard. Further support for the program also comes from the motor carrier industry and transportation safety organizations.
First launched in 2007 under a partnership with the FMCSA, the Operation Safe Driver program:
Targets unsafe driving behaviors by passenger vehicle drivers and commercial drivers
Educates youth about safely sharing the roads with large trucks and buses
Offers commercial driver educational and awareness programs to the motor carrier population
Increases awareness to the general motoring public about safe operations around commercial motor vehicles
Aims to improve commercial motor driver regulatory compliance
Conducts passenger vehicle and commercial motor vehicle traffic enforcement initiatives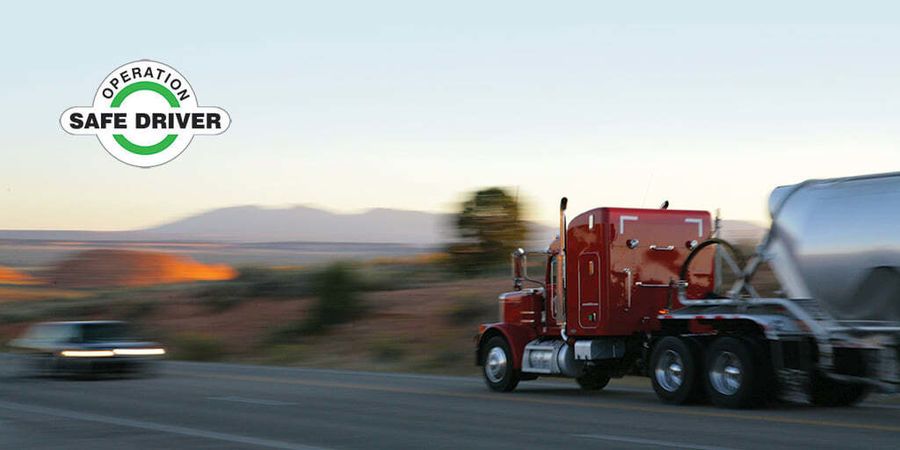 Results of last year's Safe Driver Week
Last year's Operation Safe Driver Week took place July 12-18, and involved some 3,681 law enforcement officers from 55 Canadian and U.S. jurisdictions, interacting with 29,921 commercial vehicle drivers and 36,500 passenger vehicle drivers.
During the week, 66,421 drivers were observed driving unsafely, and 71, 343 warnings and citations were issued.
Of that total, 42,857 were for traffic enforcement violations, and 28,486 were for state or local driver violations. Speeding, distracted driving, following too closely, improper lane changes, failure to wear a seat belt featured in many of those violations.
Some 4,659 citations and 6,077 warnings were issued to truck drivers, and passenger car drivers received 17,329 citations and 14,792 warnings, with speeding being the most-cited traffic violation for commercial truck drivers during the 2020 Safe Driver Week period.
Some additional information that came out of the results from last year's Safe Driver Week program:
Passenger vehicle drivers received nearly three times as many warnings and citations (32,121) as commercial motor vehicle drivers (10,736 warnings and citations).
Speed-related offenses was the top traffic enforcement violation for both types of drivers; however, passenger vehicle drivers received 14,378 citations versus 2,339 citations to commercial motor vehicle drivers. Passenger vehicle drivers were cited for speeding more than six times as much as commercial motor vehicle drivers.
Although commercial motor vehicle drivers are prohibited from using a hand-held device while operating their vehicle, it was the fourth ranked traffic enforcement citation for commercial motor vehicle drivers (269 citations) versus ranking 12th for passenger vehicle drivers (58 citations).
Failure to wear a seatbelt accounted for 4.25% of the total number of passenger vehicle driver warnings and citations (1,364) versus 16.42% of the total number of commercial motor vehicle driver warnings and citations (1,763).
Although this year's Operation Safe Driver Week occurred during a pandemic, there was a difference of less than 700 contacts made between law enforcement and commercial motor vehicle drivers compared to last year – 29,921 contacts in July 2020 versus 30,619 in July 2019. However, there was a larger discrepancy between 2020 and 2019 for interactions between law enforcement and passenger vehicle drivers. In 2019, 70,321 contacts were made compared to 36,500 in 2020. That's almost half as many contacts this year compared to last year.
Passenger vehicle drivers were given 14,792 warnings; commercial motor vehicle drivers received 6,077.
Passenger vehicle drivers received 17,329 citations; commercial motor vehicle drivers were issued 4,659.
---
Dave Wickenhauser went on the road driving big rigs after retiring from 33 years in newspaper journalism. His trucking novels, Crimson Highway, the first in the Hugh Mann series, and the sequel, Road Test, are available at Amazon as paperbacks, and as Kindle ebooks.
Sources: CVSA Safe Driver Week, 2020 SDW results, Operation Safe Driver
Tagged Under:
Coronavirus
Distracted Driving
FMCSA
Safe Driving Tips
Truck Driver Safety
Trucking News