Loses appeal: Walmart ordered to pony up $54 million to drivers
Last Updated: Tue, January 7, 2020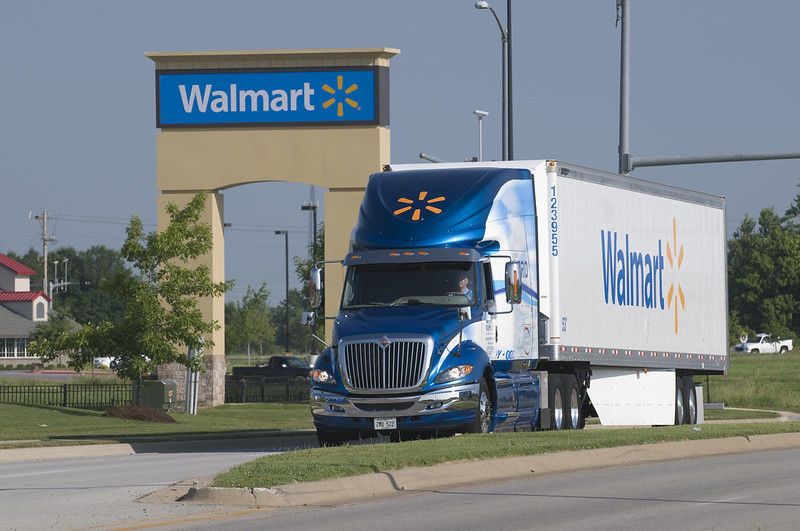 In a decision on January 6 that could have far-reaching consequences for every carrier operating in California, a Ninth Circuit Court of Appeals upheld a lower court's ruling granting Walmart's California drivers lost wages for time spent on their 10-hour layover break while they were responsible for their trucks.
Specifically, the appeals court agreed with the lower court's ruling granting Walmart drivers $54.6 million in lost wages; which includes $44.7 million for layovers, $4 million for rest breaks, $3 million for conducting pre-trip inspections, and $3 for post-trip inspections.
The lower court also granted $5.86 million in restitution and $300,000 to compensate class representatives.
The lawsuit began a decade ago in an Alameda County, California, Superior Court, and was originally brought by four Walmart drivers.
After a delay because of waiting for a U.S. Supreme Court ruling on a related issue, the lawsuit was moved to federal court. But in the intervening time two of the plaintiffs had died, one had lost interest in pursuing the case, and the remaining class member's attorney had doubts about that driver being able to adequately represent the class.
Plaintiff's attorney then demanded that Walmart "turn over information about potential class members so that counsel could determine the identity of new plaintiffs and class representatives," according to court documents.
A new class was certified, and the Federal District Court trial began in 2016.
The main pillar of Walmart's defensive argument is that the company does not control its drivers during their 10-hour layover, thus should not be required to compensate them.
Sounding like a Catch-22 proposition, Walmart claimed that drivers need not take their layover in the truck, and they may ask for permission to sleep anywhere other than in their cab. However, drivers said that they rarely were able to receive that permission, especially if they were hauling a high-value load.
Walmart does offer a $42 "inconvenience fee," to drivers who are required to sleep in their cab during their layover. The court invoked California law regarding compensation for drivers spending their layovers with their trucks, and ruled that Walmart exercised control over employees during the mandated layovers, so drivers deserved compensation.
"In California, an employer must pay minimum wages whenever it controls the employee," the appeals court stated. "And there is no reason to think that, as a matter of law, an employer cannot exercise control of a trucker even when the driver is taking a legally-mandated break."
According to appellate court documents, "These provisions make no mention of the $42 inconvenience fee and instead require drivers to seek preapproval before choosing to take a break at home."
"Thus, when read comprehensively and in context, Walmart's written policy clearly prohibits drivers from taking a layover at home unless they receive prior approval. Walmart's argument to the contrary lacks textual support."
The court went on to say that drivers' liberty and freedom of movement was controlled by Walmart in that Walmart policy states drivers cannot take their 10-hour break at home without preapproval, and that drivers are free to leave their trucks during breaks to engage in personal activities, but they cannot go home.
Walmart's appeal before the Ninth Circuit Court of Appeals was heard by Circuit Judges Diarmuid F. O'Scannlain, Eugene E. Siler, and Jacqueline H. Nguyen.
Judge Siler wrote the opinion, and Judge O'Scannlain wrote a partial concurrence and a partial dissent.
In his opinion affirming the lower court's ruling Judge Siler stated:
Long-haul truckers perform a vital service in the nation's economy. No wonder then, that Wal-Mart, among the world's largest retail companies, employs hundreds of truck drivers. Still, over a decade ago, drivers in California felt that Wal-Mart did not pay them properly in accordance with California law. So they sued in a class action. After a sixteen-day trial, the jury agreed with Wal-Mart on most issues. On some claims, however, the jury sided with the class of truckers and awarded tens of millions of dollars in damages.

Now, Wal-Mart asks this panel to erase that judgment. Wal-Mart contends that the district court erred at every step along the way—in concluding that it had jurisdiction, in certifying a class, in interpreting California minimum wage law, in allowing expert testimony, and in providing jury instructions.

But it is improper for this court to play armchair district judge. In the end, while Wal-Mart makes some compelling points, Wal-Mart raises no reversible error. Additionally, the district court properly concluded that liquidated damages are not owed under California law because Wal-Mart demonstrated that it acted in good faith and with a reasonable belief in the legality of its conduct. Accordingly, we AFFIRM.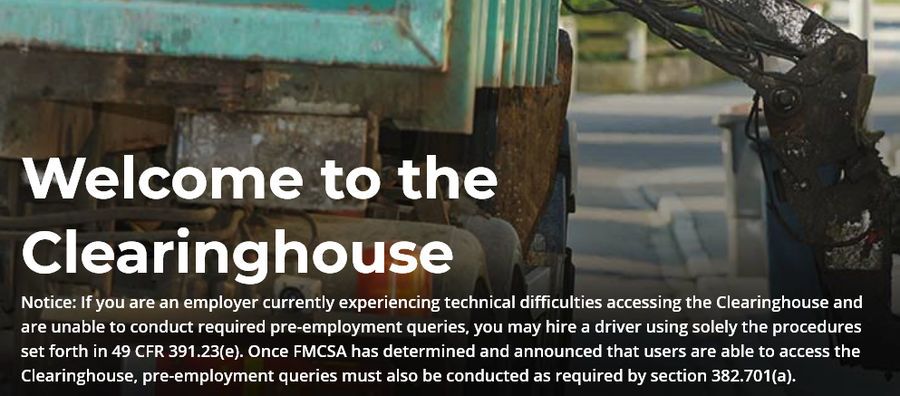 FMCSA's Clearinghouse website overloaded
The FMCSA's Drug and Alcohol Clearinghouse has been timing out from an overload since the January 6 deadline for its use went into effect. Employers have been having difficulty logging in, and are not being allowed to purchase query plans.
Because of this difficulty, the FMCSA is telling employers they may revert to former pre-employment procedures that comply with 49 CFR 391.23(e) rules.
However, employers are cautioned that despite the website Clearinghouse being intermittently unavailable, and that they may do their pre-employment screening the pre-Clearinghouse way, once the website is operational again they must input those post January 6 newhires into the Clearinghouse.
Sources: Land Line, 9th Circuit Ruling, FreightWaves
Tagged Under:
Drug and Alcohol Testing
Employment Verification
FMCSA
Medical Certification
Pre-Employment Screening Program
Truck Driver Salary
Trucking Industry Concerns
Trucking News