Red-light and speed camera enforcement on states' legislative agendas
Last Updated: Mon, February 15, 2021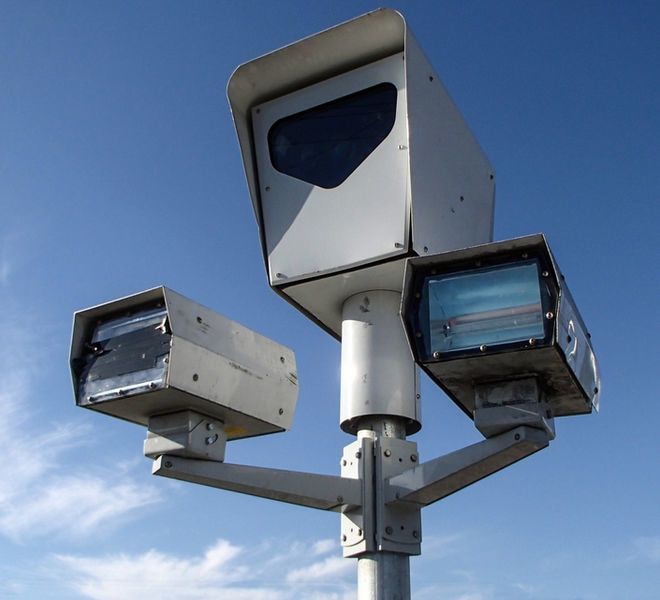 Land Line, the online news source for the Owner-Operator Independent Drivers Association, has released its update of what state legislatures are considering this year regarding red-light and speed camera ticket enforcement.
The enforcement of camera ticketing is in constant flux as states allow, then disallow, their use.
Currently, according to the Governors Highway Safety Association, 19 states and the District of Columbia have laws that allow speed-camera ticketing, and 21 states and the District of Columbia have laws permitting red-light-camera ticketing.
Conversely, 8 states have laws specifically prohibiting the use of speed and red-light cameras for ticketing motorists.
Also, states might not use speed and red-light cameras to ticket motorists traveling along major highways, but jurisdictions within those states might employ their use. The Insurance Institute of Highway Safety reports that there are more than 500 communities across the United States that use speed or red-light cameras in one form or another to enforce traffic rules.
Obviously, knowing which states currently use speed and red-light cameras is of importance to commercial truck drivers, as is knowing which states that do not use them are considering legislation to introduce these for ticketing drivers.
Here is information compiled by Land Line about eight states that have introduced new legislation just since the beginning of the year to address speed and red-light camera use.
Connecticut
Although Connecticut does not use any speed or red-light cameras in traffic enforcement, a state representative, Kara Rochelle, D-Ansonia, has introduced legislation to get ahead of any efforts to begin using them.
Her bill would prohibit the use of red-light cameras in Connecticut, but does not mention the use of speed cameras. Currently, the bill HB6078 resides in the Joint Transportation Committee.
Indiana
A number of bills are in the Indiana State Legislature right now addressing the problem of motorists speeding through work zones on selected stretches of roadway in the state.
As it stands right now, Indiana does not have any laws on the books either allowing or prohibiting the use of speed cameras for ticket enforcement.
A review of Indiana records showed that there has been an average over the past six years of 1,800 guilty verdicts in the state for speeding in work zones. Currently, state law allows fines of $300 to $1,000 for such violations.
One of the recent pieces of new legislation that was introduced by the House Roads and Transportation Committee Chairman on February 8 received a unanimous vote in that committee to allow cameras in highway work zones. Violators would receive a $75 ticket in the mail for exceeding the speed limit by at least 12 miles per hour.
The bill specifies that the cameras would only be in use while workers are on the site. And signs would be posted warning drivers when the cameras are being deployed. Before being ticketed, a third party would review the evidence, and a state trooper would issue the ticket.
Approving of the legislation was the Indiana Motor Truck Association, while a representative of the Indiana State Police told the committee the state police opposes the bill.
The representative, Lt. Brad Hoffeditz, said that stationing an officer in a work zone is more effective than using a camera.
"The thing we teach day one in traffic law is the best way to gain voluntary compliance with the laws is to be present," Land Line reported that Hoffeditz testified.
Iowa
Iowa has a bill before its House of Representatives ordering the ban of all ticket cameras.
This legislative action comes after several Iowa cities, names Des Moines, Cedar Rapids and Muscatine challenged an Iowa Department of Transportation order for all cameras in the state be turned off.
There are 78 speed and red-light cameras in eight cities ticketing drivers in Iowa, generating about $12 million in revenue per year.
When the dispute reached the Iowa Supreme Court the court sided with the cities, ruling that the Department of Transportation doesn't have the authority to order cities to remove the cameras – only a state legislative action can do that.
So, State Representative Skyler Wheeler, R-Orange City, has introduced his bill to prohibit camera ticket program beginning July 1, 2021.
Maryland
Three bill are in Maryland's statehouse to authorize the use of speed cameras in specific locations around the state. Currently six counties have red-light camera enforcement, with Baltimore and 22 other jurisdictions using them.
Legislation is asking to allow the use of speed cameras at specific locations in Prince George's County, along state Route 333 in Talbot County, and on Interstate 83 in Baltimore City.
New York
According to the New York State Department of Transportation, there were 3,450 wrecks in work zone on the state's highways, resulting in 50 fatalities and more than 1,100 drivers and workers being injured.
A bill has been introduced allowing the state to mount speed cameras in construction zones.
"Stronger enforcement of speeding in work zones has the potential to significantly reduce both the incidence of motorists and worker fatalities while training better overall motorist behavior," Assemblyman William Magnarelli, D-Syracuse, wrote in justification for the change, as reported at Land Line.
Oklahoma
Oklahoma has two opposing bills introduced this year regarding the use of red-light cameras for traffic enforcement anywhere in the state. Currently there is no jurisdiction in Oklahoma using this kind of ticketing device.
One bill would forbid any state agency from contracting with a business to setup cameras to detect traffic violations.
Another bill calls for allowing speed cameras in construction or maintenance zones while Oklahoma Department of Transportation or Oklahoma Turnpike Authority workers are present.
One provision of this bill is that vehicle owners would not be liable if the recording does not prove who the driver was at the time of the violation.
Rhode Island
Right now, speed cameras are allowed in Rhode Island only in school zones, currently employed only in the cities of Pawtucket and Providence.
A State Senate bill has been introduced to allow the use of speed cameras throughout the state and on all local roads.
Wyoming
The state of Wyoming is looking to reap a $7 million annual windfall by introducing legislation allowing the use of ticket cameras for multiple traffic violations, including speed limits, size and weight limits.
The bill is sponsored by the Joint Transportation, Highways and Military Affairs Interim Committee. The expected fiscal benefit would come from placing cameras along I-80, I-25, and in Teton Pass, in construction zones and school zones.
Additional resources
For an interactive map showing where thousands of red-light and speed cameras are located throughout the United States drivers can go to the PhotoEnforced website.
In addition to thousands of red-light and speed cameras, the site tracks license plate cameras, toll cameras and more for localities around the world.
The Governors Highway Safety Administration website has a state-by-state breakdown of red-light and speed camera ticketing laws in enforcement in each state.
Although the GHSA list might indicate a state does not allow nor prohibit enforcement cameras some localities might be employing them. It is recommended to go to the Insurance Institute of Highway Safety where a list of call communities using cameras is updated regularly.
Sources: Land Line, GHSA, PhotoEnforced
---
Dave Wickenhauser is a former truck driver who went on the road for a short time after retiring from 33 years in newspaper journalism. His trucking novel, "Crimson Highway: A Hugh Mann Novel" is available as an Amazon paperback, and as an Amazon Kindle ebook.
Tagged Under:
Cameras
Understanding The Laws