House passes federal marijuana bill; won't affect truckers
Last Updated: Wed, December 9, 2020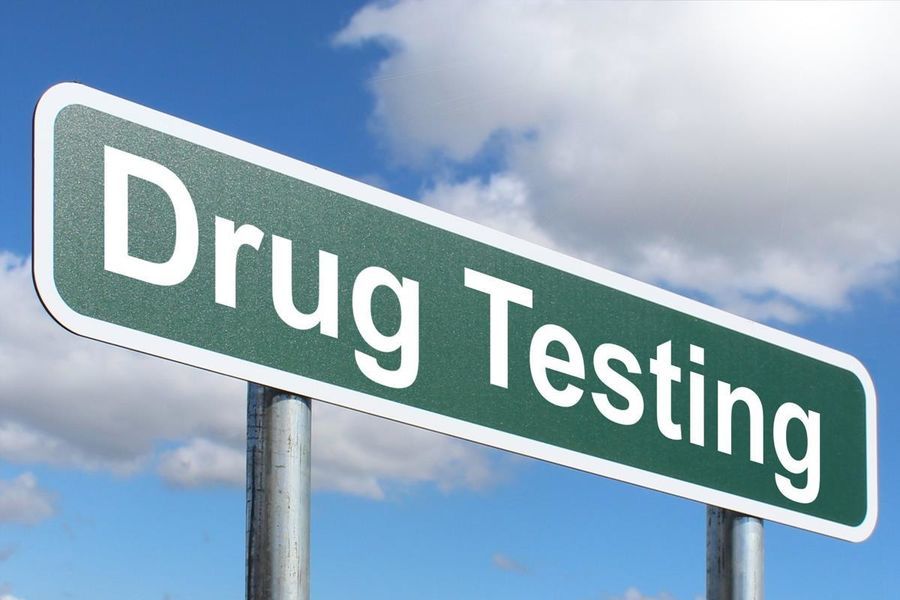 Last Friday, the U.S. House of Representatives voted to pass the MORE Act, enabling a Federal-level decriminalization of marijuana.
The U.S. Senate received the bill on Monday and it has begun its journey through the committee process ending, proponents hope, in a Senate vote of approval.
The Federal transportation regulatory agencies, however, need not be in a hurry to examine working a newly federally legalized narcotic into their regulatory framework any time soon, as even proponents believe it is highly unlikely the marijuana bill will survive the Senate.
Initially introduced in June of last year by Rep. Jerry Nadler (D-NY), the torturously named Marijuana Opportunity Reinvestment and Expungement Act, passed the House by a 228 to 164-vote margin, with 30 abstaining. Only a handful of Democrats voted against the bill, and a handful of Republicans voted for it.
That's why proponents believe their attempt to federally legalize marijuana will not make it through the Republican-majority Senate.
Their only hope for it passing rests on a possible shift in the balance of power in the Senate following the results of the upcoming January 5 Georgia runoff election that could turn two Republican Senate seats Democrat, thus flipping the Senate majority.
Proponents also pin some hope on the chance that one of the Senate sponsors of the bill, Kamala Harris, will succeed in her vice-presidential bid to the White House.
The bill essentially would remove marijuana from the list of Schedule 1 controlled substances, where it currently shares that status with heroin and LSD that have "a high potential for abuse, no currently accepted medical use in treatment in the United States, and a lack of accepted safety for use under medical supervision," according to the Drug Enforcement Agency.
What would federal legalization of marijuana mean for the trucking industry?
The short answer is that language in the MORE Act would still allow marijuana to remain on the list of disqualifying drugs for such safety-sensitive workers as truck drivers.
According to the bill, current or prospective employees in non-safety-sensitive positions will no longer be subjected to cannabis drug testing where such a test is not prompted by a suspicion of its use.
Truck drivers, on the other hand, will still have to submit to pre-employment and on-the-job testing for the drug.
Even though marijuana would no longer be considered as part of the Controlled Substances Act, language was added to the bill in November giving "grandfather" status to regulations that required testing of truck drivers for Schedule 1 substances that were in effect as of December 1, 2018.
The U.S. Department of Transportation doubled down on cannabis use earlier this year with a notice warning drivers and carriers to be cautious about using the increasingly popular CBD products.
Although CBD oils and other products typically contain very small amounts of the THC ingredient that gives marijuana its narcotic properties … under levels that are screened for in drug testing … levels vary from product to product, with the actual amounts of THC often not reported accurately.
DOT warns drivers and trucking companies that use of a CBD product that does give a positive cannibis result will not excuse that driver from the consequences of the positive test.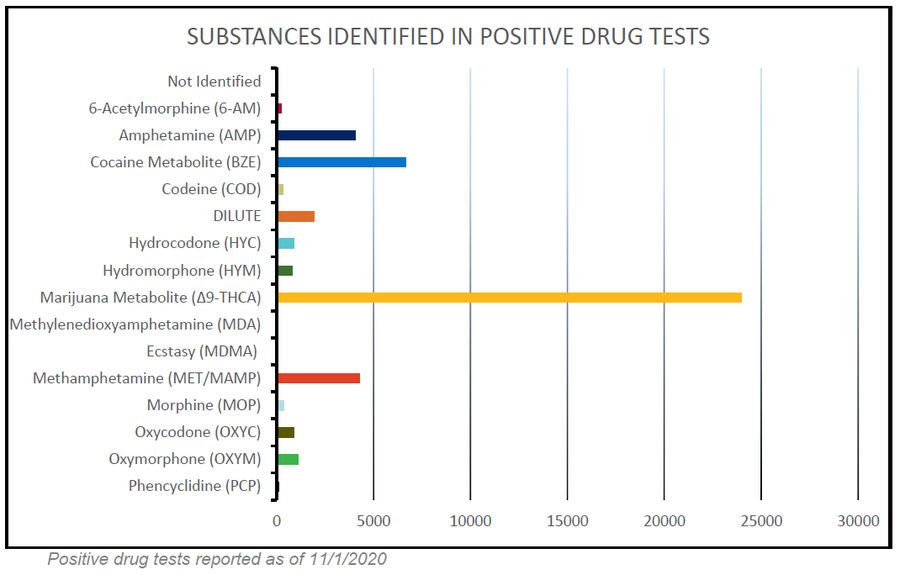 FMCSA's drug clearinghouse: Marijuana tops list of most-abused substances
According to the Federal Motor Carrier Safety Administration's latest monthly report on Drug and Alcohol Clearinghouse use by the trucking industry, positive test results for marijuana come up in numbers at double all other violations combined.
This has remained consistent since the Clearinghouse became operational in January.
Marijuana positive results from January through May, for example, numbered 10,388. All other substances that showed up in test results numbered 10,768 total. Among those others, cocaine appeared in test results 3,192 times, methamphetamine 2,184 times and amphetamine 2,108 times.
To the curious about what other substances have showed up in truck drivers' test results, there were 11 instances of MDA, 20 of MDMA (ecstasy), 171 of morphine, and 47 of PCP.
The latest monthly report, compiled from statistics reported for January through the end of October, the breakdown in numbers follows the same pattern.
Incidences of marijuana in test results in this latest report come in at 24,000 compared to 21,866 positive results for all other substances combined.
The FMCSA says that positive drug tests account for 82 percent of all violations reported to the Drug and Alcohol Clearinghouse by employers, consortia/third-party administrators, medical review officers, and substance abuse professionals.
So far, since the program became mandatory, there have been 2,394,193 queries to the Clearinghouse by employers when hiring new drivers, and when making an annual query for current drivers.
As of the end of October there have been 38,290 drivers placed in prohibited status out of 42,711 drivers that have been found to have at least one violation.
According to the FMCSA, if a driver has a drug and alcohol program violation recorded against him or her in the Clearinghouse, that driver must be removed from safety-sensitive functions, including operating a commercial motor vehicle, until he or she has completed a return-to-duty process.
As of the end of October 5,693 drivers have completed the process and are eligible for a return-to-duty followup test.
Sources: LandLine, HDT, Benzinga, FMCSA Oct. Clearinghouse report
Tagged Under:
DOT
DOT Physical
Drug and Alcohol Testing
FMCSA
Medical Certification
Pre-Employment Screening Program
Return-to-Duty
Understanding The Laws