Truckers involved in one-third of work zone crashes
Last Updated: Tue, April 27, 2021
The Federal Motor Carrier Safety Administration is making a major push this week to alert the public about work zone safety.
The agency is kicking off the beginning of the nation's yearly roadway repair and construction season with it annual program titled this year, "National Work Zone Awareness Week -- Drive Safe. Work Safe. Save Lives."
The week began April 26 and runs through April 30.
Although the special work zone safety push seems geared toward the general driving population there is a subtext that appears to place an emphasis on the commercial trucking industry.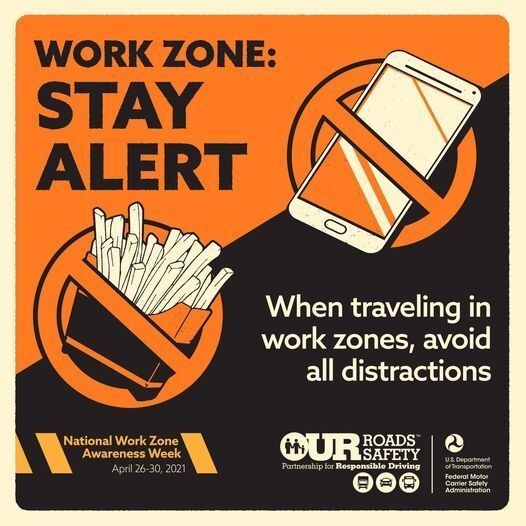 "Fatal crashes occurring in work zones are both tragic and absolutely preventable," FMCSA Deputy Administrator Meera Joshi, said in an FMCSA news release about the safety week effort.
"I am especially concerned that large trucks continue to have a disproportional involvement in fatal crashes occurring in work zones – 33 percent – when large trucks comprise roughly five percent of vehicular traffic."
Federal Highway Administration statistics from 2019 report that 842 people died in highway work zone crashes that year compared to 757 the year before – an 11.2 percent increase. That was the largest percentage increase in highway work zone fatalities this century.
Broken down by categories for 2019, the Department of Transportation literature about the safety week notes that 24 percent, or 182, of the 842 work zone fatalities involved rear-end collisions; 33 percent, or 250, involved a commercial vehicle; and 31 percent, or 239, happened while speeding.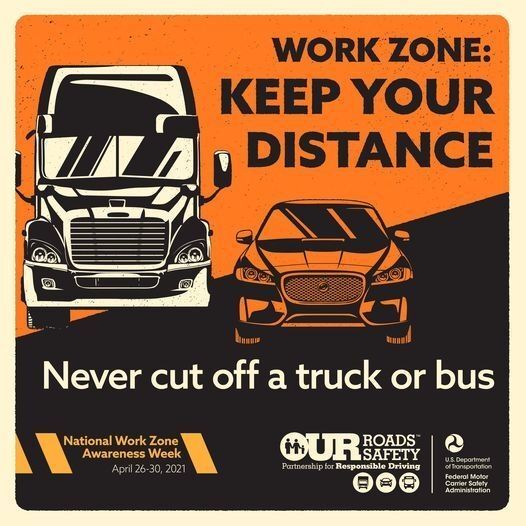 Also, in 2019 there were 135 workers killed in road construction sites, compared to 124 during 2018. Continuing with work zone fatality statistics for 2019, the largest number of fatal crashes occurred on arterial roads, 389 of the 842 total, with the next-largest number being fatal crashes in Interstate construction zones, 293.
The majority of persons killed in these work zone crashes were drivers and passengers -- 690 of the 842 total killed. Pedestrians accounted for 140 fatalities, and 12 persons were killed who were occupants of non-motor vehicles and other personal conveyances.
Joshi suggests to truck drivers: "Don't allow yourself to become distracted, slow down, obey the signs and the instructions of flaggers and be courteous and safe by giving every vehicle extra space. Highway workers equally depend on you for their safety."
The FHWA has been coordinating and sponsoring the work zone safety event since 1999 in cooperation with state highway and transportation officials and the American Traffic Safety Services Association.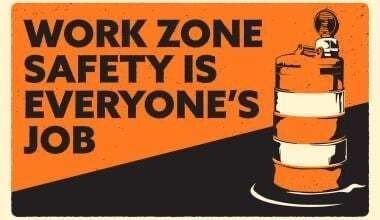 The National Work Zone Awareness Week effort this year will focus on three states that experience some of the highest rates of truck-involved work zone crashes in the country – Florida, Georgia and Texas. Motorists in those states will hear public service announcements and will see safety messaging on billboards around work zones.
A few other states that have a high number of work zone crashes each year, like Arkansas, Oklahoma and Pennsylvania, will also emphasize work zone safety using educational resources like fact sheets, post cards and social media infographics.
They will conduct special activities like workshops for commercial vehicle drivers, and will have special safety signs at weigh stations.
Also, FMCSA and FHWA have set aside Wednesday, April 28, to be a national "Go Orange" day for the public to wear orange to show their support for highway workers.
Public comments about the FMCSA work zone awareness push
The FMCSA has targeted social media with its National Work Zone Awareness Week effort, and has drawn comments on its Facebook posts.
"I get cut off all the time. Folks don't care, It's all about getting in front of the big truck."
"They don't care any more. $15 an hour is all they want."
About FMCSA's Keep Your Distance reminder: "There's need for lots of reminders on roads and on bridges. Sometimes counting seconds could be monotonous. Markers and paint marks on the road could help in some way, not distractive, for safe driving."
"Funny how I can be in a work zone on I-80, I-90 in Ohio; which most are posted 50 mph, and get passed constantly. Yet no cops. But 10 miles later, out of work zones, speed limit back to normal, and I will see 3 or 4 cops."

---
Dave Wickenhauser went on the road driving big rigs after retiring from 33 years in newspaper journalism. His trucking novel, "Crimson Highway" the first in the Hugh Mann series, is available as an Amazon paperback, and as an Amazon Kindle ebook.
Sources: FMCSA News Release, DOT sources
Tagged Under:
Adverse Conditions
Advice For New Truck Drivers
Distracted Driving
FMCSA
Safe Driving Tips
Truck Driver Safety
Trucking Accidents