Eight carriers in lawsuit for not poaching other companies' drivers
Last Updated: Sat, June 20, 2020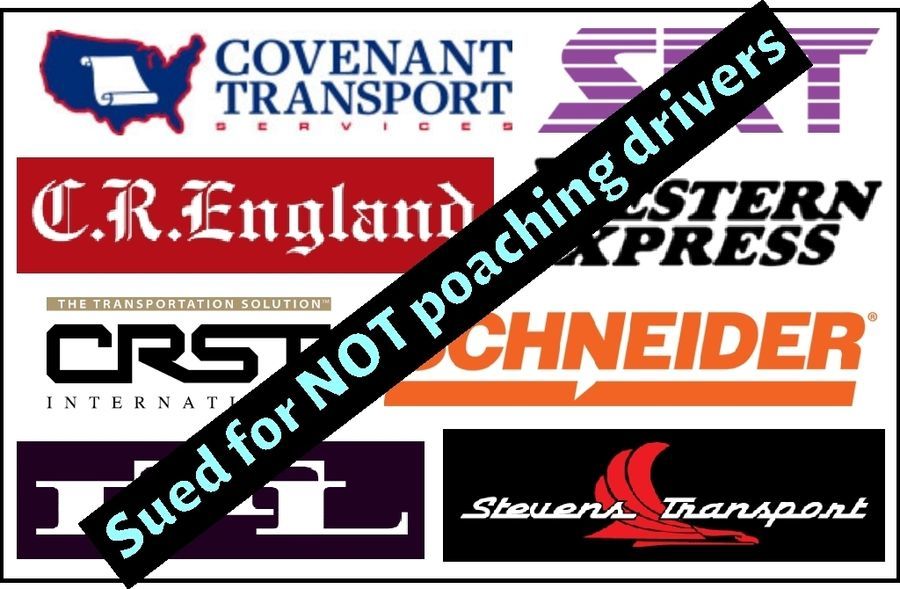 In a lawsuit that belongs in the "damned if you do, damned if you don't" category, CRST and seven other mega carriers are defending against a lawsuit by job-seeking drivers who complain that the carriers don't hire them as drivers even though they are still under contract to other carriers.
CRST was in the news recently for losing a poaching lawsuit against TransAm Trucking with a summary judgment decision in favor of TransAm in U.S. District Court for the Northern District of Iowa. CRST appealed that ruling to the U.S. Court of Appeals for the Eighth Circuit.
Then in May, the Eighth Circuit reversed that grant of summary judgment against CRST, finding sufficient evidence to support its claim alleging TransAm wrongfully recruited and hired several long-haul truck drivers who were under contract with CRST.
Also, last year CRST won a poaching lawsuit against Swift Transportation, part of Knight-Swift Transportation, that resulted in a $15 million punitive damages award for CRST; which was reduced by a U.S. District judge in December 2019 to $3 million. Swift is appealing.
"Poaching" is when a trucking company hires away a driver who was trained by another carrier, and who is still under contract. Carriers hold these trained drivers to contracts for a set period of time, often at a reduced pay rate, in order to recoup in labor their cost for the training.
Now, CRST, along with C.R. England, Western Express, Schneider National, Southern Refrigerated Transport, Covenant Transport, Paschall Truck Lines, and Stevens Transport are embroiled in a years-long lawsuit that has morphed into a class action accusing them of conspiracy and anti-trust because they won't hire drivers who are still under contract to their carriers.
Plaintiffs allege that the carriers "scheme" by checking with each other during the pre-hire period to determine if an applicant is still under contract with their previous employer.
In the beginning
The lawsuit began in June 2017 when truck driver Curtis Markson filed suit in Southern California's San Bernardino Superior Court against CRST on a number of complaints related to his training experience and employment obligations with CRST.
Eventually he was joined by Mark McGeorge, Clois McClendon and Eric Clark as Plaintiffs, and the lawsuit became a class action against all of the named carriers. It was moved to the United States District Court Central District of California, where it is now.
The gist of the lawsuit, titled Curtis Markson, et al vs. CRST International, Inc., et al., is that the named carriers conspired to not hire drivers still under contract with other drivers, and thus prevented drivers from upward or sideways mobility in order to allow them to advance their driving careers.
According to the fourth, and current, amended complaint by the Plaintiffs, in addition to the conspiracy and anti-trust complaints, Plaintiffs allege that CRST engaged in "unfair or fraudulent business practices" that included:
Knowingly using false and misleading advertising to induce drivers to enter into a standard form Pre-Employment Driver Training Agreement and Driver Employment Contract,
Utilizing the harsh terms of the Driver Training Agreement to keep drivers trapped in employment agreements and penalize them for leaving their employment,
Charging drivers more than they actually paid for their driver training,
Charging drivers for U.S. Department of Transportation physical and drug screening tests and other administrative fees,
Not giving drivers credit for the reduced rate at which they were paid, and
Not giving drivers credit for amounts repaid through payroll deductions.
After nearly 300 motions, orders and other pleadings filed in the lawsuit since 2017, the case has come down to a motion to dismiss that was filed on June 4 by attorneys with Schneider National, signed by attorney Nicholas Giles, asking the court to dismiss the lawsuit against CRST and the others.
The Schneider attorneys mince no words in expressing their exasperation at the continuation of the lawsuit.
"Plaintiffs' theory of relief has long since overreached their limited factual allegations," attorneys noted in their opened statement.
"This latest expansion pushes Plaintiffs' theory beyond its breaking point and confirms that their antitrust claims are implausible. Indeed, the limited facts Plaintiffs allege—largely unchanged since their last pleading—simply do not establish a nationwide conspiracy as Plaintiffs erroneously claim."
Schneider attorneys noted that the lawsuit began as a state-law wage and hour lawsuit by one plaintiff against a single company, CRST, but has expanded by adding three new plaintiffs, grown it to a class action, and "expanded the scope of their alleged conspiracy to cover the entire nation."
Attorney's pointed out that the carriers declined to hire under-contract drivers "precisely because they were under contract." And they added that there are laws that prohibit interference with another's valid contract. (Emphasis in the original)
"A motor carrier cannot interfere with another carrier's driver contracts, those courts have made clear, without potentially exposing itself to significant liability. Simply put, that is why each of the Defendants independently decided not to hire each other's under-contract drivers," attorneys wrote in the motion to dismiss, noting that juries have awarded judgments against carriers exactly for that kind of poaching activity.
According to the motion to dismiss pleading, attorneys stated, "In short, motor carriers routinely sue one another (or threaten to) for hiring away under-contract drivers—not always with success, but often enough to reasonably counsel caution or else risk years of expensive litigation."
"Considered against this backdrop," they went on, "Defendants' alleged refusal to hire under-contract drivers—particularly those of frequent litigants—is glaringly obvious rational and unilateral behavior that is beyond the reach of the Sherman [anti-trust] Act."
Rather than the carriers merely acting independently to minimize risk by hiring under-contract drivers, Schneider attorneys say that Plaintiffs allege that there is a "coordinated outcome of a vast nationwide conspiracy among eight motor carriers to restrict driver mobility and depress first-year wages in the trucking industry."
But the attorneys countered that argument with, "Defendants decline to hire under-contract drivers, in other words, to mitigate their risk of legal liability. Again, this risk is far from theoretical. As set forth above, motor carriers across the country have in fact been found liable for hiring such drivers, and ordered to pay millions of dollars in damages."
Plaintiffs seek damages
Damages that the Plaintiffs seek if successful with their lawsuit include:
Three times the amount of damages to be proven at trial;
Statutory penalties;
Restitution of all monies which were unlawfully withheld or collected, and to restore to the Class any monies or property which defendants have acquired by means of their unlawful or unfair business practices;
Prohibiting defendants from continuing their unlawful and unfair business practices;
Prohibiting the carriers from agreeing not to solicit other companies' employees and from including non-compete clauses in their trucker contracts;
Reimbursement of the costs of bringing this suit, including reasonable attorneys' fees and expenses, including interest;
A written response by Plaintiffs to the Defendant's motion to dismiss is expected, but as of this writing has not yet been filed.
Sources: Fourth Amended Complaint, Motion to Dismiss
Tagged Under:
Changing Careers
Choosing A Trucking Company
Company Sponsored CDL Training
Covenant Transport
CR England
CRST Van Expedited
Paid CDL Training
Schneider National
Stevens Transport
Swift Transport
TransAm
Trucking News
Western Express