Don't get scammed by skimmers
Last Updated: Sun, March 31, 2019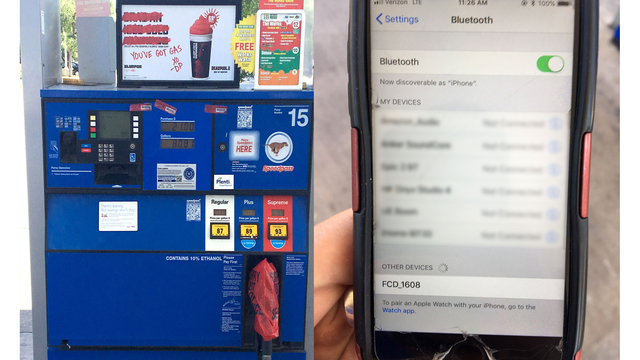 Farmington, New Mexico, police recently reported the discovery of two credit card skimmers that had been placed on a gas pump's computer. These skimmers are internal and transmit using Bluetooth technology. The devices cannot be seen from the outside of the pump but can be detected using a smartphone.
Customers of the Space Age Travel Center near Hermiston, Oregon, are being warned by authorities to check their bank accounts after a card-skimmer-altered payment device was discovered on March 20 inside the truck stop store.
The device, which was next to a register inside the store, was altered with an authentic-looking duplicate keypad, and inside were electronic components to read the magnetic strip on a debit or credit card. The keypad could capture customer PIN numbers.
Umatilla County Sheriff's Office said that there were no other card-skimming devices either inside the store or at any of the fuel pumps. In a similar scenario, in February, thieves made away with about $100,000 from 215 accounts in the Tri-Cities area.
Truckers are particularly vulnerable to becoming card-skimming victims as the on-the-road lifestyle requires frequent use of cards for meals, fuel, and many other needs.
And because of the growing concern about card-skimmers one fleet fuel card company, Multi Service Fuel Card, is being pro-active to lessen the risk by enacting a 300-gallon limit per card per day.
Drivers needing more than 300 gallons are encouraged to call the fuel service company directly by phone or email.
In an article on the company's website, they state that the technology has gotten so sophisticated that it is very difficult to spot and avoid skimmers at the pump. The newest scams utilize Bluetooth and other technologies to pass on stolen credit or debit card information.
Skimming devices can be entirely hidden within the fuel pump body with no visible evidence that a driver is about to be scammed. The thieves then show up periodically to download the data via Bluetooth that was collected by their skimmer. They then create duplicate credit cards.
One driver recently reported using a card to pay for fuel on a trip from Arizona to the Bay Area of California, stopping only once at a Pilot Flying J Travel Center. A couple of days later she got a call from her credit card company asking if she had just made a $400 purchase from a store in Utah, and a $200 purchase from a store in Reno, Nevada.
Rack up another credit card-skimmer victim.
To combat this growing attack on innocent drivers a Boulder, Colorado, company called SparkFun Electronics has created an Android phone app that can detect the Bluetooth signal emanating from a skimmer at gas stations.
They got interested in creating the app after being contacted by local law enforcement authorities who provided them with some samples of skimming devices.
The app, called Skimmer Scanner, is available now for Android devices. If the pump has a card skimmer the app will alert the user.
"We had one of the devices that had been removed from the gas pump so we were able to power that up on the workbench and then tried to communicate with it," Nick Poole with SparkFun Electronics, told WHNT19 News. "As soon as we found that it was possible- we thought everyone has a cell phone with bluetooth so you should be able to detect this no problem."
Poole noted that the app might not be 100 percent accurate because of the variety of skimmers out there, but they have heard from customers who said that the app alerted them and saved them from being scammed.
Multi Service Fuel Card offers some advice for fleets and drivers to decrease the risk of being scammed at the fuel pump:
Even though a card-skimmer might be entirely hidden inside a fuel pump body and uses sophisticated Bluetooth technology there might still be telltale signs of tampering. Look for anything suspicious.
Card skimmers that have external attachments often leave evidence in the form of broken seals, scratched or loose components, or spaces in the components where there should be none.
Use pumps closest to the storefront. Being more visible to store personnel, these pumps could be less likely to be tampered with.
Watch for suspicious characters or vehicles around fuel pumps. Card skimmers have a limited amount of memory and the data must be downloaded frequently. The scammer might just be sitting in a nearby vehicle or loitering outside near the pump in order to download the stolen data.
Older pumps are more vulnerable to tampering than newer ones. Newer pumps have locks and other anti-tampering features. Pay extra attention if having to use an older pump if newer ones are not available.
Fleets should set a gallon limit for their drivers. That way if the card is skimmed it limits how much is stolen from the account. It also alerts the company quicker, as the driver will need to get fuel more often and, if the account has been compromised, the card will show no funds available.
Fleets and drivers should be vigilant in accessing their accounts often in order to detect any unusual purchases.
ATMs, used often by drivers for cash, are also vulnerable to sophisticated card skimmer scammers.
In mid March a card skimming operation that spanned the entire West Coast from Seattle to Arizona was brought down after a major law enforcement investigation in the Sacramento area.
A spokesman for the Sacramento County Sheriff's Department said four suspects were arrested, but that they believe they have just scratched the surface. He said they installed skimming devices inside the ATM machines, and tiny pinhole cameras overlooking the PIN pad.
Initially, one suspect was identified and authorities got a warrant to search his apartment. During the search they found 20 skimming and recording devices, and the equipment used to re-encode debit and credit cards.
See also: ATM Skimmers In Truck Stops Appears To Be A Rising Trend
Sources: SFGate, WHNT19, East Oregonian, Multi Service Fuel Card, Farmington Police Department
Tagged Under:
Advice For New Truck Drivers
Cell Phone & Wireless
Driver Solutions
Hard Lessons Learned
Life On The Road
Truck Stops
Truckers Technology