Friday Short Haul - Samsung's Safety Truck, insurance minumums increase, COVID shots for Canadian truckers
Last Updated: Thu, April 22, 2021
Whatever happened to Samsung's Safety Truck?
In a Samsung news release from June 2015 the massive South Korean multi-national corporation announced it had created a "safety truck that could revolutionize road safety."
The concept was indeed revolutionary, the company had built a prototype and had put it on roads in Argentina. But as of the date of the news release the prototype truck was no longer operational. Samsung hinted it was working with governments and NGOs to further the concept. The news release begins with a scenario that are are familiar with, truck drivers and non-drivers alike:
"Have you ever found yourself driving behind a semi-trailer truck? If you're on a single-lane highway or road, it can be a nightmare," the news release stated. "Even though the truck is driving relatively slowly, you cannot overtake it due to its size, and because you cannot see what is happening in front of the truck."
To solve that problem Samsung innovated its Safety Truck; which consisted of a wireless camera pointing out from the front of the truck sending a signal to a matrix of four large flat screen monitors mounted to the rear of the trailer. Samsung called it a "video wall."
Drivers following a Safety Truck can get a "see through" view of the road ahead of the truck, even at night. This video view of the road could allow drivers to decide whether it is safe to pass the truck. It would also give following drivers advanced warning of the need to brake for incidences ahead, like accidents or slowdowns, or animals crossing the road.
The news release said that Samsung proved the technology worked, and suggested that the company was going to perform further testing and obtain permits for approvals with national jurisdictions. Has anyone ever seen one of these Samsung Safety Trucks "in the wild?" It is curious why, almost six years later, such a revolutionary concept never got traction.
Proposal again for a huge increase in minimum insurance premiums
Democrat Representative from Illinois, Chuy Garcia, is determined to get his Insurance Act passed that would result in a huge increase in insurance premiums to commercial carriers.
In 2019 his version of the bill proposed raising the required insurance minimum from $750,000 to just short of $5 million, a proposal that the Owner-Operator Independent Drivers Association said was a "poison pill" for the trucking industry.
That proposal timed out of that session of Congress, so Garcia tried to tack on a $2 million minimum requirement as an amendment to the highway bill then being considered.
Now, he has announced recently that he plans to reintroduce the Insurance Act to the current congress. The numbers haven't been released, but expectations are that the minimum will be at least between the other two proposals, if not higher.
Garcia's proposal is not well-received in some circles of the trucking industry, particularly with the OOIDA; which is concerned about the potential for more than doubling an independent driver's annual premium costs.
"No question this would have devastating impacts on the small-business motor carriers," Jay Grimes, OOIDA's director of federal affairs is quoted in GoByTruck News. "The insurance levels, the premiums would just skyrocket if any version of this legislation … were to get through Congress and get passed."
Grimes notes that the legislation is baffling considering the high regard that legislators had for truckers during the virus panic period.
"Especially when this has been such a tough year for small businesses across the country with the COVID-19 pandemic, this would just be the nail in the coffin, unfortunately, for a lot of small trucking businesses that simply can't afford the higher and higher premiums and insurance costs above all the other taxes and fees that we see in the trucking industry," GoByTruck News reported that Grimes said.
OOIDA refutes Garcia's claim that increasing insurance minimums is for improving safety and that it benefits truck crash victims.
The association says that removing small-business truckers from the road makes no sense since they are the safest drivers in the industry, and that forcing them off the road because they can't afford insurance would have an overall negative affect on safety.
OOIDA further refutes the argument that increased minimums are necessary to help victims of truck crashes. It cites research from the Volpe National Transportation Center that has found that current insurance minimums are adequate to cover damages for 99.4 percent of accidents.
Furthermore, most trucking companies carry more than the $750,000 anyway, most of them having coverage in the $1 million range.
Grimes doesn't mince words when he says that with this refutation of the real need for the increased minimum the question is who does benefit.
"When you look between the lines, this would be a big boon for trial lawyers," Grimes is quoted in GoByTruck News.
Grimes notes that while Garcia's latest attempt to increase minimums might not make it through into law this year as a stand-alone bill, it could possibly be tacked on to an infrastructure bill that has a better chance of becoming law.
Collin Long, OOIDA's director of government affairs, is quoted in GoByTruck, saying, "Preventing Congress from increasing motor carriers' minimum insurance requirements is shaping up to be our biggest battle this year."
He concluded, "We know this battle is winnable, but we can't do it without a groundswell of support from truckers. If you're not picking up the phone and calling your member of Congress to demand they oppose any increase, you're handicapping our efforts. I'm not blowing smoke when I say it's going to take every trucker with a stake in the game to stop this from happening. Get on the phone today."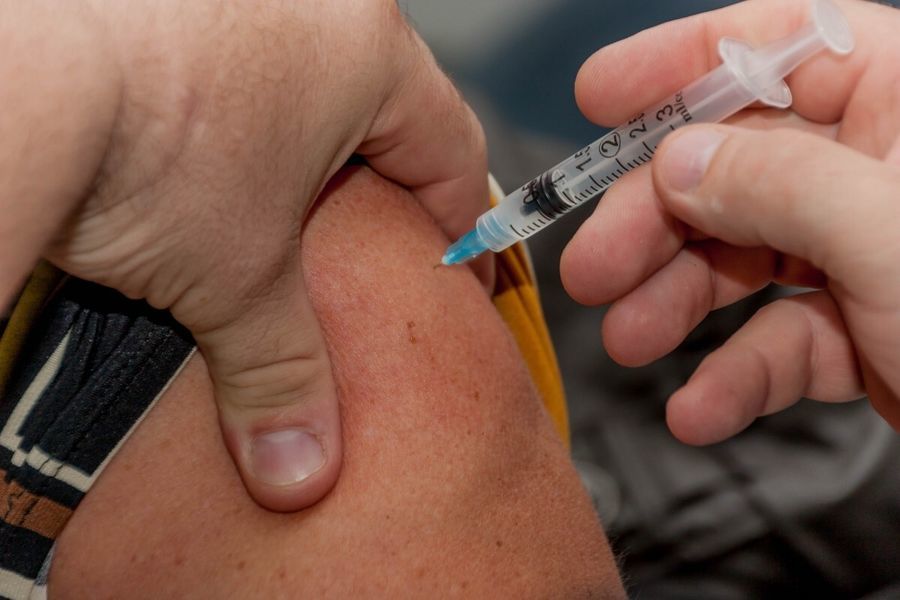 North Dakota to provide COVID shots to Canadian truckers
In a first-ever joint initiative between an American and a Canadian jurisdiction the state of North Dakota will begin administering COVID-19 shots to Canadian truckers hauling goods across the border into the United States.
Called the Essential Worker Cross-Border Vaccination Initiative, it was jointly announced on Tuesday by North Dakota Gov. Doug Burgum and Manitoba Premier Brian Pallister as a way to alleviate Canada's shortage of the COVID doses.
"North Dakota and Manitoba have a long and rich history of friendship and cooperation, and this vaccination initiative is an opportunity to strengthen that bond by offering assistance that will protect public health and the flow of goods and services on both sides of the border," Burgum said in a news release.
"With adequate vaccine supplies and all North Dakotans having access to vaccine while Canada is dealing with a vaccine shortage, we want to do our part to ensure essential workers from Canada who are frequently traveling through our state are vaccinated. The timely and effective administration of vaccines is essential for public health and the eventual safe reopening of our shared border."
According to a North Dakota news release, the "goal is to create a model of continental co-operation for others to emulate as both nations prepare to safely reopen the border."
Eligible persons will be identified by the Manitoba Trucking Association in coordination with provincial authorities, which will then schedule appointments for truck drivers as they make their routine trips across the border to the United States in the next six to eight weeks.
Authorities estimate that some 2,000 to 4,000 Canadian truck drivers will take part in the program as they cross the border. The North Dakota rest area near Drayton will serve as a site for truckers to receive their shots, but North Dakota residents 16 or older may also get their shots there.
The program is being run by a joint-operations group between the state and the province at no cost to either because the entire program is being funded by the United States Federal government.
---
Dave Wickenhauser went on the road driving big rigs after retiring from 33 years in newspaper journalism. His trucking novel, "Crimson Highway" the first in the Hugh Mann series, is available as an Amazon paperback, and as an Amazon Kindle ebook.
Sources:

Tagged Under:

Adverse Conditions Coronavirus Truckers Technology Trucking Industry Concerns