Friday Short Haul - Pilot Flying J name change, CRST-Swift lawsuit, Schneider named innovator
Last Updated: Thu, January 23, 2020
Pilot Flying J changes name to Pilot Company
Even though Pilot Flying J is changing its corporate name to Pilot Company drivers will still be able to watch for the familiar Pilot and Flying J freeway signs as destinations for fuel, food and a parking place to rest.
In a company news release, Pilot Flying J announced the name change will serve as an umbrella covering the various retail and energy businesses that have come under the corporate family of brands.
Pilot Company CEO Jimmy Haslam says the update will help team members working across the company's travel center brands and energy divisions operate as one team working together as the company expands.
"The work our team has put into our 60-plus year legacy has prepared us for what's ahead as we set out to advance our next phase of growth," he said in the news release.
"We are an innovative company that is the leader in the supply and distribution of fuel in North America. As the industry evolves, it's important that we do as well. We must continue to expand our business and develop more capabilities that enable us to successfully serve our team members and guests. Pilot Company is another step in our company's bright future."
The new umbrella company introduces its new logo, saying it is a "nod to the company's legacy," symbolizing the first Pilot gas station, and recognizing the significance of its strong history as the company evolves moving forward.
The newly renamed Pilot Company is headquartered in Knoxville, Tennessee, where it oversees its network of more than 900 retail and fueling locations in 44 American states and six Canadian provinces, and where it sells more than 11 billion gallons of fuel each year via 6,200 diesel lanes.
Altogether, the travel centers have more than 630 restaurants, provide 73,000 truck parking spaces, offer 5,200 deluxe showers, and have 35 truck care service centers.
CRST and Swift are still in a driver-poaching fight
The U.S. Court of Appeals for the Eighth Circuit is the new battleground in the ongoing lawsuit between CRST Expedited and Swift Transportation over CRST's allegation that Swift poached their drivers that were under a 10-month noncompete agreement.

The fight advanced from the U.S. District Court for the Northern District of Iowa because of appeals from both carriers over decisions made by the District Court.
The current action stems from a federal jury award to CRST in July of last year amounting to Swift owing them $3 million for interference with drivers' contracts, $5 million in punitive damages, and $7.5 million for unjust enrichment.
Last month, following a request by Swift for a renewed judgment, U.S. District Judge C.J. Williams agreed to reduce punitive damages against Swift to $3 million, and also ruled that the jury had "no basis" for awarding CRST the $7.5 million for unjust enrichment.
CRST, in turn, on January 13 of this year appealed the ruling that reduced its monetary award, and then Swift immediately the next day challenged CRST's appeal, leaving it up to the Eighth Circuit Court of Appeals to decide on the two carriers' claims.
In the original lower-court trial CRST claimed that Swift recruited CRST's drivers knowing that those drivers were under noncompete agreements.
Swift countered by arguing CRST did not notify Swift of those conditions for 31 or the 246 drivers from CRST that Swift recruited. Swift also testified that the company began hiring in 2016 from multiple trucking companies, and did not specifically target CRST drivers.
Briefings by the two carriers in the Court of Appeals are scheduled to run through March 5.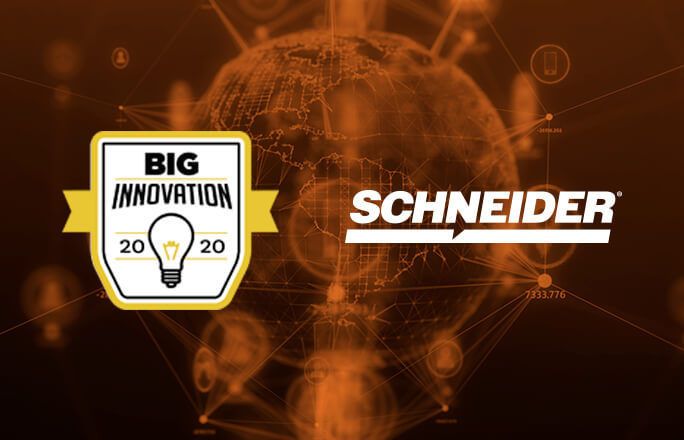 Schneider named a 2020 big innovator
Schneider Transportation was the only company from within the transportation and logistics industry to receive one of the 2020 BIG Innovation Awards that were presented recently to 100 companies by the Business Intelligence Group.
Nominations were open to organizations world wide competing to be recognized as leaders in creating and implementing innovations in technologies.
"Disruption is sometimes considered to be a trendy word in the marketplace, but at Schneider, it's how we think, who we are and how we stay on top," said Shaleen Devgun, Schneider's chief information officer.
"We are thrilled the Business Intelligence Group has taken notice of our culture of innovation and long-standing commitment to establishing next-gen technology capabilities that improve the experience of customers, drivers, carriers and associates."
Award judges recognized Schneider for its "increasingly powerful array of capabilities that leverage artificial intelligence, advanced Internet of Things technology and data science."
Some of Schneider's award-winning recent innovations include:
"D4" (data-driven dynamic decisions): Schneider utilizes this platform to enable rapid development and modular deployment of decision science models across its organization. This approach allows Schneider to embed advanced analytics throughout processes and systems, enabling predictive, prescriptive and preventive decision recommendations and, in many cases, decision automation. The company leverages vast amounts of internal and external data to find ways to say "yes" to customers more, optimize its network to maximize revenue and provide a superior driver experience.
Tablet-based transportation platform: Used by all company drivers, the platform delivers content to drivers in or out of the truck. It provides important notifications, workflow processes, navigation and apps that improve productivity and communication.
Proprietary ETAi technology: ETAi enables Schneider to power automatic updates of estimated load arrivals based on traffic, weather, driver behavior and hours of service information. The unique technology increases driver productivity, removing the need to pull over to update ETAs. With access to near real-time data, customers stay in lockstep with drivers.
Artificial intelligence: Schneider uses AI capabilities to provide responsiveness, visibility and control to customers by automating responses to many requests. By understanding the intent of the request and knowing the user's context, accurate responses can be sent in under three seconds – saving time for customers and allowing employees to focus on deepening customer relationships.
"Innovation has become a major theme for organizations across virtually all industries, and this year's winners are a testament to the creativity, passion and perseverance of individuals worldwide," said Maria Jimenez, chief operating officer of the Business Intelligence Group.
"We are thrilled to be honoring Schneider as it is leading by example and making real progress on improving the daily lives of so many."
Sources: Pilot Flying J News Release, The Gazette, Business Wire
Tagged Under:
CRST Van Expedited
Schneider National
Swift Transport
Truck Stops
Trucking News
Videos