Despite benefits, fleets are not embracing lightweighting
Last Updated: Tue, February 23, 2021
Lightweighting 2021 from NACFE on Vimeo.
While tractors and the loads they haul continue to get heavier, commercial carriers have not fully embraced the lightweighting concept, resulting in costs of lightweight components for those who do want to employ lightweighting to remain high, but it also impacts carriers' bottom line.
A new Lightweighting Confidence Report released in February by the North Amercan Council for Freight Efficiency, five years after the last report, attributes heavier weights these days to companies adding on fuel-efficiency technologies and emission reduction features as well as including more driver amenities in the truck cabs.
Increasing weights were addressed in NACFE's confidence report five years ago, and recommendations were made, but the recent report notes that truck manufacturers and carriers have gone toward adding more weight rather than reducing the weight.
FleetOwner interviewed NACFE's executive director Michael Roeth, who said that if fleets would start to employ weight-reduction options it would drive down manufacturing costs – the supply and demand maxim – which would have benefits across the industry.
He said that manufacturers can achieve lightweighting by using lighter materials for such parts as the powertrain, axle suspensions, wheel ends, driveshaft, frame and fifth-wheel components.
However, they have tended to go the other way, adding weight, he said.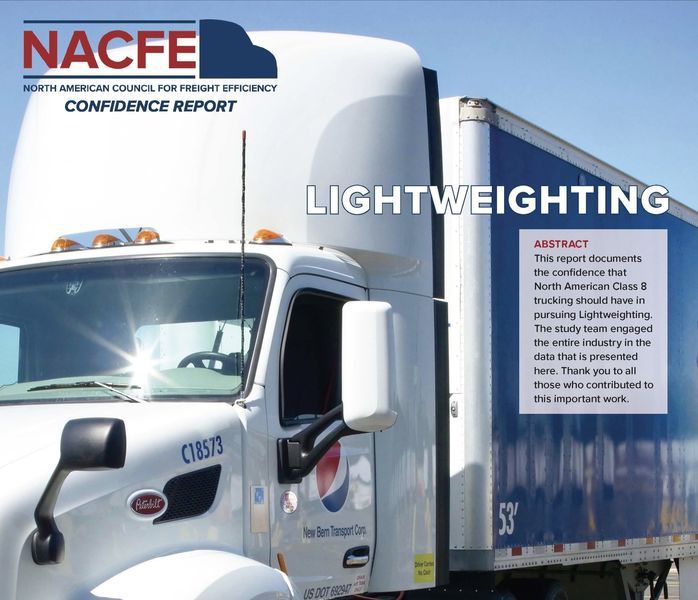 "Just adding fuel economy technologies — such as aerodynamics — added weight," he told FleetOwner. He says that the growing movement toward battery-electric trucks pushes them more toward the heavy end of the scale – with trucks increasing weights by 2,500 to 5,000 pounds more per truck compared to the same class of diesel trucks.
"Their base truck — if there is such a thing as a standard truck — have improved in weight. That's a big deal," he told FleetOwner.
"One thing that we're a little concerned about is the optional lightweight features fleets are not buying unless they're tankers or hauling beverages or those that really need them. We were surprised when we updated this report that more fleets weren't opting for lightweighting features — particularly those that occasionally gross-out. We thought that would have happened by now, but it really hasn't."
Roeth has noted, however, that as trucks get heavier their efficiency, along with carrier profits, plummets, so carriers are beginning to ask manufacturers to look for ways to reduce that weight – thus bringing down the costs of lightweighting overall.
"You're starting to see that happen at Tesla, Nikola, and even the traditional manufacturers who are working to optimize their electric trucks — not just to have a sort of modified diesel truck," Roeth told FleetOwner.
Who are the heavyweights
In its report, NACFE took an in-depth look at where commercial carriers fall on the scale of truck and truck-load weights.
Not surprisingly, bulk carriers are the heavyweights of the industry, with dry van coming in as the lightest … usually. The exception are dry vans hauling beverage commodities like beer and soft drinks. Also, shippers are trending toward cramming more freight into each trailer, loading in more pallets, in order to come as close to gross-out as possible.
In the NACFE report, weights in the freight industry are broken down into three main categories:
Category 1 is trucks that max out at 80,000 pounds nearly every load. Only about 2 percent of the industry, usually the bulk carriers, fall into this category
Category 2 includes trucks that max out at 80,000 pounds for about 10 percent of their loads, mostly reefer units and some dry vans. Trucks in this category still only represent about 10 percent of all commercial truck traffic
Category 3 represents about 88 percent of the trucking industry, and includes dry vans that rarely max out the weight limit
The numbers indicate why there is not enough demand for lightweighting to drive down the costs to make it attractive for the industry as a whole.
The bulk of freight traffic on the road is represented mostly by dry vans, and some reefers, that never gross out, and see no need to go to lightweighting technology.
The heaveyweights on the road that do gross out regularly, especially the bulk carriers, represent a mere fraction of the total freight traffic.
"If those (lightweighting components) start to increase in popularity at the truck builders, they may be able to lower their price of that optional feature," Roeth told FleetOwner. "Ultimately, they may even make that their standard. That's just how this works in the industry — if you have enough buyers, they'll make it the standard. Maybe they end up making a steel crossmember an option while an aluminum crossmember is standard. Then, with that scale comes better pricing and better availability. That's a very common pathway in the industry."
How lightweighting can benefit a fleet
According to the NACFE, fleets should be encouraged to embrace lightweighting for these benefits:
Fuel Savings: Every 1,000 pounds of weight shaved means a .5 percent to .6 percent increase in fuel efficiency, and lighweighting makes it possible to spec other fuel efficiency technologies like aerodynamic devices and idle reduction products
Freight Efficiency: Every pound of weight taken off the truck translates to another pound of payload that that the truck can legally carry. Lightweighting to keep a single additional vehicle off the road can save a fleet $1 million over five years. NACFE calculates this savings based on a new tractor costing $120,000 upfront and $1.65 per mile to operate an average of 100,000 miles per year
Driver Retention: Lighweighting makes it possible to spec driver amenities that add weight
Regulatory Compliance: A variety of regulations impact vehicle weight, lightweighing helps fleets comply with those regulations
Sustainability: Lightweighting can reduce the number of trucks needed to haul the same amount of freight which is a major sustainability gain
NACFE recognizes that for the manufacturer and fleet owners there are challenges to be overcome for them to embrace lightweighting.
Among those challenges are that the upfront costs might not have an attractive payback; that things like 13-liter engines, short and/or flat topped sleepers, 6×2 axles, other de-contenting, and less fuel tank capacity result in a lower resale value; and that lightweight components might not last as long as their heavier counterparts.
In conclusion
The NACFE summarized its report with these recommendations:
Above all, this report recommends that Category 2 and even Category 3 fleets begin to explore and spec lightweighting technologies in order to improve freight efficiency in the face of current industry trend. By doing so, they may even produce economies of scale that bring down the upfront cost of these technologies, while perhaps opening up new options for Category 1 fleets to adopt technologies that are currently too expensive
Another recommendation to bring down costs is for the industry to collaborate in order to address current redundancy in the development, testing, and product availability cycle among product developers, tractor-trailer integrators, and fleets
Finally, lightweighting for freight efficiency is a critical component of fuel efficiency, as it will facilitate the adoption of additional fuel efficiency technologies. Fleets should spec lightweighting options together with their other efficiency choices.
---
Dave Wickenhauser went on the road driving big rigs after retiring from 33 years in newspaper journalism. His trucking novel, "Crimson Highway" the first in the Hugh Mann series, is available as an Amazon paperback, and as an Amazon Kindle ebook.
Sources: FleetOwner, NACFE, NACFE Newsletter
Tagged Under:
Dry van
Electric Semi
Refrigerated
Tanker
Trailers
Truck Equipment
Truckers Technology