Canada is firm on June 12 ELD mandate; but no devices are certified
Last Updated: Sun, February 28, 2021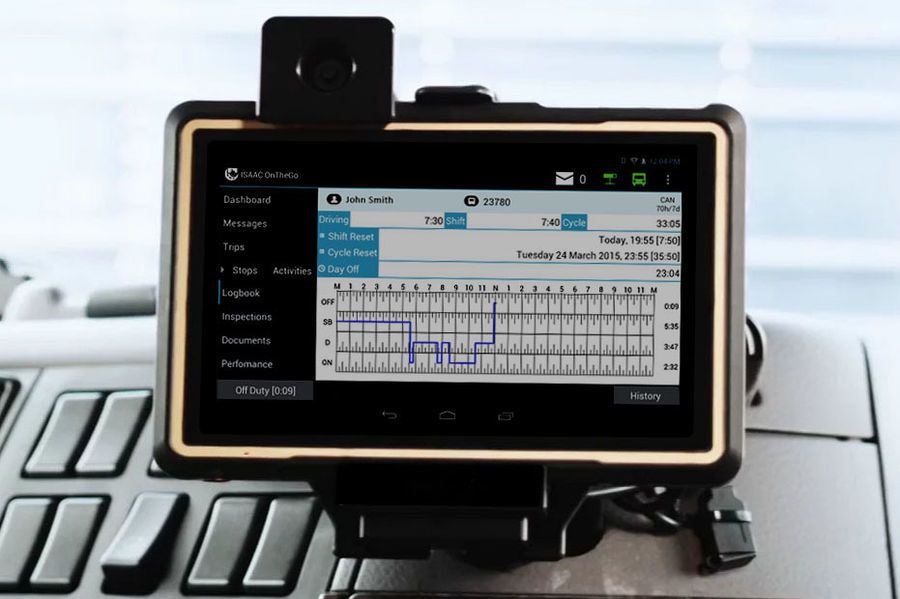 Having settled into compliance and routine use of mandated electronic logging devices U.S. commercial carriers that transport into Canada will have to go through the process all over again. Only, this time it will be much more complicated.
That's because Transport Canada, loosely the equivalent of the United States Federal Motor Carrier Safety Administration, appears to be holding firm on its June 12 ELD mandate enforcement.
The problem for U.S. carriers is that meeting compliance with that date, barely 100 days away, comes with a number of considerations, some of them serious.
For example, as of last week there are no ELD providers that have devices certified for use in Canada; which is a problem for Canadian drivers, but also for U.S. drivers who have ELDs that are fully compliant in the U.S. but wouldn't be once in Canada. It's not a simple process, such as blasting out an update to U.S. certified models for truckers who cross the border into the northern country.
Currently, American truckers crossing the border know that if they observe U.S. hours of service rules, without trying complicated things like logging split sleeper berth times, they will be in compliance with Canada's HOS regulations. Canada allows for 13 hours of driving in a day, whereas U.S. drivers are restricted to only 11 hours of driving in a day.
That's the simple part.
However, when Canada's ELD mandate goes into effect a U.S. driver's ELD must be able to handle some of the permutations of HOS rules that are unique to Canada.
Canadian drivers can average their driving and off-duty time over two days in some circumstances. Differences in rules for personal conveyance and yard moves in Canada will also need to be addressed by ELDs in U.S. trucks crossing into Canada.
Personal conveyance in Canada, for example, is restricted to 75 kilometers, or about 46 miles per day. When the vehicle hits the 76th km mark a Canadian ELD will automatically switch to drive status, requiring the driver to do a full reset before using personal conveyance again.
Similarly, yard moves become more complicated for U.S.-equipped ELDs if they haven't upgraded to certified Canadian-compliant ELDs; which currently don't exist. In Canada if a driver is in yard-move status and his truck goes over 32 kph, or roughly 20 mph, the ELD automatically switches to driving status.
According to Canadian officials, this was done in order to protect drivers from being out of compliance if they forget to log back into driving status when they head back out on the road after being in yard-move status.
Other differences become highlighted when ELD compliance becomes mandatory. Canada, for example, has a work shift rule, whereas U.S. drivers are regulated under a day rule, with differences in recording things like split sleeper berth times.
Team drivers and solo drivers are treated differently under Canadian HOS regulations.
Also, Canada has an hours and days 70/7 cycle and a 120/14 cycle, compared to the U.S. 60/7 or 70/8 cycle. And Canadian drivers can defer off-duty time and have control over their cycle changes.
Getting Canada-certified ELDs to market
Transport Canada has not given any indication it will give in to requests to delay the timeline for its ELD mandate. And it has not announced that the enforcement date will be mitigated somewhat by a soft or educational period as was done in the U.S. ELD enforcement.
That puts a lot of stress on ELD providers. Canada's only ELD-certifying body, FPInnovations, says it take about four to six weeks to certify a new device.
According to an HDT article, there are estimates that only about 10 percent to 15 percent of providers of ELDs for the U.S. market are even working on devices to be certified in Canada. Experts expect that as the deadline looms there will be a backlog of devices to be certified and many will not make the deadline.
And, because Canada's technical standards for ELDs differ significantly from standards for U.S.-compliant ELDs, many in the area of tamper prevention features, the lower-end of ELDs here will not be able to be made compliant.
Omnitracs, a major provider of commercial trucking ELDs, warns about the cost of certifying ELDs for Canada, and how it might be a deterrent for providers to enter the Canadian market.
"One of the things that is going to be a barrier to this, over and above the complications of getting the code right, is the cost of the third-party certification," HDT reported that Omnitracs' vice president of regulatory affairs, Mike Ahart, said.
"It's going to cost between $40,000 and $50,000 or more to certify each device we submit for certification. And then on top of that, there is an ongoing fee, every single year, of $10,000 to $15,000 to surveil the product because they have to retest 25% of the test steps every year to get to a total of 100% in four years. You have basically a new complete certification every four years."
Omnitracs does have a stopgap over-the-air software update that it thinks will make its U.S. customers' ELDs somewhat compliant with Canada's ELD standards. But Ahart admits that this update is not a Canada-certified ELD even though it does contain some of the important underlying code.
"You can't possibly think that if a device gets certified on May 15, that somehow you're going to update 1,000 customers," he told HDT.
And then, the ELD certification bottleneck could worsen later in the year after carriers have had experience with the first units they try and then decide to change providers.
What about inspections?
Currently, not having an ELD in Canada does not subject a driver to an out-of-service condition. But inspectors are being trained for the upcoming June 12 enforcement deadline.
Canada participates in the International Roadcheck inspection blitz, scheduled this year for May 4-6, just a little more than a month before Canada's ELD mandate goes into enforcement.
The focus for this year's Roadcheck will be on lighting and HOS violations, with inspectors taking an extra close look at ELD compliance.
According to the Commercial Vehicle Safety Alliance, during regular inspections last year in the United States inoperable lamps accounted for 12.24 percent of violations, and during last year's Roadcheck the top driver-related violation involved HOS, accounting for 34.7 percent of out-of-service conditions.
Inspections during last year's Roadcheck revealed, however, that HOS violations account for 73.7 percent of out-of-service conditions. So it is very likely that inspectors will be taking a close look at Canadian ELD compliance with the deadline being so near at the time of the inspection blitz.
---
Dave Wickenhauser went on the road driving big rigs after retiring from 33 years in newspaper journalism. His trucking novel, "Crimson Highway" the first in the Hugh Mann series, is available as an Amazon paperback, and as an Amazon Kindle ebook.
Sources: HDT Trucking Info, TruckNews, Isaac, Isaac
Tagged Under:
Electronic Logbooks
FMCSA
Hours Of Service
Logbook Questions
Personal Conveyance
Split Sleeper Berth Rule
Truckers Technology