Friday Short Haul - Reusing morgue reefers, ATRI research priorities, FMCSA HOS declaration
Last Updated: Thu, May 14, 2020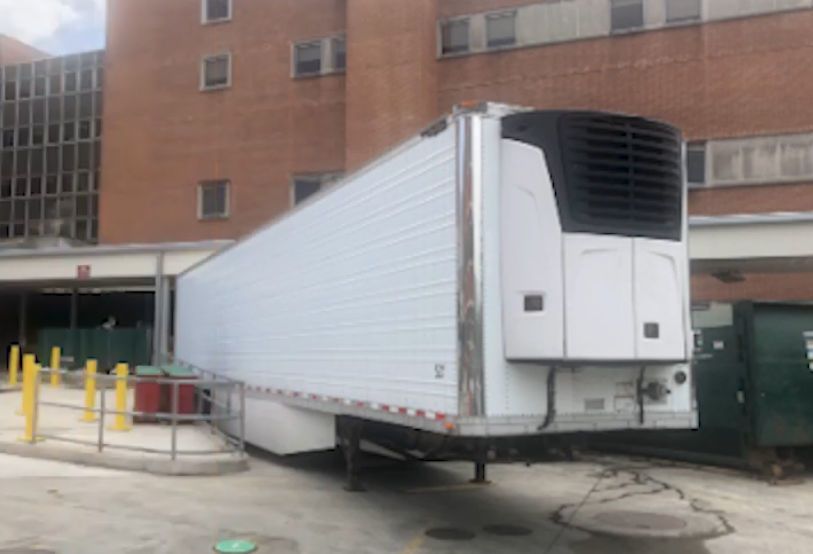 Screen capture from a YouTube video of a reefer trailer backed into a Maryland hospital during the COVID-19 crisis.
How to reuse COVID-19 "morgue" reefers as food reefers again
From our "You don't see this every day" file comes these detailed instructions from the U.S. Food and Drug Administration on how to convert refrigerated trailers that have been used as temporary morgues for COVID-19 fatalities back into being safely used to transport food freight again.
Long-windedly titled, "Returning refrigerated transport vehicles and refrigerated storage units to food uses after using them to preserve human remains during the COVID-19 pandemic," the FDA document states up front that these are recommendations, not binding regulations.
This document came about because the FDA was being asked by the owners of reefer trailers being used as temporary morgues in COVID-19 hotspots like New York City, how, or even if, they can return those trailers to use hauling foodstuffs again.
The short answer is yes, with proper cleaning and disinfecting.
The long answer, according to the FDA Handbook, is that "when there is evidence that interior surfaces were in direct contact with blood or bodily fluids, FDA recommends that refrigerated food transport vehicles and refrigerated food storage units not be returned to service for transporting or storing food for humans or animals if any one of the following conditions exist:"
There are interior surfaces made of porous unfinished wood or other materials that are not suitable for cleaning and disinfection and that cannot be removed and replaced;
There are interior surfaces that are damaged or compromised (e.g., cracked fiberglass, exposed seams) such that they are not able to be properly cleaned and disinfected;
There are mechanical refrigeration components located within the storage areas that cannot be cleaned in place or removed for cleaning and/or replacement;
The unit is permeated by offensive odors that cannot be eliminated through cleaning and disinfecting.
To clean and disinfect the reefer trailers the FDA recommends that a EPA-registered products be used on the material that is suitable for the product. The handbook says that repeat applications may be necessary, and warns that certain chemicals may be harmful to the trailers' being cleaned.
ATRI announces research priorities for 2020
Crash-related lawsuits, rising insurance rates, vehicle miles taxes, mileage-based safety metrics, and owner-operators and independent contractors in the supply chain will all get a deeper look this year by the American Transportation Research Institute.
Trucking Truth often covers the results of ATRI research, and there will be more to come in the future as the institute's Research Advisory Committee announced on Tuesday their list of research priorities for 2020 in the areas of workforce, infrastructure, and legal and operational issues.
Small crash settlements
ATRI has extensively studied "nuclear" verdicts against the trucking industry for truck-related crashes. But, in 2020 the institute will turn its research toward the affect on the industry of legal settlements that amount to less than $1 million.
Their research will look into the frequency of smaller settlements, what the responses of the fleets are, and the consideration of verdicts versus settlements.
Rising insurance rates
Somewhat related to the first topic, ATRI plans to look into the impact of ever-increasing insurance rates on the trucking industry. The research teams will study fleet resources and their business decision-making processes in view of their rising insurance costs.
What are fleets doing to cover those costs increases? Are they looking at their priorities with technology investments, or are they cannibalizing other cost centers, like safety?
Mileage-based safety metrics
Traditionally, fleet safety is measured on a metric of million vehicle miles traveled. But ATRI recognizes the growth of e-commerce and how it has changed fleet business practices, trip lengths and route locations. Their 2020 study will look at the potential new metrics for evaluating safety performance.
Owner-operators in the supply chain
Several jurisdictions at the state level, California's AB-5 being the most notable, have passed, or are trying to pass, laws that significantly change the way that independent contractor owner-operators may operate in their states.
These legislative actions seem to disregard the critical role that independent contractor drivers play in the supply chain, and they appear to make their decisions based on less-than-reasonable suppositions.
To better inform policy decisions ATRI will assess the role of owner-operator independent contractors in areas of the type and extent of use, and their financial and operational differences.
Vehicle miles traveled taxes
In ATRI's earlier studies on highway funding they identified reasons why implementing a vehicle miles traveled tax would be impractical. This year ATRI will examine "multiple data sets associated with VMT tax deployment including implementation and enforcement costs, potential evasion, and the challenges of implementing at the state and local levels."
FMCSA extends HOS emergency declaration
Already extended twice since the first COVID-19 hours of service emergency declaration on March 13, the Federal Motor Carrier Safety Administration has announced another extension to run through June 14.
The extension is implemented because the national public health emergency declared by the Federal government at the beginning of the COVID-19 crisis remains in place.
FMCSA's revised hours of service provisions are intended to meet the "need for transportation of essential supplies, equipment and persons, and to provide relief from the regulations for motor carriers and drivers engaged in the transport of essential supplies, equipment and persons," according to Wednesday's FMCSA announcement.
The relaxing of HOS rules applies only to drivers providing direct assistance in the relief effort, and the FMCSA has published detailed specifics as to who that applies to.
According to the emergency declaration, essential transportation in support of the COVID-19 outbreak include:
Medical supplies and equipment related to the testing, diagnosis and treatment of COVID-19
Supplies and equipment necessary for community safety, sanitation, and prevention of community transmission of COVID-19 such as masks, gloves, hand sanitizer, soap and disinfectants
Food for emergency restocking of stores
Equipment, supplies and persons necessary to establish and manage temporary housing, quarantine, and isolation facilities related to COVID-19
Persons designated by Federal, State or local authorities for medical, isolation, or quarantine purposes
Persons necessary to provide other medical or emergency services, the supply of which may be affected by the COVID-19 response
Sources: FDA Handbook, ATRI, FMCSA
Tagged Under:
FMCSA
Hours Of Service
Owner Operator
Refrigerated
Trucking Industry Concerns