Watch out for increased cargo theft over Memorial Day holiday
Last Updated: Sun, May 23, 2021
CargoNet, the cargo theft prevention and recovery network, is warning truckers to be aware of a "significant threat to freight transportation" over the upcoming Memorial Day weekend. That threat focuses on cargo theft and hijackings, which increase measurably during this one particular holiday period.
Jumping the gun on the holiday weekend, however, was a cargo thief who got caught in the act in Colorado last week, resulting in his shooting a responding sheriff's deputy, and then taking his own life after he had ran away into a field.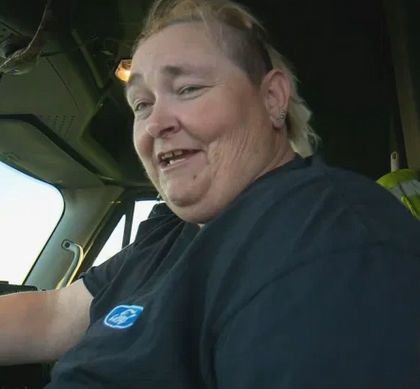 Truck driver Ladonna Woosley (pictured from a CBS4 video screen cap) and another trucker were parked around 3 a.m. on the side of the road on Highway 40/287 outside of Limon, Colorado. She was sleeping, unaware that someone was trying to break into her trailer. Another nearby trucker saw the attempted thievery, however, and dialed 911.
When Lincoln County Sheriff's Deputy Michael Hutton responded, he had barely been able to get out of his cruiser when the thief opened fire on him. He was wearing a protective vest, but the gunman's bullets missed the vest and struck the deputy.
The gunman ran into the woods, and his body was later found in a field about 1,000 feet away, having fatally succumbed to a self-inflicted gunshot wound to the head.
Woosley said in a CBS4 news video, "I slept through most of it but caught some of the gunfire," she said. "I was scared to death."
She was unhurt in the incident, but the other driver was grazed, and declined medical treatment. All that the cargo thief would have gotten for his troubles was a trailer load of beer being hauled by the other driver, and the Gatorade that Woosley was hauling.
The deputy is recovering in a Denver hospital.
CargoNet says to expect cargo theft increase next weekend
Gunfire might not be a normal part of most cargo thefts, but CargoNet warns of an "extreme risk" of theft activity over the upcoming holiday weekend.
The organization reports that cargo thefts during last year's Memorial Day weekend were up 35 percent from the previous year's holiday period, with 143 events reported from 2016 to 2020 for the Thursday through the following Wednesday around the holiday weekend.
The average value of each of the thefts was a little more than $308,000, but five of those thefts were of freight valued at more than $1 million.
Electronics have been particularly targeted recently. Thefts of those kinds of shipments increased by 443 percent between September 2020 and this May over the same period a year ago. The value of computer electronics freight averaged more than $850,000 for a full truckload and more than a quarter million dollars for less than truckloads.
CargoNet said that one-fifth of recorded thefts occurred on the preceding Friday, and almost 30 percent on the Sunday and Monday days of the holiday weekend. Thieves mostly go for food and beverage freight, including alcoholic beverages, seafood products and meat products.
Normally, electronics were not a significant target in the past, but in light of recent thefts, "CargoNet's Analysts are near certain that these goods will be targeted this upcoming holiday," according to the CargoNet news release.
Truckers are being urged to take precautions during the holiday weekend that they would normally take only for high-value loads. Some of the things that supply chain professionals can do to mitigate theft is to arrange for same-day delivery of short-haul shipments, embed covert tracking devices in the shipment, and use high-security locks to prevent trailer burglaries.
CargoNet says that drivers should observe the "red zone" rule, and avoid stopping within 250 miles of pickup. And drivers should also be on the lookout for any vehicles that appear to be following them.
Finally, CargoNet says drivers should "report any suspicious activity to law enforcement immediately and contact CargoNet at 888-595-2638 only after law enforcement has been notified and there are no immediate threats to life or property."
Some noteworthy thefts that have been reported to CargoNet from previous Memorial Day weekends include:
$5,700,000 in jewelry from a warehouse in Walton, Kentucky
$3,974,370 in pharmaceuticals in Clermont, Florida
$2,920,000 in cell phone accessories in Memphis, Tennessee (recovered)
$1,500,000 in tablets from a warehouse in Wilmington, Delaware
$1,200,000 in seafood from the port in Elizabeth, New Jersey (recovered)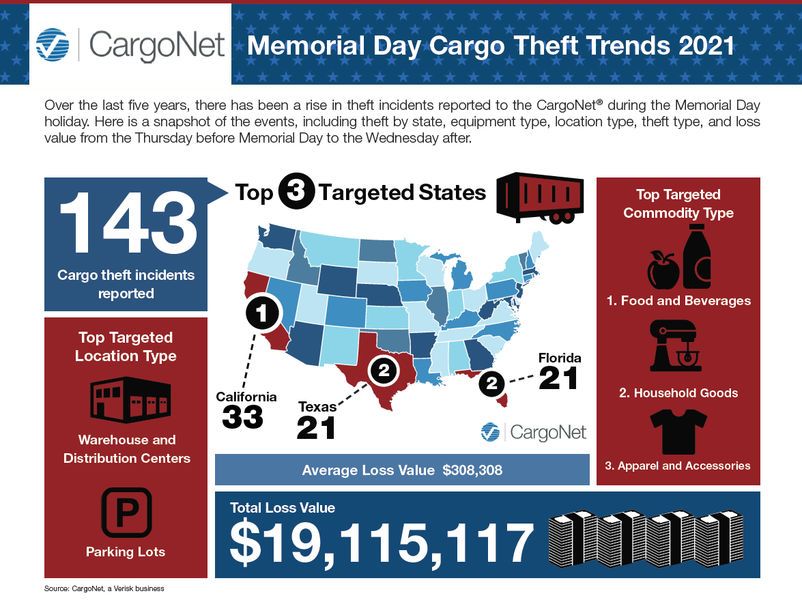 ---
Dave Wickenhauser went on the road driving big rigs after retiring from 33 years in newspaper journalism. His trucking novels, Crimson Highway, the first in the Hugh Mann series, and the sequel, Road Test, are available at Amazon as paperbacks, and as Kindle ebooks.
Tagged Under:
Adverse Conditions
Advice For New Truck Drivers
Driver Responsibilities
Life On The Road
Safe Driving Tips
Tips for Parking
Truck Driver Safety