TuSimple announces its Autonomous Freight Network to expand driverless freight hauling throughout the nation
Last Updated: Sun, July 5, 2020
TuSimple's "A Better Way Forward" video opens by posing the questions:
"What if you could create a virtual driver who never drinks, never texts, and never gets tired?"
"What if you could transfer freight coast to coast in 36 hours?"
"What if you could lower the cost of freight transportation by 30 percent?"
The issues that beg the questions posed above arise from one problem that every commercial carrier has had to face from the first time that someone hacked a cargo flatbed onto a Model A Ford – having to deal with drivers with imperfect tendencies who do need to sleep occasionally, who cannot make a 36-hour coast-to-coast run, and who feel the need to be paid for their driving services.
Now comes TuSimple, arguably the leader in autonomous Class 8 truck innovation, with a solution to that problem. The company leapfrogged all the other autonomous truck innovators by announcing on July 1 the launching of what they call "the world's first Autonomous Freight Network."
TuSimple's AFN is an outgrowth of the autonomous innovator's established, real-world, commercial freight routes that the company has been running for the United States Postal Service between distribution centers based in Phoenix, Tucson, El Paso and Dallas.
The expansion, which is already in operation, includes partnerships with UPS, Penske Truck Leasing, U.S. Xpress and McLane. These carriers will run on digitally mapped routes between strategically placed terminals, and customers will be able to follow the progress of each truck with TuSimple's proprietary autonomous operations software called TuSimple Connect.
"Our ultimate goal is to have a nationwide transportation network consisting of mapped routes connecting hundreds of terminals to enable efficient, low-cost long-haul autonomous freight operations," said TuSimple President Cheng Lu in a news release.
"By launching the AFN with our strategic partners, we will be able to quickly scale operations and expand autonomous shipping lanes to provide users access to autonomous capacity anywhere and 24/7 on-demand."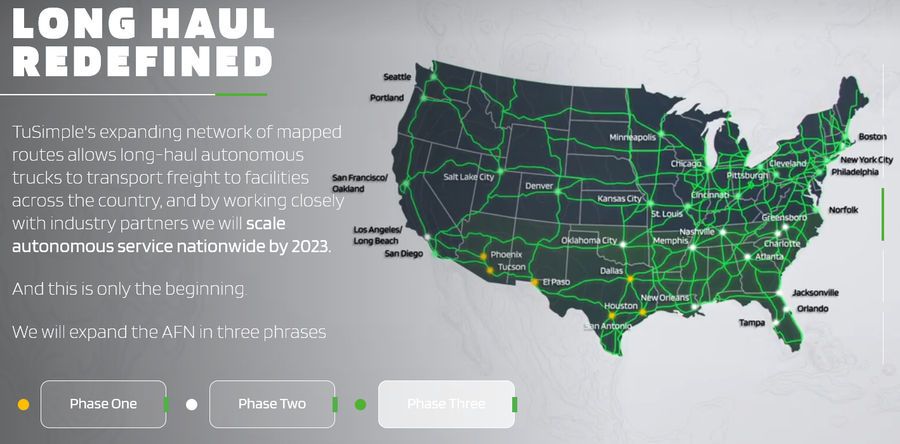 Set to deploy in three phases spanning 2020 to 2024, AFN begins with the current Arizona to Texas runs, and ends with coverage of the nation's lower 48 states:
Phase I (2020-21) will offer service between the cities of Phoenix, Tucson, El Paso, Dallas, Houston, and San Antonio.
Phase II (2022-23) will expand AFN service from Los Angeles to Jacksonville and connect the east coast with the west.
Phase III (2023-24) will expand driverless operations nationwide adding major shipping routes throughout the lower 48 states allowing customers to utilize their own TuSimple equipped autonomous trucks on the AFN by 2024.
The company will replicate the strategy in Europe and Asia after the AFN rolls out nationwide.
TuSimple's partners
U.S. Xpress, one of TuSimple's partners, has been working with TuSimple for the past two years and will provide lanes to aid in TuSimple's mapping and learning of routes their autonomous trucks will travel.
"For the past two years, U.S. Xpress has worked closely with TuSimple to help define carriers' needs for L4 trucks," said Eric Fuller, President and Chief Executive Officer, U.S. Xpress. "We are interested in understanding how TuSimple technology can make our fleet safer and more fuel efficient as well as how it can improve the overall delivery experience for our professional drivers and customers."
For its part, Penske Truck Leasing will give TuSimple access to some of its more than 750 service facilities across the country, allowing TuSimple to scale its fleet operations to fulfill its third phase goals. Penske will also provide on-the-road service for TuSimple's autonomous trucks.
In addition to the above partners working with TuSimple to deploy AFN, TuSimple has technology partnerships with Navistar, AWS, Envidia and Sony.
The logic behind the plan
TuSimple's strategy is simple. Recognizing that freight routes are predictable -- the same for every trip, virtually to the inch of road needing to be travelled from Point A to Point B -- their engineers can map every detail of the route, ensuring a consistent run every time.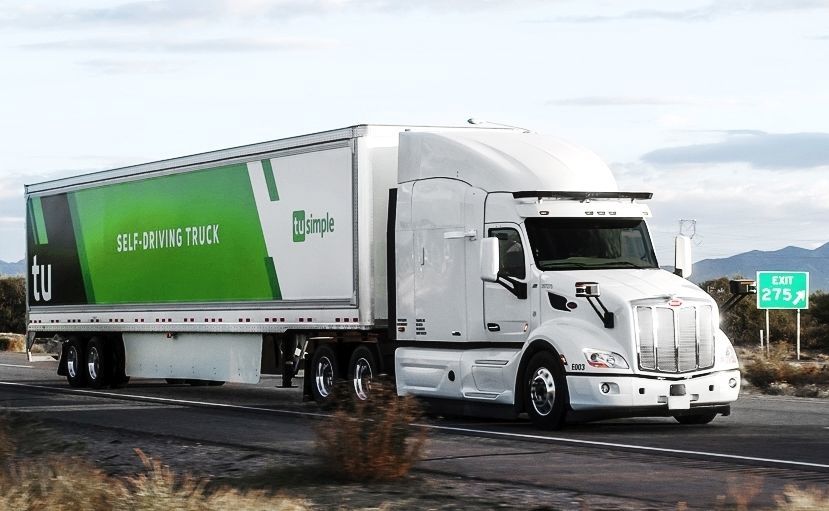 That is unlike autonomous vehicles being developed for personal use or as robotaxis; which by necessity need to have an unlimited range of coverage and which encounter a huge variety of conditions depending on the whim of the drivers.
TuSimple executives explain it is comparable to a railroad, only with TuSimple's mapping technology acting as the freight hauler's "tracks."
"TuSimple technology allows autonomous trucks to be 10 percent more fuel-efficient than manually driven trucks, and in the future operate continuously without hours of service limitations. These advantages will provide greater asset utilization and cost savings," according to TuSimple's news release.
For now, until Federal authorization allows completely unattended autonomous vehicles to travel on the nation's roads, TuSimple's vehicles have a safety driver and an engineer on board at all times. The vehicles are Level 4 ready, however, and are capable of completely driver-less transporting of freight on the nation's highways as well as on surface roads.
TuSimple is headquartered in San Diego, and has branch offices in Shanghai and Beijing.
Sources: TuSimple News Release, Singularity Hub
Tagged Under:
Autonomous Trucks
Self-Driving Vehicles
Truckers Technology
Trucking Industry Concerns
US Xpress Transport