Opponents voice concerns about Amazon's Driveri surveillance system
Last Updated: Sun, March 28, 2021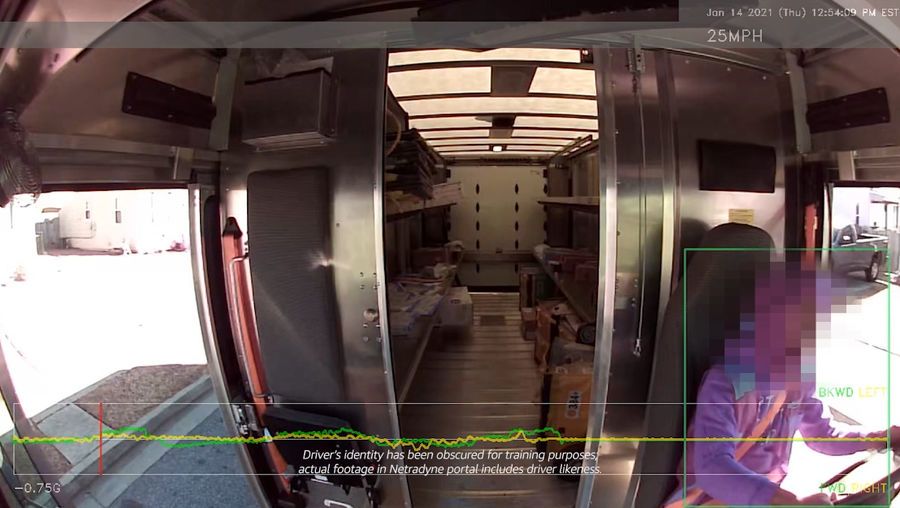 As Amazon goes, so goes the rest of the trucking industry?
Industry watchers are becoming increasingly concerned about the privacy invasive tactics being employed by Amazon against its delivery drivers, and worry that if it spreads throughout the trucking industry it could have an impact on driver retention.
Many say that driver resistance to these tactics could lead to an exodus from the workforce, crippling the delivery chain.
The latest on this front comes from news that Amazon is planning to deploy an artificial intelligent camera system from Netradyne called Driveri. Pronounced "driver eye," the system uses a four-lens camera to monitor in minute detail everything that an Amazon delivery driver does in his or her vehicle.
The incentive that Amazon offers to drivers for sticking a camera in their faces and submitting to biometric monitoring is to either accept it or quit.
Land Line, the publication of the Owner-Operator Independent Drivers Association, tells of an independent driver who hauls Amazon loads who was given a deadline of March 23 to sign a release form allowing Amazon to place the Driveri device in his independently owned vehicle.
The intent of the device would be to constantly record him, store biomentric and telematic information, and report back if his behavior triggered certain AI metrics.
The driver, who had already become fed up with Amazon's egregious policies. has said he would be quitting.
An American Civil Liberties Union news release reported on the severe implications for the industry if this kind of invasive monitoring becomes pervasive.
The ACLU article noted that Driveri records 100 percent of the time. It watches for 16 behaviors that will trigger the device to upload recorded footage. The upload includes more than the usual telematic information, like hard brakes and such, that current drivers are accustomed to. It also watches for seat belt use, making U-turns, and even things like seeing a driver yawn.
Spotting these "violations," the camera will shout orders to the driver, like maintain a safe distance, or slow down. In the case of yawning, the camera orders the driver to pull over for 15 minutes, and if he or she doesn't comply it will snitch to the driver's boss.
Amazon hasn't told drivers this, but Netradyne advertises that its Driveri keeps a running score of drivers in real time, providing that information to management.
Amazon, of course, touts its new surveillance system as improving safety.
Land Line reached out to Amazon and received the following reply:
"Netradyne cameras are used to help keep drivers and the communities where we deliver safe. We piloted the technology from April to October 2020 on over 2 million miles of delivery routes, and the results produced remarkable driver and community safety improvements – accidents decreased 48%, stop sign violations decreased 20%, driving without a seatbelt decreased 60%, and distracted driving decreased 45%. Don't believe the self-interested critics who claim these cameras are intended for anything other than safety."
ACLU, however, says the safety benefit is not proven. And they suggest, "as a society we're going to need to figure out how much to allow ourselves to be overseen by automated AI cameras that engage in intrusive monitoring, judging, nagging, and reporting of our behaviors … that kind of monitoring would make anyone miserable."
Amazon's deployment of Driveri is just one more complaint that employees have about the company's labor practices. The company has been using robotic management of its employees for some time now. Drivers say that brutal working conditions imposed on them pressure them into driving dangerously fast. At the same time that Amazon urges them to drive safely they are increasingly being given impossible delivery goals.
According to Land Line, Amazon drivers say they are required to download an app on their personal phones that monitors their driving, and their phone use. Others say they are required to take a selfie before each shift.
Opponents to Driveri say that Amazon's deployment of that micro-surveillance system is an attempt to mitigate driver safety issues that were caused by Amazons own unrealistic driver performance demands.
The system is designed to report any attempts to thwart the camera surveillance, for example a driver could not cover the camera lens. Driver drowsiness, distraction and inattentiveness is keyed to facial biometrics, which could be defeated by a driver wearing sun glasses, for example. Opponents believe there will be a time when drivers won't allowed to wear sunglasses.
Land Line, commenting about a concern that many have of drivers losing their jobs because of the rise of self-driving trucks, notes that if drivers continue to exit the workforce because of egregious micro-surveillance, "self-driving trucks won't come soon enough to save the industry."
---
Dave Wickenhauser went on the road driving big rigs after retiring from 33 years in newspaper journalism. His trucking novel, "Crimson Highway" the first in the Hugh Mann series, is available as an Amazon paperback, and as an Amazon Kindle e-book.
Tagged Under:
Adverse Conditions
Cameras
Choosing A Trucking Company
Driver-Facing Cameras
Owner Operator
Self-Driving Vehicles