Friday Short Haul - Post-virus speeds return to normal, $2 million insurance minimum proposed, WIT looking to honor an influential woman
Last Updated: Fri, June 19, 2020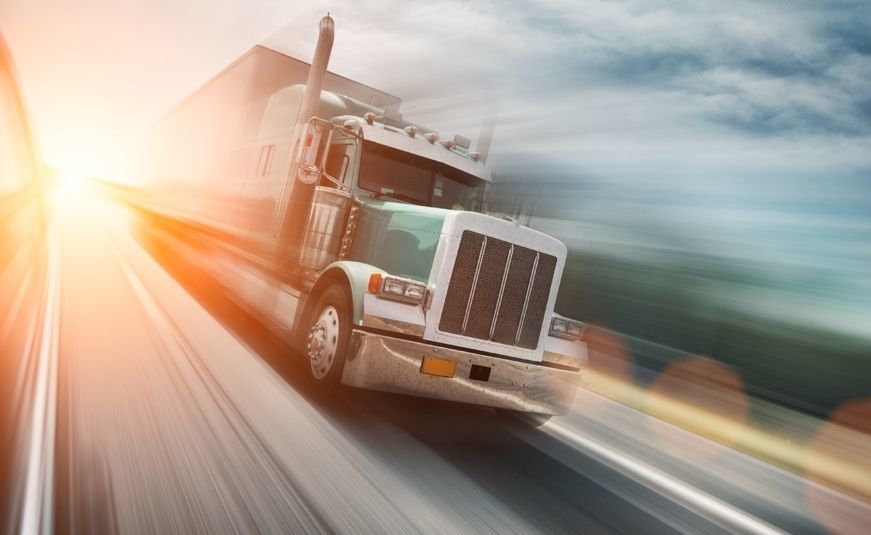 As traffic normalizes, virus-related speeding trends are on the decrease
As reported earlier at Trucking Truth, reduced highway traffic because of COVID-19-related lockdowns and quarantines, resulted in truck drivers being able to speed through areas where ordinarily they would have been experiencing slowdowns due to bottlenecks.
But, now that traffic on the nation's highways is back up to about 95 percent of pre-virus levels that faster traffic pattern is also beginning to return to earlier lower speeds.
That information was made available by fleet management solutions provider Samsara Networks after studying date among its 15,000 customers, and reported in a recent FreightWaves article.
According to Samsara speeding in five cities they studied increased 40 percent in early April. The cities were Atlanta, New York City, Chicago, Houston and San Francisco. Speeds increased some 20 percent in these areas, 11 mph or more above the speed limit.
Then, in May as states began to relax stay-at-home orders, speeding began to decrease. Conversely, when speeding was on the increase Samsara found that incidences of harsh braking and accelerations sharply declined by as much as 40 percent across the nation.
It stands to reason that with fewer vehicles on the road trucks were required to make fewer brake-and-accelerate movements, and the statistics proved that that was the case.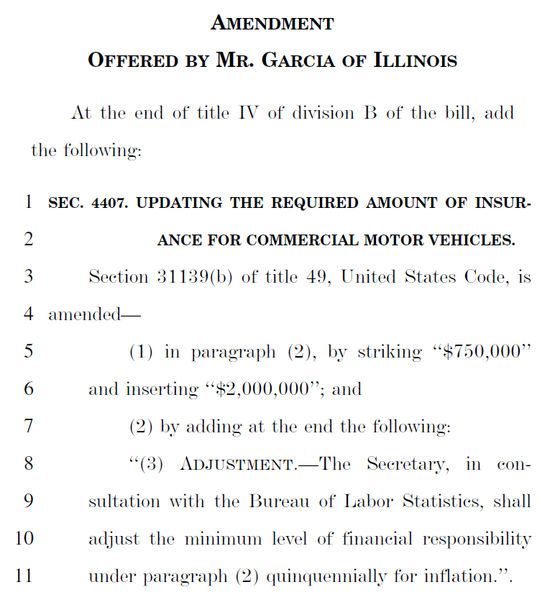 Full text of the $2 million Garcia Amendment
$2 million insurance coverage minimum would be 'poison pill' to trucking industry
An amendment passed by a United States House of Representatives committee on Wednesday adds to growing concern by independent truck drivers and smaller carriers that increased insurance premiums might be what puts them out of business in the not-too-distant future.
The required minimum insurance coverage of $750,000 hasn't been changed since the 1980s, but this latest action by Congress to amend the INVEST Act will up that limit to $2 million.
Representatives Jesus "Chuy" Garcia (D-Illinois) and Matthew Cartwright (D-Pennsylvania), introduced the measure, which was lauded by the Institute for Safer Trucking. Garcia said the amendment is not an attack on truckers, but it does support families who have lost loved ones.
The Institute, according to the Yahoo Finance article, remarked in a Twitter post that, "This amendment will help families who have survived truck crashes and help make the trucking industry safer."
The point of the increased minimum -- which would increase premiums -- if passed by Congress, is to provide insurance companies with the resources to pay out against the proliferation of what are called "nuclear verdicts," which are jury awards and settlements larger than $10 million per accident.
Yahoo Finance pointed out in the article that between 2012 and 2015 there were 12 verdicts against trucking firms that resulted in $900 million worth of awards. Carriers are found liable even for accidents involving independent contractors, with one such wrongful death award amounting to $26.6 million against CWRV Transport in 2017.
Some 640 trucking firms have ceased operations in the past year, and in many of those bankruptcies and closings increased insurance premiums was cited as a major factor.
Even where drivers who are involved in accidents have been trained is coming into question during litigation when lawyers aggressively go after carriers.
"If you have an accident and the opposing law firm questions where you train, there seems to now be an assumption that if you have an accident you must not have been trained adequately," John Kearney, president and CEO of Advanced Training Systems, said in the Yahoo Finance article. "That assumption means you lose a lawsuit."
The Owner-Operator Independent Drivers Association is calling the amendment a "poison pill" and has written a letter to lawmakers urging them to vote down the amendment.
"OOIDA vehemently opposes Garcia Amendment 062, which would more than double the minimum level of financial responsibility for trucking companies, including many small businesses," Collin Long, OOIDA's director of government affairs, wrote in a letter to committee members on Tuesday.
"Passage of the amendment would be a poison pill for OOIDA and our members, forcing us to vigorously oppose a bill we otherwise support," the Association's letter states. "We urge all members of the committee to reject this unnecessary and punitive proposal."
Long offered research showing that less than one-tenth of one percent of crashes end up with damages awarded that are more than current coverage limits, and questioned how raising the limit will increase highway safety.
"There is not an ounce of reputable research that indicates imposing such a dramatic increase in insurance coverage would do anything to reduce crash rates," he said. "What this proposal will do is destroy small trucking businesses in every corner of the country."
The letter went on to say, "Increasing the minimum insurance requirements from $750,000 to $2 million in the midst of a major economic downturn would be nothing short of disastrous for many small motor carriers and owner-operators, who are currently struggling to stay in business due to historically low freight rates."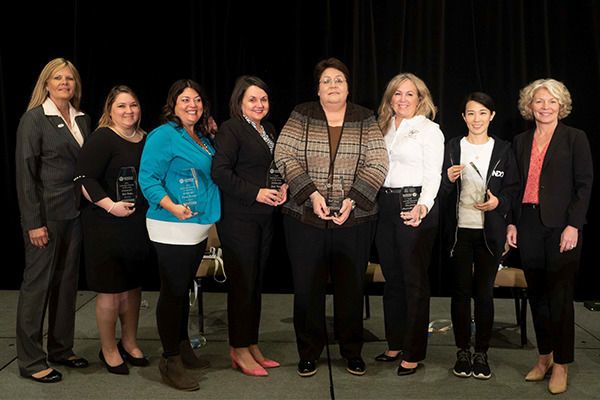 2019 Influential Woman in Trucking award winner: Ruth Lopez, Ryder System, Inc.
Women in Trucking looking for Influential Woman in Trucking nominations
Nominations are now open for Women in Trucking Association's Influential Woman in Trucking award. The event this year is sponsored by Freightliner Trucks in association with WIT.
WIT and Freightliner recognize that "women make a positive difference in the trucking industry every day," and would like to award one woman who has made a or influences key decisions in a corporate,
manufacturing, supplier, owner-operator, driver, sales or dealership setting.
They are looking for a female in the industry with a proven record of responsibility, and who has "mentored or served as a role model to other women in the industry."
Anyone nominating a woman for the award must within 250 words per item:
Briefly describe this nominee's role in the trucking industry.
Describe how your nominee has been a role model for women in the trucking industry.
Please tell us why your nominee should be selected as the 2020 Influential Woman in Trucking.
Finalists in the Influential Woman in Trucking Award will be asked to participate in a panel discussion about female leaders in the industry during the annual Accelerate! Conference & Expo In Dallas, Texas, on September 23-25.
WIT provides an online nomination form via SurveyMonkey. Deadline for nominations is July 31.
Sources: Yahoo Finance, CDL Life, Land Line, Women in Trucking, FreightWaves
Tagged Under:
The Economy And Politics
Trucking Accidents
Trucking Industry Concerns
Trucking News
Women In Trucking