Friday Short Haul - Top truck bottlenecks, North Dakota road trains, TuSimple IPO
Last Updated: Thu, February 25, 2021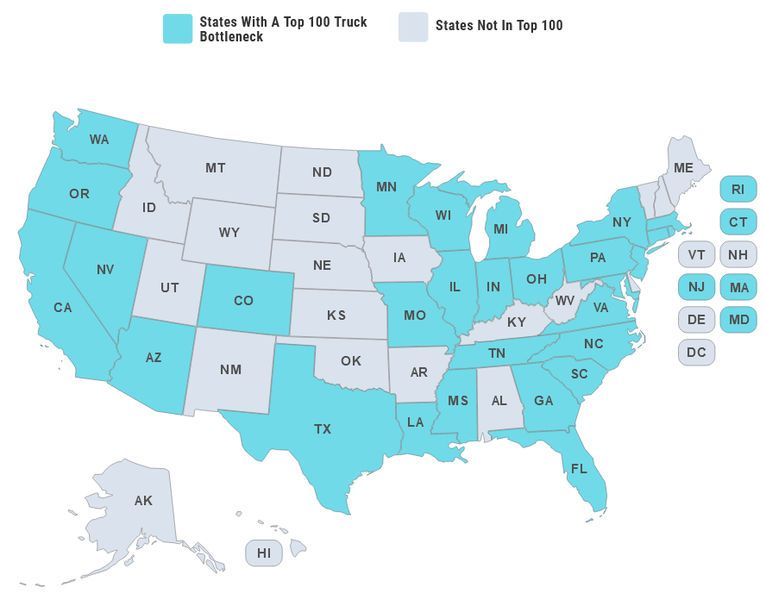 ATRI releases list of top trucking bottlenecks
Throughout the year the American Transportation Research Institute monitors 300 freight-critical locations across the country, then the institute releases its annual list of the top 100 bottlenecks for trucks.
Based on GPS data collected during 2020 from more than 1 million trucks that adds up to terabytes of information, ATRI's 2021 report reveals that for the third year in a row the intersection of I-95 and SR 4 in Fort Lee, New Jersey, earns the title for the worst bottleneck for trucks in the country.
"While everyone else sheltered in place in 2020, trucks kept rolling, delivering essential goods to communities large and small," said CRST International President and CEO Hugh Ekberg. "Unfortunately, congestion continues to impact our operations and affect our drivers' ability to deliver for America."
The remaining worst bottlenecks in the top 10 include:
2. Cincinnati: I-71 at I-75
3. Atlanta: I-285 at I-85 (North)
4. Atlanta: I-20 at I-285 (West)
5. Houston: I-45 at I-69/US 59
6. Chicago: I-290 at I-90/I-94
7. Chattanooga, Tennessee: I-75 at I-24
8. St. Louis: I-64/I-55 at I-44
9. Rye, New York: I-95 at I-287
10. San Bernardino, California: I-10 at I-15
ATRI concluded in its analysis that despite the COVID-related decrease in total traffic volumes during 2020 these notable locations resulted in slowing down average truck speeds to 45 miles per hour or less. Some of the bottlenecks were due to the return of pre-pandemic freight demand early in the year, and to numerous construction projects that started on the nation's roadways in 2020.
"For decades, ATA has been sounding the alarm about how the condition of our highways is contributing to congestion – which slows down commerce, contributes to pollution and reduces safety. ATRI's bottleneck report highlights where our most critical issues are and should be a guide for policymakers at the state and federal level," said American Trucking Associations President and CEO Chris Spear.
"The cost of doing nothing is always higher than the cost of fixing these problems and we cannot wait any longer to address this mounting crisis."
ATRI suggests that the information gained from its survey should "inform local investment decisions that can directly improve supply chain efficiency."
The complete list of 100 worst truck bottlenecks, with peak and non-peak average speeds is available at the ATRI website.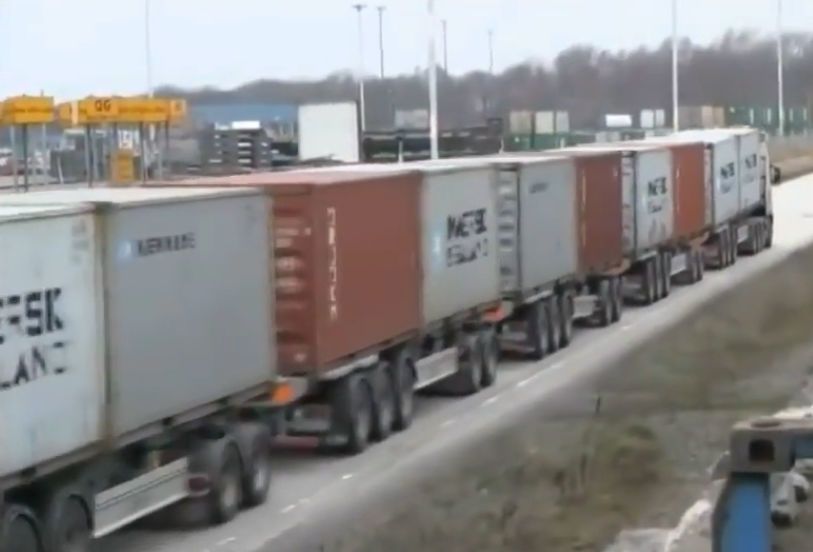 North Dakota still considering road trains
Citing it would be a solution to the truck driver shortage, the state of North Dakota had proposed a bill that would allow road trains, trucks pulling more than three trailers, to operate in the state.
That initiative is still on the table with a North Dakota State Senate voting to advance that legislation.
Earlier, state House legislators approved a resolution asking the United States Congress to consider federal legislation increasing truck size and weight standards for state highways and interstate freeways.
In the resolution, House lawmakers specified that a road train would consists of two or more trailers that may exceed length and gross weight limitations, but would violate current axle weight regulations.
Although the North Dakota Motor Carriers Association has voiced its support for the concept of road trains as a way to mitigate the truck driver shortage, the proposal has come under opposition from the Owner-Operator Independent Driver Association, which challenges the argument that there is a driver shortage calling for the use of road trains.
"To the contrary, trucking has always suffered from overcapacity – too many trucks, trailers, and drivers," Land Line reports that Lewie Pugh, OOIDA executive vice president wrote. "Wages, working conditions, and rampant driver turnover are proof of this."
Pugh also says that increasing the number of trailers on the nation's highway would "significantly compromise margins of safety" on North Dakota roadways."
"The trucking industry has dozens of real issues that need to be addressed, but we can unequivocally say there is no driver shortage and no need for bigger and/or heavier trucks," Land Line reported Pugh said.
The North Dakota Department of Transportation brought another element of concern into the discussion of road trains plying the state's highways.
According to Wayde Swenson, director of operations for the North Dakota Department of Transportation, there is currently no mechanism in place to test or license drivers of road trains beyond the traditional testing for doubles and triples, and that the state lawmakers' resolution does not address these concerns.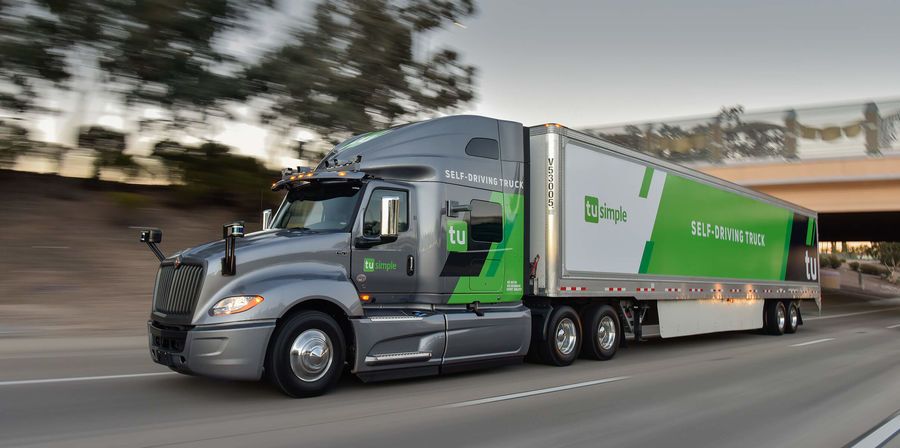 TuSimple may soon be going public
TuSimple, inarguably the leader in the self-driving big-rig truck technology race, is the first to announce it is close to offering public stock.
Financials for TuSimple's IPO are being handled by Morgan Stanley.
The company's prospectus may be made public by as early as next week, and pricing of the stock and share sales may be announced by the end of March. TuSimple is hoping for a valuation of between $3.5 billion and $7 billion.
Currently, the trucking company has about 800 employees, three-quarters of whom are in the United States, and the rest are in China.
The company has been running paid freight in America's Southwestern states with its 50 Level 4 autonomous trucks. They are still using a safety driver on those trips.
TuSimple has offices in San Diego and Beijing, China. The company has strong leadership and financial ties with China. Of the $298 million TuSimple has raised since September 2019 most is from Chinese sources, with its major investor being Chinese media company Sina Corp.
TuSimple also has relationships with chipmaker Nvidia and truck manufacturer Navistar.
In addition, major commercial carriers such as Schneider National, Werner Enterprises and U.S. Xpress Enterprises have recently invested in TuSimple.
---
Dave Wickenhauser went on the road driving big rigs after retiring from 33 years in newspaper journalism. His trucking novel, "Crimson Highway" the first in the Hugh Mann series, is available as an Amazon paperback, and as an Amazon Kindle ebook.
Sources: ATRI Bottleneck Survey, Land Line, FreightWaves
Tagged Under:
Adverse Conditions
Autonomous Trucks
Doubles and Triples
JB Hunt
Schneider National
Truckers Technology
Trucking News
US Xpress Transport