Friday Short Haul - Embark and ADOT, Livestock haulers, and truck parking
Last Updated: Thu, March 25, 2021
Embark partners with Arizona to improve AV interaction in highway work zones
Ever since the first automated commercial vehicle innovators reached the point where they needed to put tires on the road Arizona has been a favorite test bed. Now, Embark, one of the leaders in automated driving systems, has formed an agreement with the Arizona Department of Transportation to work together to make commercial AVs safer in highway work zones.
This partnership, that was signed in a memorandum of understanding on Wednesday, comes as an answer to the frequently heard comment opposing commercial AVs; "What about lane closures and work zones?"
This is the first time that a government agency and an AV developer have come together to solve this critical aspect of highway safety.
Arizona officials welcome the collaboration, citing that:
123,000 work zone related crashes occurred nationally in 2018, resulting in 757 preventable fatalities
30 percent of work zone fatal crashes and 10 percent of work zone injury crashes involved at least one large truck
In Arizona, there were 971 work zone crashes and 17 preventable fatalities in 2018.
The way it will work is Embark and ADOT will share data in support of safe navigation in highway work zones. Embark's data collected from AV operations will be used to provide Arizona with feedback for infrastructure and road design.
Embark will provide technical briefings to Arizona officials. In turn, ADOT will share its open-source data on work zones.
"Safely navigating work zones is an important requisite for any driver, including autonomous trucks. By working with ADOT, we've accelerated our ability to understand and safely navigate corner cases, moving us closer to our goal of deploying autonomous trucks," said Embark Co-founder and Chief Technology Officer, Brandon Moak.
"We are excited that our system's ability to read signs, respond to traffic control devices, and detect workers, combined with its 'always-on' state that never gets fatigued or distracted, can be an important contributor to road safety in Arizona."
Embark's commercial AVs deploys two design philosophies that make their AVs safer for traveling through work zones. The company claims that its "sensors-first" architecture does not rely primarily on static maps of roads that change during construction. Instead, its sensors detect changes in roads as a human driver would.
The second feature is that Embark's approach to commercial AV design is for what they call the "middle-mile approach" that keeps its vehicles only on limited-access highways and short approach segments to distribution centers.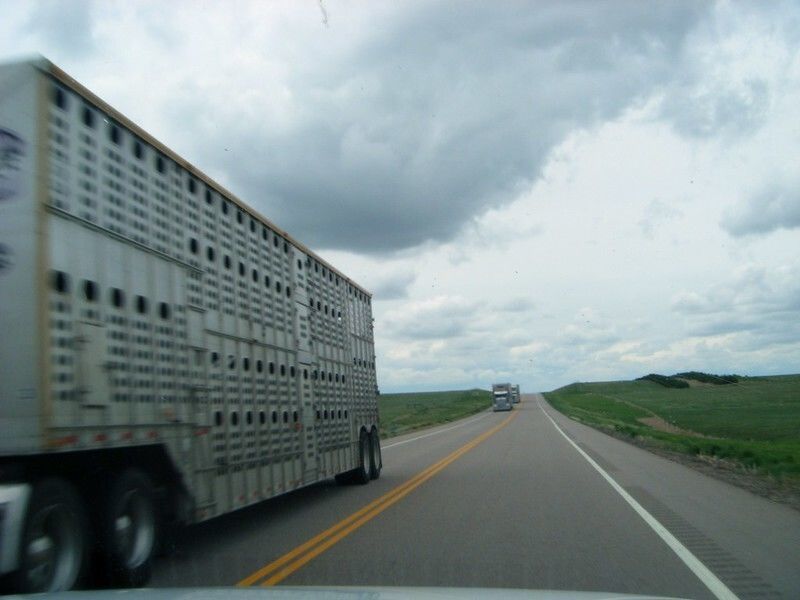 Bill proposes giving permanent HOS rules exemptions to livestock haulers
Aptly named the Haulers of Agriculture and Livestock Safety Act, or HAULS Act, a bill has been reintroduced into the new 117th Congress to amend current hours of service rules for livestock and agricultural commodities haulers.
Reintroduced from the previous Congress by Nebraska Senator Deb Fischer, with Senators Jon Tester (D-Montana), Roger Wicker (R-Mississippi), and Tina Smith (D-Minnesota) the legislation proposes to:
Eliminate the requirement that ag and livestock hours-of-service exemptions only apply during state designated planting and harvesting seasons
Amend and clarify the definition of "agricultural commodities" based on feedback provided by agriculture and livestock organizations
Authorize a 150 air-mile exemption from HOS requirements on the destination side of a haul for ag and livestock haulers
The bill also proposes a new definition for agricultural commodities that would include any non-processed product planted or harvested for food, feed, fuel or fiber; any living animal, including fish, insects and livestock; the non-processed products of any living animal, including milk, eggs, and honey; non-processed forestry, aquacultural, horticultural, and floricultural commodities; fresh or minimally processed fruits and vegetables, including fruits and vegetables that are rinsed, cooled, cut, ripened or otherwise minimally processed; and animal feed, including the ingredients of animal feed.
Truck parking coming to the attention of the U.S. Senate
The U.S. Senate Committee on Commerce, Science and Transportation is taking testimony for "Driving the Road to Recovery: Rebuilding America's Transportation Infrastructure."
The committee heard recently from Douglas Hooker, executive director of the Atlanta Regional Commission, who wished to impress committee members with the lack of truck parking in the Atlanta region, but also throughout the United States.
In his testimony, Hooker stated that, "Most interstate commerce corridors in our region suffer from truck parking shortages, with this shortage forecast to worsen in the future."
He said the trucking industry needs "safe and accessible parking," and asked committee members to keep the truck parking issue on the agenda.
"Safe and accessible truck parking is not just a local issue. The needs cross state boundaries. A national program is needed that focuses on interstate commerce corridors and addresses the unmet needs for safe and accessible truck parking."
Committee member Senator Deb Fischer, R-Neb., agreed that the lack of parking is not only an inconvenience but is also a safety issue for millions of truck drivers.
Hooker explained that because most of the truck parking is outside of the Atlanta metro region, whereas shippers and receivers are within the metro area, "truckers have to make a decision very early on whether they're going to stop outside of the region even though their delivery is inside the region or whether they will have the time to make it through the congestion and get there on time."
"A lot of times even the places they have to deliver to won't let them stay there very long or overnight," Hooker concluded. "So it's a very tough problem for our truck drivers who are trying to provide us an essential service. I think, as a whole, our nation is only beginning to wake up to a very serious problem that we have."
According to a recent Land Line article online, the Owner-Operator Independent Drivers Association has long been pushing for federal funding to solve the truck parking issue.
OOIDA supported a bill introduced last year by Representatives Mike Bost, R-Ill., and Angie Craig, D-Minn., that is expected to be reintroduced in the current Congress, that would allocate $755 million for truck parking over a five-year period.
---
Dave Wickenhauser went on the road driving big rigs after retiring from 33 years in newspaper journalism. His trucking novel, "Crimson Highway" the first in the Hugh Mann series, is available as an Amazon paperback, and as an Amazon Kindle ebook.
Sources: PRNewsWire, CCJ, LandLine
Tagged Under:
Autonomous Trucks
Hours Of Service
Safe Haven
Self-Driving Vehicles
The Economy And Politics
Truck Driver Safety
Trucking Industry Concerns