Most states fail to measure up to safety advocate's recommendations
Last Updated: Tue, January 12, 2021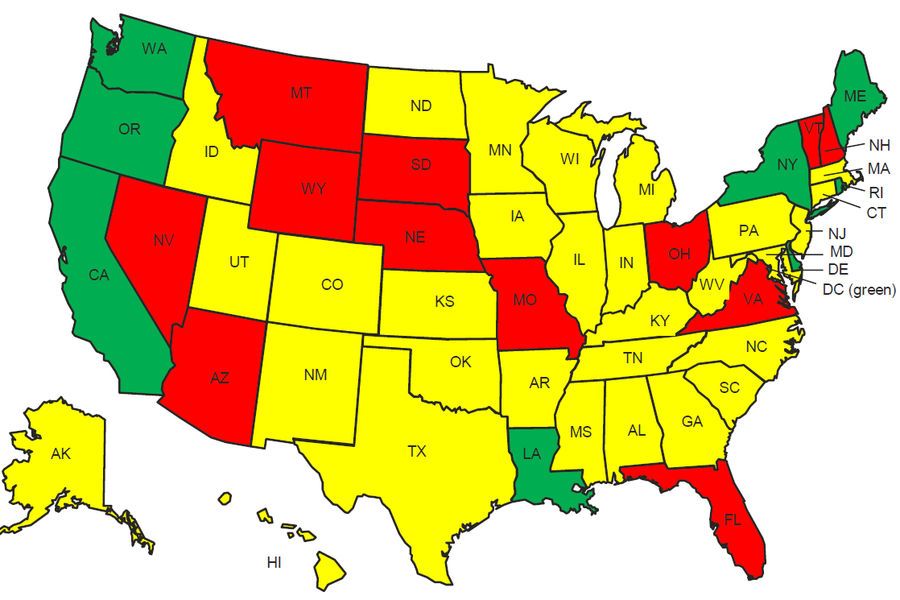 The Advocates for Highway and Auto Safety have released its 18th annual Roadmap of State Highway Safety Laws and the China virus has taken one more hit in the blame game for helping to give 2020 a "substantial uptick in the fatality rate."
In her preamble to the report, Advocate's President Catherine Chase remarked that, "In 2020, emptier roads turned into racetracks, impaired and distracted driving was reported as more widespread, protections like seat belt use appear to have dipped, and the traffic fatality rate spiked. In 2021, let's change this picture."
Chase noted that in addition to the obvious travesty inflicted on Americans by the virus, Americans were staying home more, meaning roads were emptied and, "drivers put the pedal to the metal at high speeds."
"Other risky behaviors like driver impairment and distraction also rose," she added. "And, seat belts – often the difference between life and death when a crash happens – were not worn. While it will take time for the full data to be released, early indications reflect a substantial uptick in the fatality rate."
The report took a detailed look at states' traffic safety laws, identifying 16 recommended important ones, and graded states with the progress they made in 2020 to pass legislation meeting those recommendations.
Notable in their report was that last year New York and South Dakota "made significant strides toward improving safety on their roads through the enactment of strong state laws."
In the map above, Advocates ranked states and illustrated their safety laws with a color key based on their passage of legislation in the following 16 areas of optimal traffic safety laws:
Primary Enforcement Seat Belt Law
Front Seat Occupants, Rear Seat Occupants
All-Rider Motorcycle Helmet Law
Rear Facing through Age 2 Law
Booster Seat Law
Minimum Age 16 for Learner's Permit
6-Month Holding Period Provision
50 Hours of Supervised Driving Provision
Nighttime Driving Restriction Provision
Passenger Restriction Provision
Age 18 for Unrestricted License
Ignition Interlock Devices (IIDs) for All Offenders
Child Endangerment Law
Open Container Law
All-Driver Text Messaging Restriction
GDL Cell Phone Restriction
Green states complied with 11 to 16 of the recommended laws, with both (front and rear) primary enforcement seat belt laws, or 9 or more, with both (front and rear) primary enforcement laws and all-rider helmet law.
Yellow states met recommendations for 6 to 10 safety laws, with both (front and rear) primary enforcement seat belt laws, or 7 and above, without both (front and rear) primary enforcement seat belt laws.
And red states were found to have fewer than 7, without both (front and rear) primary enforcement seat belt laws.
In this report Advocates hopes to give guidance to lawmakers to map out their legislative priorities in their upcoming legislative sessions, and to improve their rankings this year for the next report.
In addition to guidance offered to the states, Advocates believe the report provides a "path on the federal level to advance essential vehicle safety technologies and other measures. This is a transformative time in road transportation safety with a myriad of safety systems available and affordable."
Advocates urges Congress to prioritize Advanced Driver Assistance Systems standards for all vehicles to mandate such technologies as automatic emergency braking, lane department warnings, and blind spot detection.
"We all - state lawmakers, Congress, the new Administration, safety partners and all road users - have a game-changing opportunity to make meaningful reductions in the over 36,000 fatalities and nearly three million injuries resulting from crashes each year," Chase said in her preamble.
Specifically addressing safety laws regarding the trucking industry, Advocates are concerned that truck crashes "continue to occur at an alarming rate."
The safety group says that in 2019 crashes involving large trucks killed more than 5,000 people – an increase of 48 percent since 2009. Injuries from truck crashes amounted to about 159,000 people injured in 2019, an increase of 18 percent.
Advocates recommends safety improvements that would "curb this needless carnage," such as automatic emergency braking and speed limiting devices. The report authors claim that numerous lifesaving advances in the truck industry have been ignored by the Department of Transportation for years.
They cite laws needed for underride guards, adequate entry-level driver training, and screening for obstructive sleep apnea.
In summary, Advocates offer the following safety recommendations, 390 of them, that states need to adopt:
16 states need an optimal primary enforcement seat belt law for front seat passengers
30 states need an optimal primary enforcement seat belt law for rear seat passengers
32 states need an optimal all-rider motorcycle helmet law
35 states need a rear facing through age 2 child passenger safety law
34 states and DC need an optimal booster seat law
190 GDL laws need to be adopted to ensure the safety of novice drivers, no state meets all the criteria recommended in this report
29 critical impaired driving laws are needed in 27 states
4 states need an optimal all-driver text messaging restriction
19 states need a GDL cell phone restriction.

OOIDA voices disagreement with some of the conclusions
The Owner-Operator Independent Drivers Association approves of the recommendation for improved driver training, but takes issue with several of Advocates other recommendations.
"Various academics, research groups, and government entities continue to debate the reason for the increase in crashes involving large trucks," Andrew King, a research analyst for the OOIDA Foundation, is quoted in Land Line online.
"However, it appears that they have set much of their focus on technology as the potential panacea for greater safety on the roadways instead of recognizing that the majority of crashes involving a large truck and a light-vehicle are caused by the driver of the passenger vehicle," he added.
King concluded that, "While some safety technologies hold promise these groups continue to ignore the limitations and dangers of ADAS. No technology can replace a well-trained driver. OOIDA members continue to emphasize a call for better-trained drivers as the solution for obtaining better safety on the roadways."
Sources: Advocates for Highway and Auto Safety, Full report PDF, Land Line
Tagged Under:
Coronavirus
DOT
Driver Responsibilities
On The Road In Training
Sleep Apnea
Truck Driver Safety
Truck Driver Training
Truckers Technology
Trucking Accidents