Friday Short Haul - States push for electric semis, fewer student new-hires, troopers in a truck
Last Updated: Thu, July 16, 2020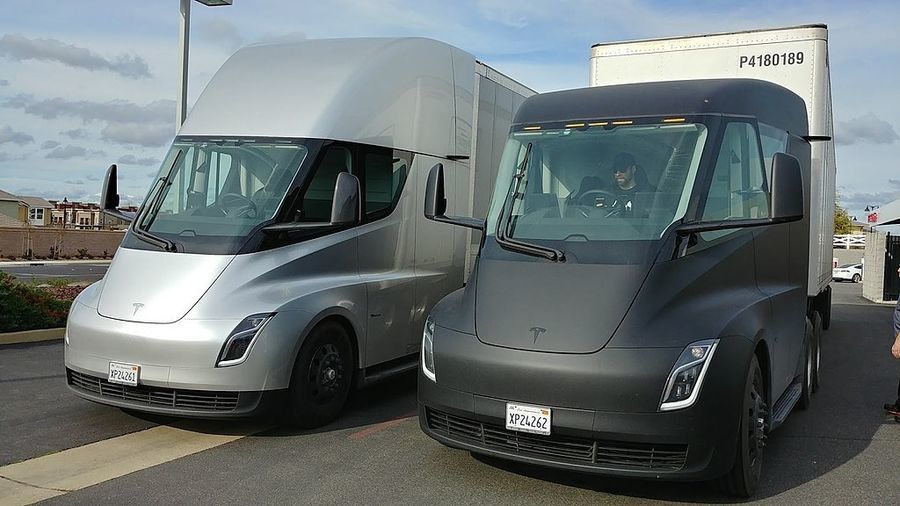 Several states sign memorandum to push for electric semis
Several states, following California's example, have signed a joint memorandum of understanding to move forward the promoting of electric semis.
The states signing the memo besides California include Colorado, Connecticut, Massachusetts, Hawaii, New Jersey, New York, North Carolina, Oregon, Pennsylvania, Washington and Vermont. They hope to influence state legislators to develop plans within the next six months to support electrification of medium and heavy duty trucks, examine potential financial incentives and explore ways to building up an EV-friendly infrastructure.
Proponents say that although trucks represent only 4 percent of the nation's vehicles they account for nearly 25 percent of greenhouse gas emissions from transportation.
California recently announced its Air Resources Board policy obligating manufacturers to sell a certain number of zero-emission semis beginning in 2024, with the goal of eliminating all diesel-powered semis in the state by 2045. The new memorandum basically echoes California's policy with the exception that manufactures have until 2050 to retool to 100 percent electric if they want to sell to California carriers.
The problem is, however, that the states' wishes for zero-emission Class 8s has gotten way ahead of the technology available to comply with their desires.
The two main concerns are that batteries are just not available now, nor in the near future, to provide the range that would be needed for long-haul semi trucks, and that there would need to be a massive upgrading of charging infrastructure to accommodate diesel-free fleets of trucks.
Tesla is often held up as the progressive model for the development of a working Class 8 electric truck, but Markus Lienkamp, the chairman of automotive engineering at the Technical University of Munich, was quoted in a 2019 Business Insider article that Tesla's program is not feasible.
"The battery for a Tesla Semi must have a capacity of about 1,000 kWh per 100 kilometers, about 130 kWh," he said. "This is technically not easily feasible, and it's also pointless both economically and ecologically." Some manufacturers have reported that a nation of electric semis will require a huge upgrade to the electric grid infrastructure.
For example, the charging power to put an electric long-haul truck back on the road with any kind of decent range would require about 1 megawatt-hour of electricity, which is about a tenth of the annual energy used by the average home in the United States.
And to give the electric long-haul semi the same range that a diesel-powered rig has today would require devoting a great deal of the gross vehicle weight capacity to batteries, say opponents to the plan.
Carriers turn to experienced drivers for new-hires, but cite problems
The shutdown of truck driving schools paired with the closure or severe cut backs of state driving licensing agencies because of reaction to the COVID-19 virus has forced carriers to rely more on new-hires from the experienced-driver pools – but that change has come with its own set of problems.
According to Tenstreet, a driver recruiting software company, student hiring was down about 35 percent beginning in March and through May. Hiring of experienced drivers dropped by nearly the same amount over the same period – about 30 percent.
One carrier, as reported in a Tank Transport Trader online article, reported that their hiring of "placement drivers" is down 40 percent to 50 percent.
The carrier, Werner Enterprises, considers placement drivers as entry-level drivers; in other words drivers right out of their own 14 driver schools, or from private schools.
Werner tries to maintain a mix of about 60 percent placement drivers and 40 percent experienced or advanced placement drivers. But the changes wrought by the reaction to the virus has forced Werner to seek new-hires from among the experienced candidates.
Normally, one would think it would be a good thing to be taking new hires from among experienced drivers rather than putting untested, green drivers into their trucks.
But Derek Leathers, Werner's president, says experienced driver applicants bring with them driving histories that conflict with Werner hiring practices.
He explained that 90 percent of experienced-driver applicants have issues Werner is not comfortable with and, because applications from that particular driver pool have increased, it makes it more difficult for Werner to sift through and hire the best.
There are 17 states that have closed their licensing agencies, with a few others having very limited services, according to Don Lefeve, president of the Commercial Vehicle Training Association, which represents state licensing agencies as well as private driving schools.
He said CVTA is asking state governors to recognize CDL training schools as essential services and allow them to open up.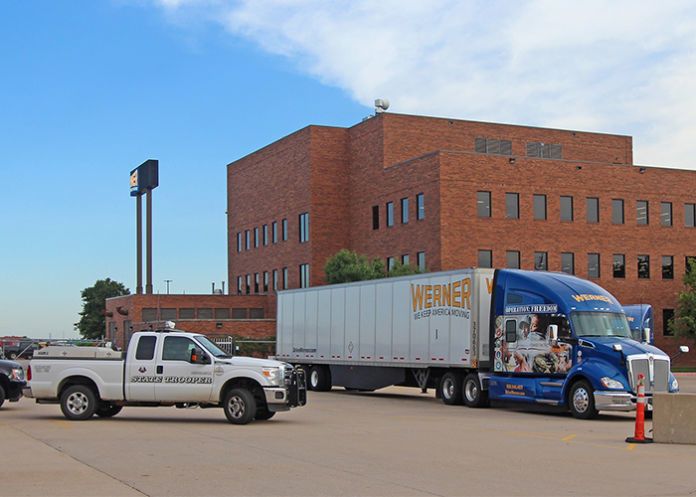 Troopers in trucks nab unsafe drivers
The Operation Safe Driver Week Campaign is almost over for this year, ending tomorrow, and law enforcement personal throughout the United States and Canada have been busy pulling over trucks and passenger vehicles, giving warnings and in some cases inspections.
Among the more zealous of these efforts is one conducted by the Nebraska State Patrol with their Trooper in a Truck program where an officer teams up with a Werner truck driver in order to get a "truckers' eye view" into passenger cars so they can easily spot dangerous driving violations.
The high vantage point afforded from the truck's cab allows them to spot violations like drivers in passenger cars texting while driving. When a dangerous violation is spotted the officer radios ahead to a patrol car that can make the stop and write the citation.
Other states have been using troopers in trucks for several years. Tennessee and Florida highway patrol personnel even have their own custom 18-wheelers.
In Tennessee, the Peterbilt that troopers use has police markings and a light bar, but motorists surprisingly don't register that a semi truck would be a police vehicle.
Sources: The Truth About Cars, Tank Transport Trader, CDL Life
Tagged Under:
Electric Semi
Truckers Technology
Trucking Industry Concerns
Werner Enterprises