Friday Short Haul -- Connecticut tolls proposed, hydrogen fuel-cell trucks, cell phone use
Last Updated: Fri, February 22, 2019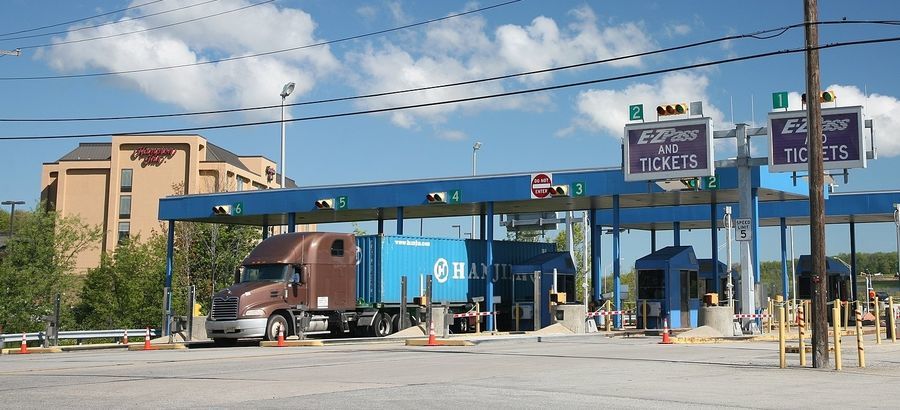 Connecticut governor wants to boost budget with toll roads
Connecticut Governor Ned Lamont has riled trucking companies with his proposal to fund infrastructure repairs and upgrades by imposing tolls on highways across the state.
Claiming that the state cannot continue to float bond measures to pay for repairs and improvements, the Democrat governor has submitted a budget plan that would either impose tolls only on large trucks or one that would impose tolls on all vehicles. He admitted that the trucks-only toll probably wouldn't work because it would not generate enough revenue and would probably face legal challenges.
Governor Lamont had reversed himself from his campaign pledge to impose tolls only on out-of-state trucks.
Trucking companies throughout the state have registered their complaints about the toll proposal. One anti-toll organization, No Tolls CT, is planning a demonstration at the state capitol next week as the governor delivers his budget address to the state's General Assembly.
Trucking companies state that tolls will cost them up to half a million a year each; cost increases that will be passed on to customers, and eventually the public consumer.
One trucking representative, Katie Childs of Tuxis-Ohr Fuel and J. Vitali Transportation, said their fleet of 40 trucks that hauls petroleum products and drives about 2 million miles a year will have to pay $400,000 to $500,000 in tolls. That extra cost will be passed on to gas station owners, and " … naturally, drivers who fuel their vehicles," she said.
Connecticut Republican legislators, however, dispute Lamont's toll budget plan and have put together their own "Prioritize Progress" transportation plan that would make state infrastructure a priority, and reserve bonding for transportation needs.
They say that the state's transportation fund has a surplus and is projected to grow by $300 million over the next few years.
Yankee Institute President Carol Platt stated, "Until those seeking more transportation funds have set clear priorities and until every responsible cost-cutting measure has been implemented, Gov. Lamont should refuse to burden Connecticut's people with another massive tax."
No Tolls CT's Patrick Sasser agrees, "Rather than looking for ways to cut costs or focus on specific projects, the governor is instead opting to institute a massive tax increase on the people of Connecticut."

Hydrogen-fuel cell trucks eyed for the near future
Giant beer producer Anheuser-Busch has ordered 800 hydrogen-fuel-cell-powered trucks from fuel-cell innovator Nikola Motor, in the largest deal of that kind to date.
And Toyota is working with Kenworth Truck Company to build a fleet of 10 fuel-cell trucks that will be tested in Southern California.
This activity is encouraged by the concerted effort by a number of fuel-cell truck innovators to standardize components. Industry leaders, such as Toyota, Shell, Hyundai, NEL Hydrogen Fueling, and Air Liquide have joined Nikola Motor to make sure that fueling nozzles, receptacles, hoses and other components are all standard and useful in the design of fuel cell trucks.
They have agreed to a memorandum of understanding to test various components for Class 8 trucks.
But fuel-cell trucks need refueling, so Nikola has plans for a network of 16 hydrogen-fueling stations to start by 2021. And by 2028 intends to build and operate some 700 fueling stations.
Hydrogen fueling times should be similar to that for diesel-powered trucks, about 10 minutes, said Jesse Schneider, Nikola executive vice president. "The goal is to enable interoperability so that any (fuel-cell vehicles) can fuel at our hydrogen stations and we can fill at any of theirs, just like diesel today."
Chemical suppliers are also buying into the fuel-cell innovation. Air Liquide announced it plans to build a hydrogen production plant in the Western United States that can produce nearly 30 tons of hydrogen a day. That's enough to refuel 35,000 fuel-cell electric vehicles.
Riskiest roads in the country due to cell phone use
Lytx, a company that uses video and other data-gathering methods to observe cell phone use among commercial drivers while driving, has released its top 10 stretches of riskiest roads.
Long Beach, California; New York City, and Berkeley, Illinois, top the 2018 list for the top five most populous states. And Memphis, Tennessee, and Los Angeles have roads with the highest level of cell phone use.
Lytx's data analysis derives from 1,353,837 instances of cell phone use observed in 2018 by capturing some 50 billion unique driving data points every day.
In the graphic below is illustrated the half square-mile road segments that had the highest volume of observed cell phone use behind the wheel in all of 2018, based on Lytx client data from around the country.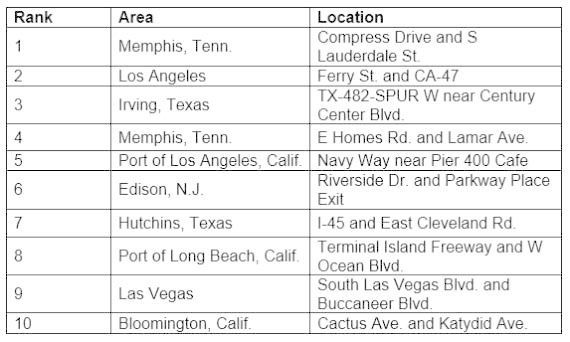 In these series of graphics below are displayed the top five riskiest half square-mile road stretches of 2018 in each of the five most populous U.S. states -- California, Illinois, Florida, New York and Texas.
The U.S. Risk Rank column shows how each segment of riskiest road compares to the rest of the country, not just to the state.