Friday Short Haul - ND's 80mph speed limit, FMCSA advisory committees, precedent-setting lawsuit
Last Updated: Fri, January 15, 2021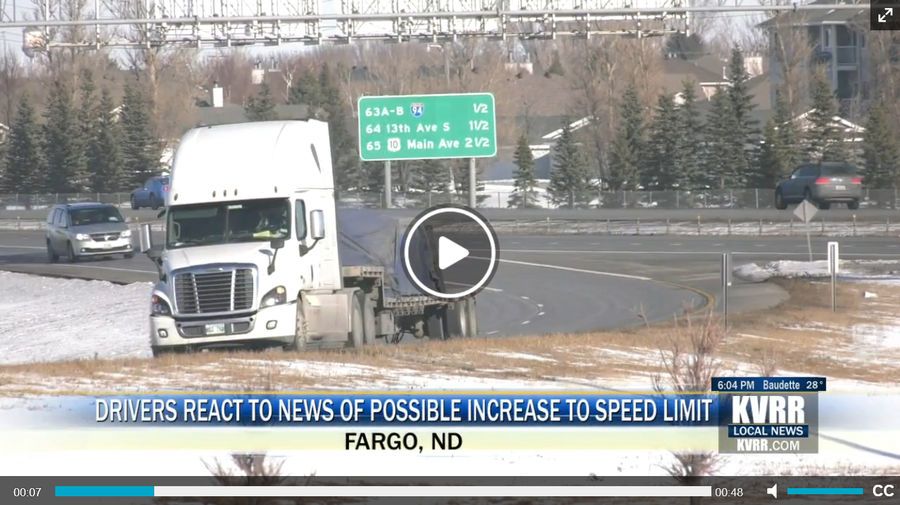 North Dakota considering 80 mph speed limit
Hard on the heels of their proposing to be the first state in the union to allow road trains on its highways North Dakota lawmakers are now taking a serious look at increasing speed limits on certain highways to 80 mph.
Citing that in other states that have that limit the number of fatalities have dropped at a higher rate than in North Dakota, State Representative Ben Koppleman (R-West Fargo) says that some parts of Interstate Highways 94 and 29 should have their limits raised to 80 mph.
In the video from KVVR some truck drivers agree with the proposed speed limit increase, saying they can get to their pickup and delivery locations quicker and easier.
Other drivers say that an increase in the speed limit doesn't dictate the speed in which they believe it is safe to haul.
Some were concerned that there might be problems with drivers being able to make the transition from the higher speeds to lower speeds in towns, and the potential for accidents that might cause.
FMCSA announces members of its 2021 advisory committee
Anyone wondering who is going to be advising the Federal Motor Carrier Safety Administration about motor carrier safety programs and motor carrier safety regulations concerning the trucking industry this year need only review the list provided below.
The agency announced on Wednesday new members for 2021 for its Motor Carrier Safety Advisory Committee, and touts itself as including a record number of women.
"The MCSAC members provide invaluable insight into all parts of the motor carrier industry and are critical in shaping FMCSA's priorities and initiatives," said FMCSA Deputy Administrator Wiley Deck.
This is a different advisory panel than the one announced recently by FMCSA to be made up of commercial drivers.
"The 2021 membership features a strong and diverse set of members from industry, safety, labor, and enforcement. We are particularly proud of the Committee's record number of female members for 2021."
The advisory program was initiated by the Secretary of Transportation in 2006, and was chartered to comprise up to 25 experts from the motor carrier safety advocacy, safety enforcement, industry, and labor sectors.
Each advisor must be recommended by the FMCSA administrator, and is appointed for two-year terms. The committee looks for qualified candidates "who possess a wide range of motor carrier experience and expertise," according to the FMCSA press release.
The 2021 membership includes a record number of women—including Ms. Jennifer Hall of the American Trucking Associations, who is scheduled to serve as first female Vice Chair, and is in line to assume the Chairmanship in 2022.
The 2021 MCSAC Members include:
Michael Bray, Chief Commercial Officer, GM Commercial Transportation (Industry).
Lamont Byrd, International Brotherhood of Teamsters (Labor), Chairman.
Adrienne Gildea, Commercial Vehicle Safety Alliance (Enforcement).
Jennifer Hall, American Trucking Associations (Industry). Vice Chairman.
Bruce Hamilton, Amalgamated Transit Union, International Vice President (Labor).
David Heller, Vice President of Government Affairs, Truckload Carriers Association (Industry).
David Huneryager, President and CEO, Tennessee Trucking Association (Industry).
Peter Kurdock, General Counsel, Advocates for Highway and Auto Safety (Safety).
Jerrold (Jerry) Langer, Director of Sales and Marketing and Chief Commercial Officer, Langer Transport Corporation (Industry).
John Lannen Principal, Institute for Safer Trucking.
Dawn King, President, Truck Safety Coalition (Safety).
Siddarth Mahant, Owner, Mahant Transportation, LLC (Industry).
Jane Mathis, Parents Against Tired Truckers (Safety).
Jaime Maus, Vice President of Safety and Compliance, Werner Enterprises (Industry).
Stephen C. Owings, Road Safe America (Safety).
Peter Pantuso, American Bus Association, Washington, DC (Industry).
Travis Plotzer, Captain, Tennessee Highway Patrol (Enforcement).
Danny Schnautz, Clark Freight Lines, Inc., Pasadena, TX (Industry).
Holly Skaar, Idaho State Police/Commercial Vehicle Safety (Enforcement).
Todd Spencer, Owner-Operator Independent Driver's Association (OOIDA) (Industry).
Tami Friedrich Trakh, Citizens for Reliable and Safe Highways (Safety).
Christopher Treml, Director, Construction Training, International Union of Operating Engineers (Labor).
Ellen Voie, President/CEO/Founder, Women In Trucking (Industry).
Greer Woodruff, J.B. Hunt Transport (Industry).
Andrew Young, Managing Partner, The Law Firm for Truck Safety (Safety).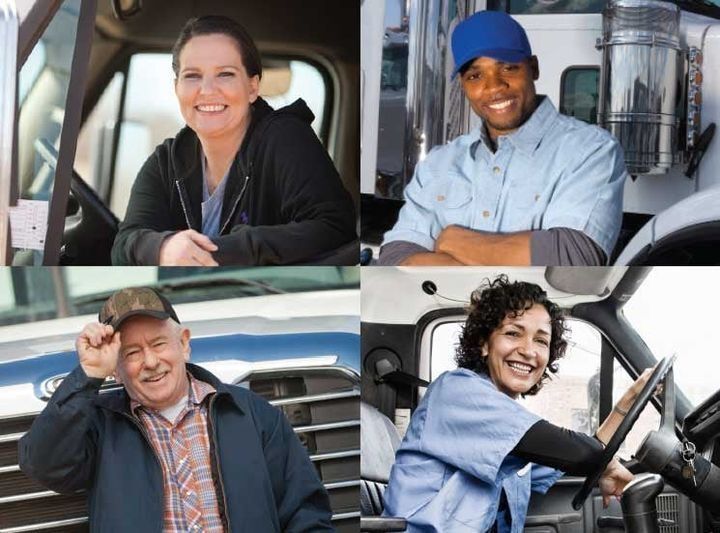 FMCSA announces MCSAC advisory committee drivers
The FMCSA announced on Friday the 25 commercial drivers selected to sit on the panel for its Motor Carrier Safety Advisory Committee.
"FMCSA believes in listening to our drivers and hearing their concerns directly. We know that many of the solutions to the challenges we face don't come from Washington—they come from the hard-working men and women who are behind the wheel all over our nation. This new subcommittee to MCSAC will further help us hear from America's commercial drivers," said FMCSA Deputy Administrator Wiley Deck, in an FMCSA news release.
These drivers will give FMCSA direct feedback on important issues such as safety, hours-of-service regulations, training, parking, and driver experience. They come from all sectors of the commercial motor vehicle industry including tractor trailer drivers, straight truck drivers, motor coach drivers, hazardous materials drivers, agriculture haulers, and more.
The panelists include:
Mr. Todd Spencer, Chairman, Owner-Operator Independent Drivers Association (OOIDA)
Mr. William Bennett III, UPS Freight
Mr. Teddy Cranford, Waste Management of Maryland, Inc
Ms. Debra Desiderato, Walkabout Transport
Mr. Douglas Feathers, URS Midwest Inc.
Mr. Steve Fields, YRC Freight
Ms. JoAnne Forbes, MBT Worldwide, Inc.
Mr. Gerald Fritts, Jr., American Overland Freight
Mr. John Grosvenor, McKiernan Trucking
Mr. Attila Gyorfi, RSP Express Inc.
Mr. W. Scott Harrison, K Limited Carriers
Ms. Rhonda Hartman, Old Dominion Freight Lines
Mr. Darwin Hershberger, Hershberger Livestock, LLC
Mr. Daniel Kobussen, Kobussen Buses, Ltd.
Ms. Deb Labree, Castle Transport, LLC
Mr. Alphonso Lewis, YRC Freight
Mr. Don Logan, FedEx Freight
Ms. Kellylynn McLaughlin, Schneider National, Inc.
Ms. Tina Peterson, Ravenwood Transport
Mr. Stephen Pryor, Greyhound Lines, Inc.
Mr. H. Kevin (Brandy) Russell, Transport America
Mr. Douglas Smith, Ralph Smith Co.
Mr. Kevin Steichen, Steichen Trucking
Ms. Angelique Temple, Atlantic Bulk Carrier
Ms. Desirée Wood, Real Women in Trucking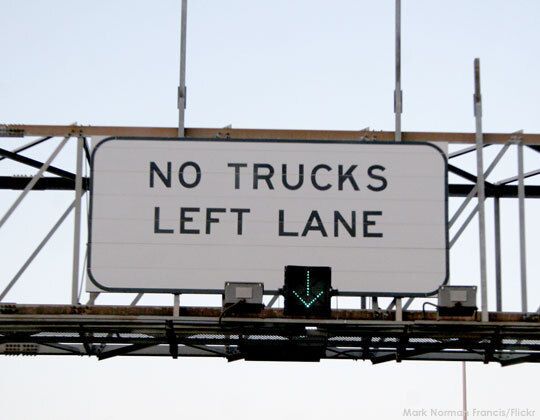 Sixth Circuit Court ruling assists defense in truck accident lawsuits
A Tennessee trial judge refused to allow plaintiff's attorney to use the Federal Motor Carrier Safety Regulations against the driver of a truck in an accident with a passenger vehicle.
The passenger car driver's attorney argued that because of provisions of the FMCSRs truck drivers should be held to a higher standard as professional drivers, making them more culpable in crashes.
The lawsuit case, Jones v. Wiseman, was raised to the U.S. Court of Appeals for the Sixth Circuit on appeal, and the circuit court judge promptly ruled to uphold the lower court's determination.
That decision has far-reaching implications for future truck verses passenger vehicle lawsuits, as Circuit Court decisions hold for all states within that court's jurisdiction. As well, decisions are published and can be cited as precedent in other jurisdictions.
The Sixth Circuit covers the states of Kentucky, Michigan, Ohio and Tennessee.
What happened is that the passenger car got hit by a truck that was attempting to make a right turn from the left lane.
Even before the trial started, the trial court judge made an order excluding any reference to the FMCSRs, saying that those rules have a "limited probative value" of the evidence, and that there would be a risk of " confusing or misleading the jury with respect to the applicable standard of care for the truck driver," according to a JDSurpa article.
The car driver's attorney wanted to show it was relevant to the case that the truck driver violated those rules requiring drivers to have knowledge and skill necessary for safe operation, including doing a "proper visual search" during maneuvers.
On appeal, the Circuit Court said that the argument had minimal value because "the FMCSRs do not show what a driver should have done under the circumstances of a specific accident, and in fact did not show whether the truck driver did anything wrong at all."
The Court added that inserting the FMCSRs into the case "presented a substantial danger of confusing the issues and misleading the jury as to the appropriate standard of care:"
"There is a very fine and potentially confusing distinction between the use of statutory or regulatory standards to set the standard of care (negligence per se) and resort to those standards to simply measure the reasonableness of one's actions under the standard of care (some evidence of negligence)," the JDSupra article quoted from court documents.
The JDSupra article concluded with this good news for carriers fighting truck crash lawsuits:
"Keep Jones in mind when defending a case where the plaintiff's attorney is trying to use the FMCSRs against trucking companies and their drivers. Jones and its analysis can also be used in conjunction with cases that have held the standard of care for truck drivers is reasonable care, not some higher standard for "professional drivers."
Sources: KVRR, FMCSA, FMCSA, JDSupra
Tagged Under:
FMCSA
Trucking Accidents
Trucking Industry Concerns