Uber's IPO application reveals interesting data about its freight brokerage business
Last Updated: Mon, April 15, 2019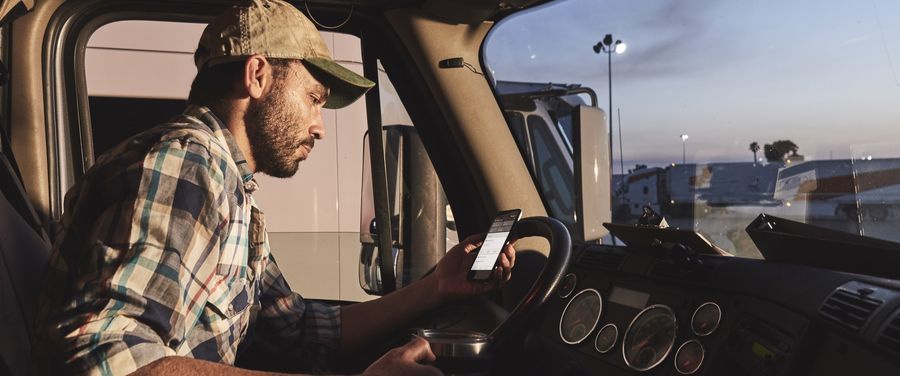 Driver uses Uber's Smart Load app
Uber, the ride-hailing giant that gives taxi companies headaches has set its sights on competing against the top players in the freight brokerage business.
As reported here at TruckingTruth in a February 1 article, Uber had announced its intentions by offering a phone app that allows drivers to easily book loads and perform a number of useful tasks.
Now, in another step up Uber has filed a registration statement late last week preparatory to its May IPO filing, causing the release of more information about its freight brokerage plans.
According to an article on Barron's website, Uber reported $50 billion in gross bookings in 2018, about six times as large as the next-nearest competitor, Lyft. Uber also disclosed that it had booked some $175 million in Uber Freight business in the fourth quarter alone of 2018, and more than $370 million in sales for the whole year.
These are significant numbers, according to industry watchers. There are more than 2 million semi-trucks on the road right now, so Uber's early share of the brokerage business for those drivers already add up to about 20 percent.
"Freight was markedly bigger than we were expecting and will be a major focus of the roadshow in our opinion," Wedbush analyst Dan Ives told Barron's. "This is a clear shot across the bow at freight brokerage players that Uber is a force to be reckoned with."
According to the filing, "Uber Freight greatly reduces friction in the logistics industry by providing an on-demand platform to automate and accelerate logistics transactions end-to-end. Uber Freight connects carriers with the most appropriate shipments available on our platform, and gives carriers upfront, transparent pricing and the ability to book a shipment with the touch of a button."
This information is coming out now because as part of the IPO process companies must file a registration statement and host a "roadshow" in order to allow potential investors to review the company's financial numbers and have questions answered.
Ives believes Uber Freight, launched in May 2017, is going after high-level brokers like C.H. Robinson, XPO Logistics and Expeditors International of Washington; but also trucking companies such as Knight-Swift Transportation that have their own fleets but that also offer brokerage services.
Other competitors listed in the filing included all of the other ride-sharing companies like Lyft, Ola, Careem, Didi, Taxify and Yandex.Taxi; freight brokerage businesses or carriers like Total Quality Logistics, Convoy, Echo Global Logistics, Coyote, Total Quality Logistics, Transfix, DHL and Next Trucking; and driverless vehicle enterprises such as Waymo, Cruise Automation, Tesla, Apple, Zoox, Aptiv, May Mobility, Pronto.ia, Aurora and Nuro.
In its S-1 filing Uber disclosed that it has already contracted with more than 36,000 carriers representing more than 400,000 drivers. Uber Freight has also served more than 1,000 shippers, including large ones like Anheuser-Busch InBev, Niagara, Land O'Lakes, and Colgate-Palmolive.
Also in the S-1 filing, Uber noted that it owns only 89 percent of Uber Freight, with the rest likely owned by Otto, the company Uber purchased to pursue its self-driving truck goals.
It has also announced opening freight brokerage service in Europe.
What is unknown from Uber Freight's filing is whether Uber will book drivers all the way to the destination, or will they hand off that job to local drivers to make the last-mile delivery. Also, some question if Uber Freight will match loads to drivers on existing freight broker networks, and do existing freight brokers feel the pinch from Uber's moving into that segment of the industry yet?
Sources: Barrons, FreightWaves, CNBC
Tagged Under:
Driver Solutions
Knight Transport
Owner Operator
Swift Transport
Trip Planning
Truckers Technology
Trucking News