Car-truck crash fatalities continue to increase
Last Updated: Mon, October 14, 2019
"Over the past several years, the number of large trucks on our roadways has continued to increase. Along with the growing number of miles driven by truckers has come an overall increase in crash rates and truck-related crash deaths."
Thus begins the introduction to a comprehensive truck-accident report compiled by the Phoenix, Arizona, law firm of Begam Marks and Traulsen.
The law firm collected and analyzed three years worth of fatal crash data from a myriad of sources including data from the Fatality Analysis Reporting System for accidents involving straight trucks, tractor trailers, and other unspecified vehicles with gross vehicle weight ratings greater than 10,000 pounds.
Fatal accidents in the commercial trucking industry
To set the stage, according to the report, nearly 70 percent of all freight, amounting to $671 billion worth of manufactured and retail goods, is transported by almost 12 million registered trucks every year.
In 2017 there were 4, 657 fatal accidents that involved large trucks, about 9 percent of the total fatal accidents overall for that year. Of those, about 79 percent involved trucks of GVWR greater than 26,000 pounds. And two thirds of those were combination trucks including tractor-trailer rigs, doubles, and straight trucks pulling a trailer.
This number of fatalities is up 5.8 percent from 2016 for tractor trailers, and 18.7 percent for straight trucks. Underrides was a significant cause of car-truck crash fatalities. From 2015-2017, there were 910 fatal crashes involving an underride - where a passenger vehicle slides under the back or sides of a large truck or trailer.
Not surprisingly, truck driver drinking-driving was not an important factor for a vast majority of truck-vehicle crashes resulting in fatalities. Only 3 percent of truck drivers involved in these accidents had a blood alcohol concentration of .08 or higher, compared to the very high numbers for motorcycle drivers, passenger car drivers and light truck drivers.
Who's at fault
Every compilation of data sourced by this study reported that in the large majority of truck-vehicle fatal crashes the passenger vehicle drivers were at fault:
A University of Michigan Transportation Research Institute study from 2013 found that for more than 8,000 car/truck crashes the car driver was assigned fault 81 percent of the time.
Car drivers were found to be at fault in the majority of the 10,092 fatal accidents studied by a 2013 National Highway Traffic Safety Administration – 91 percent for head-on crashes, 91 percent for opposite-direction sideswipes, 77 percent for same-direction sideswipes and 71 percent for rear-end crashes.
In a Federal Motor Carrier Safety Administration study covering 6,131 fatal accidents between trucks and passenger vehicles between 2007 and 2009 it was determined that the car driver was assigned fault in 85 percent of the crashes for 2007-2008 and 81 percent of the time in 2009.
Passenger vehicle deaths
Again not-surprisingly, car passengers experience fatalities in greater numbers than truck drivers do when the two come together in car-truck crashes.
A statistic spanning from 1974 up to the present notes that 208,809 people have died as the result of a car-truck crash, with 146,123 of those fatalities being the drivers of the passenger vehicles.
The total figure for truck-related fatalities, which includes such victims as pedestrians and bicyclists, is 82 percent compared to fatalities for the occupants of the large trucks.
For one recent year, 2017, the ratio of car passenger fatalities to truck driver fatalities in car-truck crashes is even more startling: 97 percent of fatalities were the occupants of the passenger vehicles.
Truck driver deaths
The number of truck driver fatalities in 2017 because of a Class 8 truck vs passenger car collisions was 3,844, up 221 from the previous year. Speed is listed as a factor in 17 percent of these crashes. It is reported that at least 39 percent of large truck occupants killed in crashes were not wearing a seatbelt.
These crash fatalities, along with driver deaths from other factors, make trucking as a profession one of the most dangerous jobs of all professions, with 26.8 deaths per 10,000 workers compared to 3.5 deaths per 10,000 workers overall.
The report noted speculation in the industry that the increase in truck-related accidents can be attributed to hours of service regulations that contribute to drowsy or distracted driving by drivers "racing the clock" when faced with the hours of service limitations.
Some miscellaneous statistics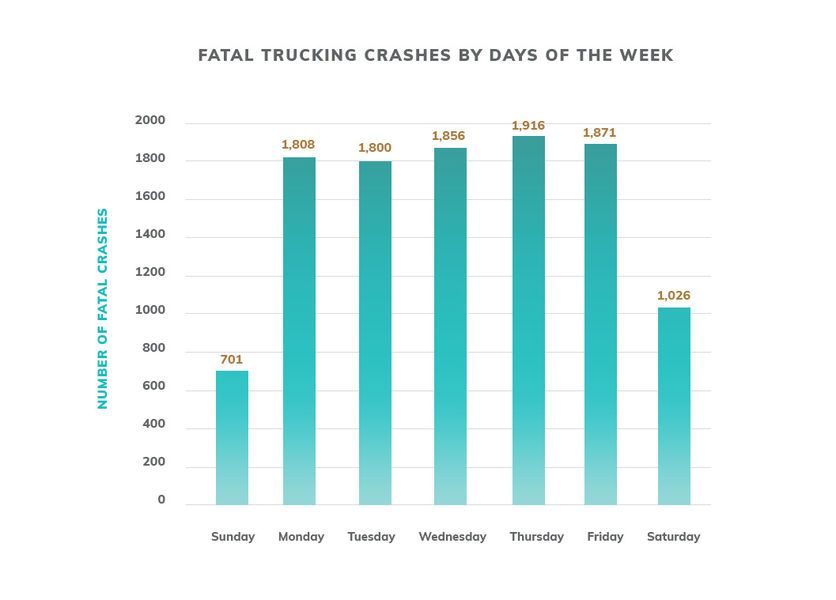 Most fatal trucking accidents occur on weekdays, with the fewest occurring on Sundays and Saturdays. At the same time, fatal crashes do not coincide with typical rush hours. In fact, the most crashes occur during 11 am and 4 pm, peaking at the 1 pm hour with 676 fatal crashes.
Source: An analysis of fatal truck accident statistics
---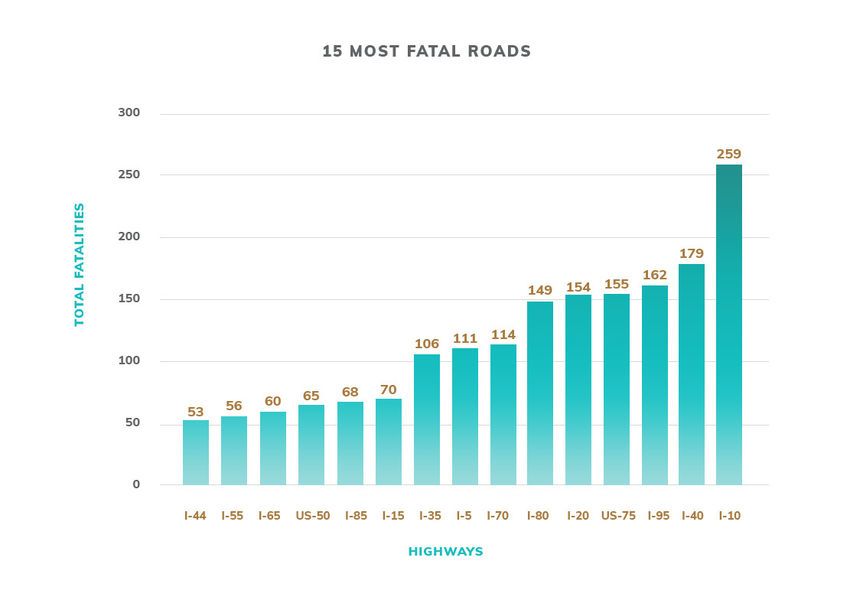 The majority of fatal trucking crashes occur in rural areas on interstate highways and primary arterial roads. I-10 tops the list of most fatal accidents involving large trucks, followed by I-40.
Source: An analysis of fatal truck accident statistics
---

At the state level, the highest number of fatal truck collisions occurred in Texas - with 1,358 crashes.
Source: An analysis of fatal truck accident statistics
---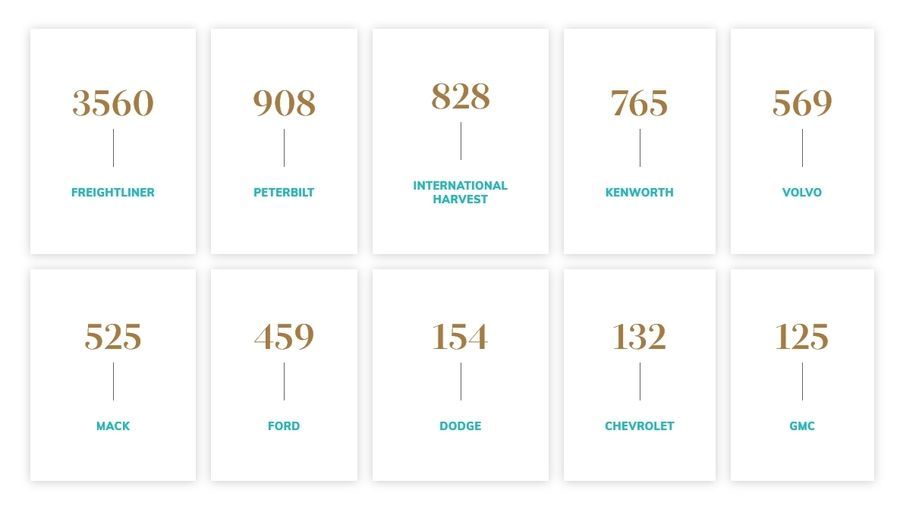 Freightliner is the most often involved in fatal crashes.
Source: An analysis of fatal truck accident statistics
---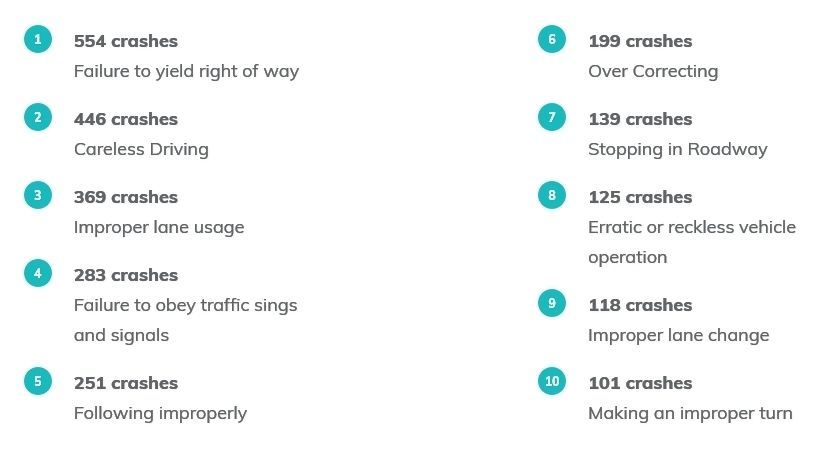 Click Anywhere To Close