Decision on California drivers' employee/contractor status coming down to the wire
Last Updated: Tue, August 20, 2019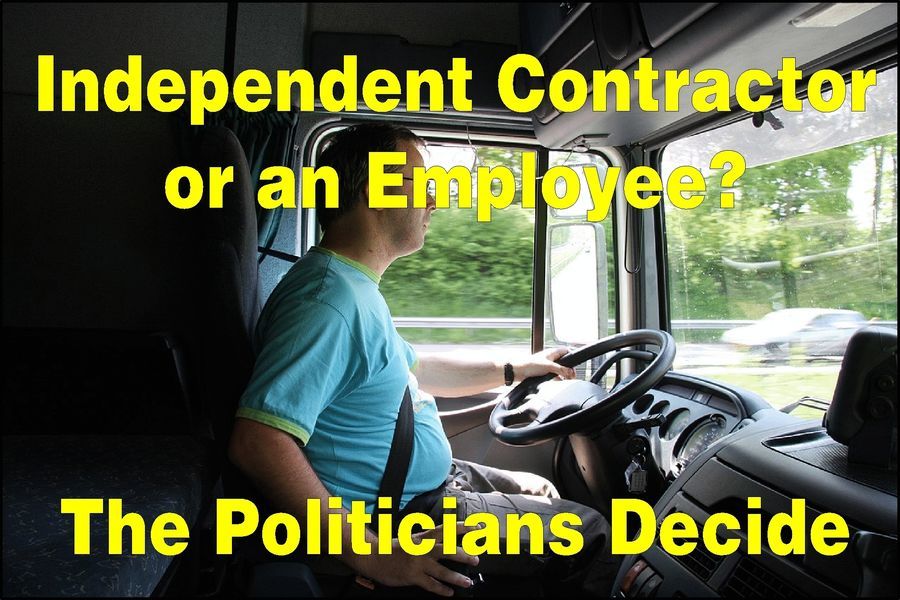 The effects of last year's California Supreme Court ruling against Dynamex Operations West, Inc., continue to reverberate through the halls of California's state legislative bodies with the ultimate result that California will no longer recognize a truck driver's status as an independent contractor.
Labeled Assembly Bill 5, and titled "Worker status: employees and independent contractors," the bill passed the California Assembly in May and only awaits approval by the State Senate and a signature from the governor to become law.
It is rapidly making its way through that legal pipeline, however, as it passed the Senate's Standing Committee on Labor, Public Employment and Retirement in early August by a 4 to 1 vote. The bill has until September 13 to be made into law or it will time-out for this legislative session.
The bill basically codifies the provisions of the Dynamex decision which determined that in order to be an independent contractor rather than an employee the worker must meet a three-pronged test:
The worker must not be under the control and direction of the company that has hired him or her -- as a matter of actual practice, and per the wording of the contract
The independent contractor must be doing a job that is outside of the usual work being done by the hiring company
The independent contractor must be normally engaged in the same trade, occupation or business as the work he or she is performing for the hiring company
The short version of the California Supreme Court's 82-page decision is that in California all workers are presumed to be employees, and the burden is on the company to establish that an independent contractor meets the three-pronged test.
The sticking point, and what concerns trucking firms the most, is the middle item, as it would eliminate independent contractor status for all independent drivers driving for a motor carrier for-hire trucking firm.
In a reasoning reminiscent of Catch 22, a trucking company cannot hire a driver with independent contractor status to haul freight for them because the carrier is also in the business of hauling freight.
Trucking associations, like the Western States Trucking Association, have lobbied heavily to include truck drivers in the growing list of exceptions allowed by the proposed law.
Joe Rajkovacz, director of governmental affairs and communications for WSTA told Freightwaves recently that he's certain AB-5 is going to pass in this legislative session.
"What isn't likely to be dealt with in the few weeks remaining in the legislative session are amendments to protect various industries such as the 'gig companies' nor with increasing disappointment for us, trucking," FreightWaves reported from an email by Rajkovacz.
AB-5 makes concessions to many who work in the so-called "gig-worker economy" like hairdressers and real estate agents, but comes down hard on independent contractors who drive for-hire for ride share companies like Uber and Lyft – and notably for truck drivers.
Rajkovacz told FreighWaves, "From a trucking industry standpoint, what we would like to see is where it is acknowledged that if you're an independent contractor with your own authority, you are truly an independent contractor."
What's at stake with the new ruling is that California-based carriers will be forced to classify all its drivers as employees, and thus mandate paying Social Security and payroll taxes, unemployment insurance taxes and state employment taxes, providing worker's compensation insurance, and of course, complying with the endless labyrinth of state and federal statutes governing the wages, hours, and working conditions of employees.
The bill, if passed into law, is particularly egregious to truck drivers who have always been independent, and who wish to stay that way.
For example, one driver, Antwawn Branch, was interviewed by KCRA 3 News during a truck drivers' protest of AB-5 in Sacramento, California, "I got into trucking to be an independent contractor. I work for myself. I like being independent, I don't want to be no one's employee, so I think it's a terrible bill."
Debbie Ferrari, who owns her own small trucking business, told KCRA 3, "It's putting them out of business and making them bankrupt. You've got immigrants, minorities that have found a way to meet the middle class and are facing losing everything."
"They went out and bought a truck for $160,000," Ferrari said. "They have their own permitting. They've invested large dollars into their business."
"Legitimate owner operators that made these investments – we're talking about 65,000 (of them) are facing bankruptcy over this," she added in her interview with KCRA 3.
Sources: American Shipper, FreightWaves, KCRA 3
Tagged Under:
Leasing A Truck
Owner Operator
Trucking Industry Concerns