Friday Short Haul - Truckers love guns, freight broker leader resigns, avoiding riots
Last Updated: Thu, June 11, 2020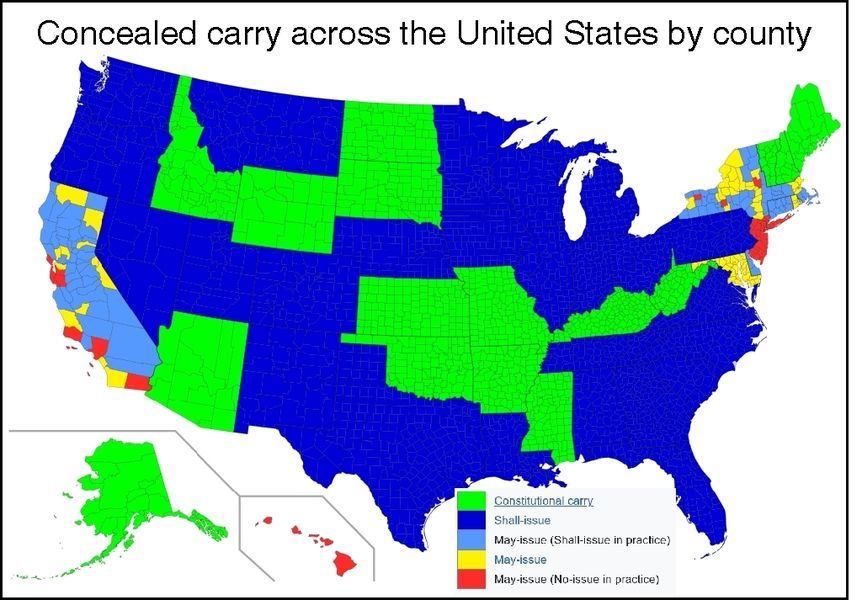 Truckers like guns, but unsure if the companies would change rules for concealed carry
The majority of truck drivers from companies having 500 or fewer trucks say that they sometimes or always carry a concealed firearm or have one in their personal vehicle when they are not driving their trucks.
And a vast majority say that they believe they should be able drive their trucks between states while carrying a concealed firearm.
These sentiments come from a survey conducted by FreightWaves to determine if trucking companies should change their firearms policies if federal laws were changed to make interstate travel with concealed firearms legal.
FreightWaves says it conducted the survey by emails that were sent to a "broad selection of drivers, owner-operators, managers and fleet executives."
Nearly 70 percent of responses that came from carriers with 500 trucks or fewer said that while they sometimes or always carry a concealed firearm during off-duty times, there were between 76 percent and 90 percent, varying by the size of carriers, who answered that they believe they should be able to travel between states with a concealed carry firearm if they chose to do so.
According to the FreightWaves survey, carrier size mattered among those who were asked if their company's policies would be changed if federal laws regulating concealed carry between states were relaxed.
For respondents from small carriers of fewer than 50 trucks 79 percent answered "yes." Medium-sized carriers of 51 to 500 trucks saw 54 percent of respondents answering "yes." And only 38 percent of respondents from carriers of 500 trucks or more answered in the affirmative.
"I don't know," was a popular answer to that question, about 41 percent; with "no" garnering only about 21 percent of the answers.
"I think that a federal concealed carry reciprocity law would probably be a positive for those drivers legally authorized to carry already due to the difficulty in trying to figure out which states already allow for reciprocity," Paul Taylor, a labor and employment attorney with the Truckers Justice Center, told FreightWaves.
Taylor emphasized, however, that because of liability issues it is unlikely that trucking companies would loosen firearm policies.
Interestingly, the survey revealed that the smaller trucking companies were less likely to be burglarized at truck stops and such.
In the video, Voltmann defends brokers and says that low rates were the product of "too many trucks chasing too few loads."
Top freight broker group leader steps down
Robert Voltmann, infamous for his recent statement that truckers suffering from low rates at the hands of freight brokers is because there were "too many trucks chasing too few loads," has resigned from his position of President and CEO of the Transportation Intermediaries Association.
Voltmann joined the TIA as CEO in 1997, and his resignation is effective at the end of September 2020. "While this was a difficult decision for me, I have accomplished everything I was hired to accomplish. Together, we took TIA from a fledgling organization with weak finances and turned it into an association worthy of the dynamic third-party logistics industry," Voltmann said in a letter to members dated June 10.
"TIA is now clearly recognized as the voice of third-party logistics and has the financial strength to continue to grow and change with the industry. It is time for me to continue to change and grow myself by taking on a new challenge and for TIA to transition to a new leader."
Freight brokers across the country have been coming under strong criticism during the COVID-19 crisis because truck drivers believe they have been taking advantage of the crisis to offer them very low rates and are allegedly pocketing the difference.
As a result of truck driver protests that went all the way to the White House, the Federal Motor Carrier Safety Administration's Jim Mullen and White House Chief of Staff Mark Meadows met with trucking representatives to talk about greater broker transparency.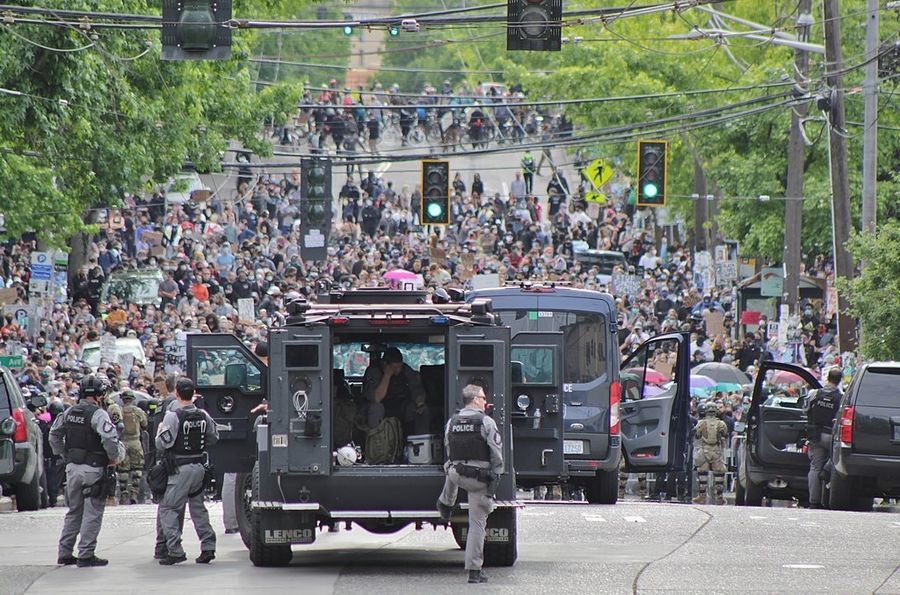 Recent scene on Capitol Hill, Seattle
Avoidance is key to preventing a Reginald Denny type of incident during riots
Overdrive online offers some advice for truck drivers that should never have to be even considered, but in today's age of lawless protesting it is imperative that drivers stay safe if driving into uncontrolled areas.
Avoiding areas of unrest is the best thing that drivers can do to prevent injury to themselves or their equipment.
"Even a peaceful protest can transition pretty quickly into a violent situation," Collin Mooney, executive director of the Commercial Vehicle Safety Alliance, told Overdrive. "I recommend if any truckers are operating in any area where protests are gathering or plan to gather, avoid the area altogether. Not just for their safety, but for preserving the equipment and supplies as well."
Owner-Operator Independent Drivers Association director of safety and security Doug Morris told Overdrive that if avoidance isn't possible then drivers should call the police and let them know where they are and if they are hauling hasmat, and then do everything they can to protect themselves.
"I've seen in past experiences, you never know what's going to happen," Morris told Overdrive. "When protesters have dragged drivers out of their cab, they generally beat them. The cab of your truck is your cocoon, and it's best to lock yourself in, roll up your windows and do your best to defend yourself. Drivers are allowed to carry a tire thumper to beat the tires to check the air – use that as a defensive weapon. I know a lot of drivers have handgun permits. Make sure it's legal to carry in the particular state you're in, but if somebody comes at you with deadly force, you can respond with deadly force."
Morris said that the Reginald Denny incident from the 1992 Los Angeles riots is "still in the back of the minds of many truckers today."
The Iowa Motor Truck Association sent out a letter to members advising them to stop as soon as possible if they come upon masses of people blocking roadways.
"Do whatever necessary to change directions and get out of the area," the IMTA letter said. "If you are alert, you should be able to see these masses of people far enough in advance that you can act before being surrounded."
Overdrive listed several tips offered by IMTA to help drivers keep themselves safe if avoidance isn't possible:
Keep your doors locked and take your seat belt off if you think you might be attacked. If your doors don't automatically lock, get in the habit of doing it manually – especially the passenger side door. If you encounter a situation where you could be under attack, remove your seat belt before being attacked so you can exit the truck more quickly if you have to. "It's [better] to take your chances on foot than be trapped inside," IMTA said.
If you have time, crack your windows and turn off the ventilation system. Windows that are down approximately a half inch are harder to break than a window that is tightly closed, IMTA said. Turn off your ventilation system to prevent smoke or teargas in the air from getting into your cab.
Beware of other forms of roadblocks. IMTA said protesters and rioters can make their own makeshift roadblocks with stolen cars parked to block a roadway, causing other drivers to stop.
Keep your dashcam on. Information recorded on your dashcam could help law enforcement if anything goes wrong. It can also help you for insurance purposes.
Call ahead to customers. A quick phone call to a customer in an area suspected of having protests can help in knowing what to do and where to go.
If hauling hazmat, call 911 immediately. Be prepared to identify your location and to tell first responders what you are transporting. This can help law enforcement protect you and everyone in the vicinity of the hazardous materials.
Sources: FreightWaves, CDL Life, Overdrive
Tagged Under:
Adverse Conditions
Firearms
Guns In Trucking
Safe Haven
Truck Driver Safety
Weapons