Website ranks carriers by driver pay - Sysco at the top
Last Updated: Tue, March 30, 2021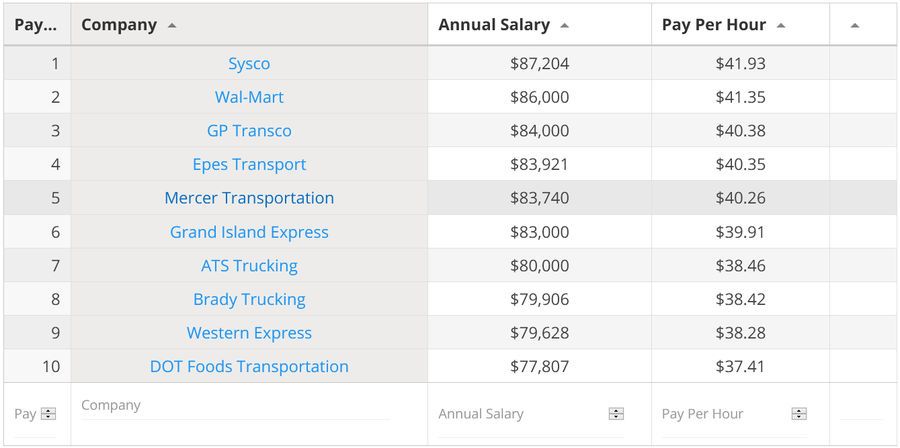 Walmart is often considered the holy grail for truck drivers, with many drivers aspiring to hang with a different carrier long enough to acquire the years of experience and the safe miles to qualify to join the Walmart driver team.
It's for good reason that so many truckers make a Walmart job their goal – Walmart has consistently been at the top of the pay scale.
A recent article at TruckDriversSalary.com with salary statistics from 2020 shows that Walmart has been displaced from that coveted number one spot by the major food distributor Sysco – though the difference of only a little over $1,000 is nearly negligible for that level of annual pay range.
According to the website, the average trucker salary, from mid-July 2019 statistics, is about $59,158 per year. Drivers, of course, will find themselves all over the place, higher or lower than this average depending on the carriers they work for, where the companies are located, and how many years experience they bring to the job.
Trucking companies located in high-living-cost areas like New York, for example, pay the higher wages. Other carriers located in states like West Virginia may pay a higher wage for a "difficulty factor."
The chart above from the website lists the top-10 highest-paying trucking companies. The highest salary comes from Sysco at $87,204; which computes to almost $42 per hour. The number 10 company in the top 10, DOT Foods, pays a salary of around $77,807, or about $37.41 per hour.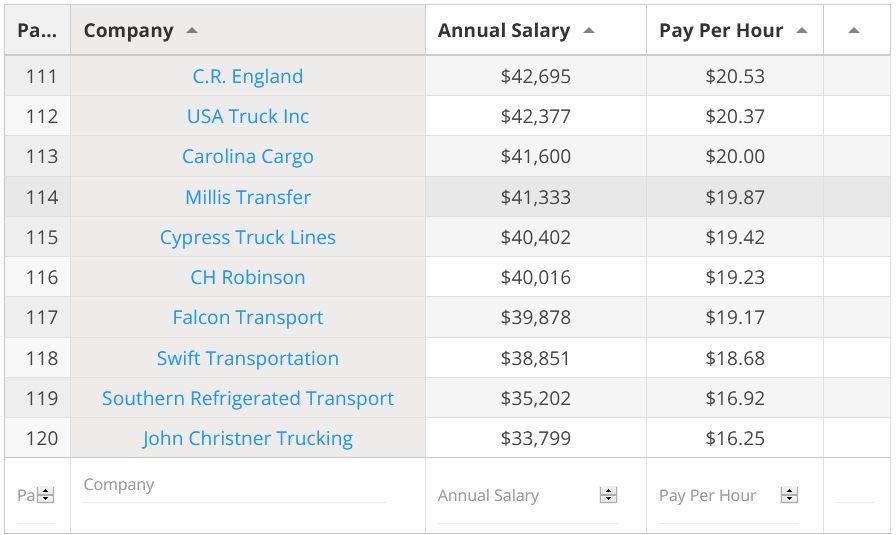 Some of the biggest names in the trucking industry, the ones most trucking school graduates aim for, rank among the lowest in driver pay. For example, C.R. England ranks in the 111 position with its driver pay of $42,695. And Swift Transportation is ranked at 118 for its driver pay scale of $38,851.
Use the interactive chart on the website to see the rank and pay for a particular trucking company.
The top best trucking companies to drive for
A person could be forgiven for thinking that a list of the top-10 highest-paying carriers would coincide perfectly with a list of the top best carriers to drive for. And according to the website that does hold true for four companies that made it to the top four in both lists.
Then, there are carriers on the top-10 salary list that are not on the top best-to-work-for list, and some carriers that are not the highest payers, but are favorites to work for.
For example, Acme Truck Line is way down to number 63 in the highest-pay ranking, with its pay of $58,245, but holds the number 5 position for best carriers to work for.
The following are the companies that TruckDriversSalary.com considers the best companies to work for.
#1 Sysco
Sysco displaced Walmart in 2020 to earn the website's top ranking in companies to drive for. Besides the highest-ranking salary, Sysco offers drivers daily local routes allowing drivers nightly home time. Sysco's benefits package goes beyond industry standards, including stock discounts, paid vacations and holidays, retirement plans, and more.
#2 Walmart
Although Walmart is not technically a trucking company it maintains a large fleet of company-owned trucks. It has long had a reputation for paying drivers well.
Drivers work five and a half days a week, and get paid for activity, mileage and training, and a safe-driving bonus. Walmart has one of the lowest turnover rates in the country.
Some of the requirements to drive for Walmart include at least 30 months of full-time Class A driving in the last three years, a Hazmat endorsement, no serious traffic violations in the last three years, no more than two moving violations in a commercial vehicle in the last 3 years, and no convictions for an OUI, DUI or DWI, or reckless driving involving drugs or alcohol within the last 10 years.
#3 GP Transco
GP Transco is new to the websites 10-best list. It offers one of the best benefits packages in the industry, which accounts for its ranking as having the lowest driver turnover rate.
GP's recruiter, John Alverez, was an OTR driver for 30 years, and knows that truckers sacrifice a lot for their careers.
#4 Epes Transport
Epes Transport operates out of the South and Southeast, and offers regional driver jobs as well as hires owner-operators.
The carrier's benefits package includes a matching 401(k), medical, dental and vision insurance, life & disability insurance options, spouse support program, scholarships, among others.
#5 Acme Truck Line
As mentioned above, Acme Truck Line is in this position despite not making it to the top highest-paying list. Acme's business model is to lease all their equipment and doesn't own a fleet of trucks. They operate in seven states and haul 9,000 truckloads of freight each week. Drivers say they always get paid on time, and they can take part in the 401(k) plan as well as a stock ownership plan.
They offer job opportunities for rookies.
#6 Anderson Trucking Services
Anderson fields flatbed, vans, heavy haul and specialized haul. Training classes are available for these divisions.
They do not have their own CDL training program, but the pay is high for a rookie driver, with medical and other employee benefits. Company drivers start out making $.48cpm, while owner-operators earn $180,000 on average.
#7 Brady Trucking
Considered one of the most-reliable truckload carriers in the Midwest and Southwest United States, the company has been operating for more than 30 years. Their fleet consists of more than 250 Peterbilt trucks, and more than 300 trailers.
Because of their exclusive contacts in the oilfield industry their drivers can stay close to home.
Unlike most carriers, Brady does not pay by the mile. Drivers are paid a percentage of the loads they haul.
#8 DOT Transportation
The largest food redistributor in North America, DOT operates 1,300 trucks, and has contracts with 1,100 manufacturers and serves more than 4,700 customers in the LTL category.
The carrier makes home time a priority and will hire only drivers who live within 100 miles of one of their locations. Drivers may be required to do some loading and unloading.
#9 Trimac Transportation
Trimac's claim to the top 9 list lies in that theyoffer owner-operators one of the highest median rates, around $233,000 a year. In addition, their drivers can find many paths to a rewarding career because Trimac hauls everything from food, to chemicals, to dry bulk, to oilfied and petroleum, and even to industrial gases.
TruckDriversSalary.com says that a few other companies that did not make it on the top list might still be attractive to drivers because they value home time and short routes over driver pay.
Those other great companies include:
JB. Hunt Transportation
AAA Cooper Transportation, or ACT
United Parcel Service (UPS)
Southeastern Freight Lines
Arkansas Best
Interstate Distributor
Crete Carrier
Old Dominion Freight Line
Costco
Finally, the website suggests that there are plenty of great trucking companies to be found among the smaller, local carriers, many of whom offer benefits and pay that compete with the big-name companies surveyed by TruckDriversSalary.com.
---
Dave Wickenhauser went on the road driving big rigs after retiring from 33 years in newspaper journalism. His trucking novel, "Crimson Highway" the first in the Hugh Mann series, is available as an Amazon paperback, and as an Amazon Kindle ebook.
Sources: Truck Drivers Salary, Flatbed salaries
Tagged Under:
Becoming A Truck Driver
Choosing A Trucking Company
CR England
Crete Carrier
First Truck Driving Job
HAZMAT
Home Time
JB Hunt
Owner Operator
Swift Transport
Truck Driver Salary
Walmart