Friday Short Haul - FMCSA Pocket Guide, Heartland pay raise, teen trucker comments
Last Updated: Thu, November 5, 2020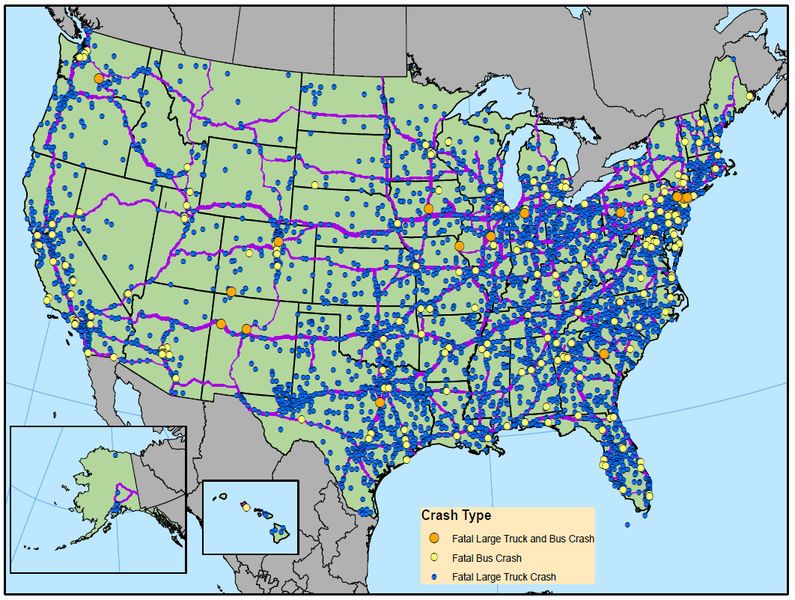 Locations of Fatal Large Truck and Bus Crashes, 2018. Source: FMCSA 2020 Pocket Guide to Large Truck and Bus Statistics
FMCSA's 2020 Pocket Guide is now available
The Federal Motor Carrier Safety Administration has published the 2020 version of its annual Pocket Guide to Large Truck and Bus Statistics.
The guide, in a PDF format, collects all of the agency's data compiled over the past few years, up to and including 2019, on large trucks and buses, including enforcement activity, details on traffic violations and other incidents, the costs of crashes and the overall state of the trucking industry.
The FMCSA regularly uses the information as part of its commercial motor vehicle regulatory function but makes the Pocket Guide available to others in the trucking industry, other Federal agencies, and virtually to anybody else interested in motor carrier safety and performance information.
Periodically, the FMCSA publishes one-page summaries on relevant topics called "Commercial Motor Vehicle Facts," and this Pocket Guide incorporates and replaces those publications.
While the detailed data, charts and graphs appear mostly as dry-as-bones information, some of the information presented in the Pocket Guide might be worth a glance by the average trucker.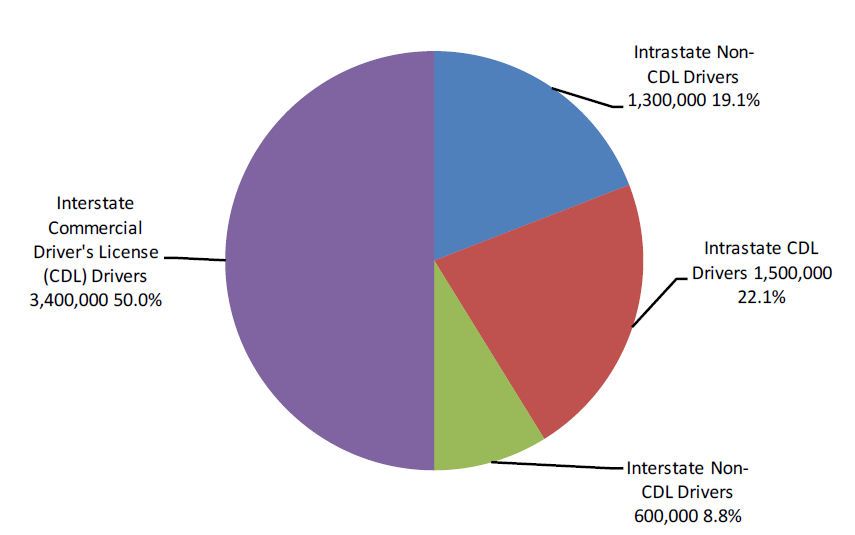 For example, according to the Pocket Guide, more than half of all CDL drivers, about 3.4 million, are recognized by the FMCSA as interstate drivers. This number is often quoted in trucking news articles as representing the truck driver employment pool.
However, as can be noted in the accompanying graphic, there are also 1.5 million intrastate CDL drivers, and almost 2 million non-CDL drivers who fall under FMCSA's regulatory umbrella.
Rail is touted by some to have a competitive edge over truck freight moving, but according to FMCSA statistics, rail tonnage comes nowhere near to matching up with the total freight hauled by trucks.
In 2019, FMCSA reports that trucks hauled 11,920 million tons of freight, while rail moved 1,782 million tons. In fact, trucks move almost twice as much freight in a given year than all of the other modes combined, such as rail, water, air, multiple modes, pipelines and others.
The Pocket Guide is available online only as a PDF download. For a printable version email FMCSA_HOST@dot.gov.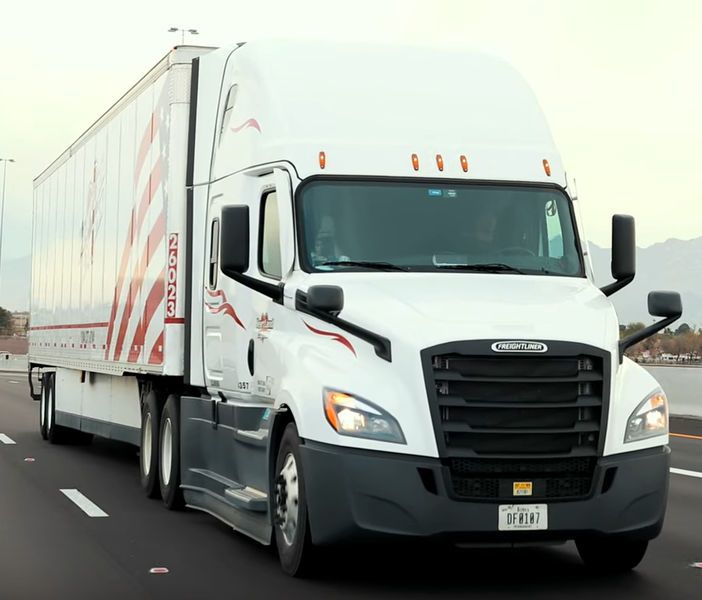 Heartland Express announces driver pay increase
Heartland Express, based in North Liberty, Iowa, announces a driver pay increase, which is the fifth such increase by the carrier over the past six years.
The specifics of the driver pay package include:
Rate increases to drivers as high as 12.2%, depending on driving region and related home time,
An average increase of approximately 6% across the current driver fleet,
New hire rates starting as high as $0.56 per mile (1 year of qualified experience, depending on driving region and related home time) to $0.60 per mile (10 years of qualified experience, depending on driving region and related home time),
Continuing to recognize up to 10 years of verifiable experience for new drivers joining the Company which we believe is in excess of the industry average of approximately 5 years for new hires,
Current Company driver rates as high as $0.65 per mile based on longevity with the Company, driving region and related home time,
Continuing to pay drivers fixed wage increases, for up to 20 years of combined driving experience,
Continuing to pay drivers an annual safety bonus of up to $0.03 on all miles driven, plus and an additional $0.05 per mile, for all miles driven in Northeast United States "Green Zone" and Canadian miles. Both of these rates are in addition to a driver's base rate of pay.
According to Heartland CEO Mike Gerdin, "As we reflected back on what has transpired over the course of 2020, and what our drivers have been through, this pay increase is a sign of appreciation for everything they have overcome."
"With this latest driver pay package, we also wanted to extend our gratitude to other professional drivers within our industry should they choose to join the Heartland Express team," Gerdin added.
Gerdin lauded the dedication of Heartland drivers. "Often the unsung hero, but a critical component to America's supply chain, our drivers have continued to perform at their very best throughout these challenging times. Their service is the underlying cornerstone to our ability to provide premium service to our customers and maintain our history of financial success over the long haul. Our customers expect us to deliver and our drivers have done exactly that through the many obstacles they have faced this year."
Heartland's fleet comprises 2,900 tractors, with 7,900 trailers, and has an employee pool of 2,742 drivers.
FMCSA about to end teen-driver comment period
The 60-day comment period on the FMCSA's proposed teen driver pilot program ends this Monday, November 9, but there is still time to get in some last-minute comments.
Basically, the agency is proposing a pilot program that would allow 18 through 20-year-old CDL holders to operate a commercial motor vehicle across state lines. Currently, 49 states and the District of Columbia allow under-21 CDL holders to operate CMVs within a state's boundaries.
Youth participants in the proposed pilot program would take part in a 120-hour probationary period followed by another 280-hour probationary apprenticeship program with a carrier.
To qualify for the program the young drivers must have been operating a CMV intrastate for at least one year and 25,000 miles.
So far, there are 107 comments at the regulations.gov website.
For example, like many others citing a national truck driver shortage, the National Beer Wholesalers Association supports the agency's proposed under-21 pilot program.
"With the proper training and equipment, successful 18 to 21-year-old CDL drivers will be better suited to acquire the necessary skills to operate Commercial Motor Vehicles," wrote association President and CEO Craig Purser.
"The pilot program under consideration will provide a greater understanding of the capabilities of a well-trained CDL driver and will allow for an opportunity to evaluate how equipment, vehicle safety technologies and driver training could potentially aid new entrants in the driver workforce."
On the other hand, concerns about the maturity level of under-21 drivers were a common comment theme.
"This would be a huge mistake," one commenter suggested. "The maturity level at 21 is lacking and that's the current legal age at this moment in time. Having a person between 18-20 would not only cause issues within this industry but would pose a public safety risk in the much larger picture."
Sources: FMCSA's Pocket Guide PDF, Heartland Express news release, Teen driver comments
Tagged Under:
Becoming A Truck Driver
FMCSA
Truck Driver Salary
Trucking News