Trucking Truth owner/founder gets 3-hour spot at Road Dog Trucking Radio
Last Updated: Mon, July 13, 2020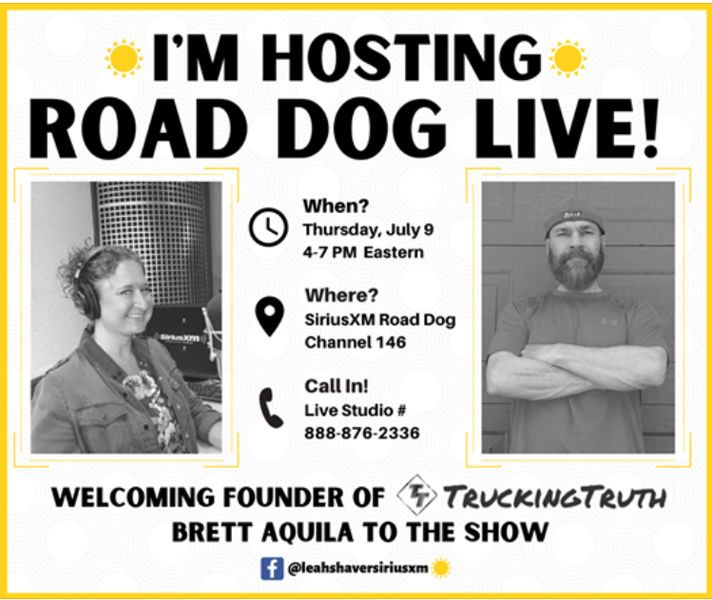 Thousands of truck drivers say they owe the success of their ventures into trucking to the training and encouragement that they got from a trucking-oriented website called TruckingTruth.com.
Much of their success can be attributed to the unrelenting positive attitude of the site's owner/founder Brett Aquila, who has imbued the site throughout with expressions of encouragement, fierce personal responsibility, humility, the importance of admitting mistakes, and having the desire to learn.
If there is one mantra or theme that Brett has held to over all of the 13 years during the evolution of Trucking Truth it's, "Stay with your first company for a minimum of one year."
It's this can-do, positive attitude that came to the attention of a host on SiriusXM's Road Dog Trucking Radio channel during a call-in segment, when KC Phillips heard from a new trucker who was well-informed, well-prepared, and had a positive attitude -- all that he attributed to Brett's website at TruckingTruth.com.
That intrigued the folks at the channel; which led to Brett being invited as a guest for a whole 3-hour segment that took place on Thursday, July 9.
Host of the July 9 segment, Leah Shaver, says about that phone call:
"Last week … we had a call from a new driver to the industry. I think he's been on the road for two months. He was really well informed. Talked about staying with the company for a while. Talked about a lot of preparedness. He was ready for the job. He had a lot of great opinions and ideas.
"And we asked him, in fact KC asked him, 'How was it that he was so well-prepared? Did he have a mentor? What was the situation?' And he said it wasTruckingTruth.com, and that Brett Aquila was his mentor along the way. So I reached out that day. In fact, right after the show, and Brett was kind enough to say, 'Absolutely Leah I will join you on Road Dog Live,' so he is here with us, and here with you."
The theme that Leah said she wished to explore during Brett's interview revolved around how he prepares new entrants for trucking, the lifestyle changes new truckers face, the misunderstood components of the trucking industry, if chasing pay-per-mile is "really going to get you to that payday" and how long drivers should stay with their first company, and what Brett has done to become "wildly successful."
How TruckingTruth.com came about

Leah: So you were an over-the-road-truck driver for 15 years. Can you tell us a little bit about starting TruckingTruth.com and just how you came upon that?

Brett: Yeah it was right near the end of my career. I hadn't paid much attention to it but I started looking around the web. And I just thought one day like, I wonder if I was getting started in trucking today, I wonder what kind of guidance there is out there. What's going on in the trucking industry, with on the web? And I started looking around. And I would love to say an easier word, but I was horrified at what I found.

And I thought, my God, if new drivers come into the industry and they read this stuff and they think that this is the way the industry operates, or this is the approach to take, they're going to be slaughtered. They're going to be on a bus home in a week.

And I thought somebody needs to teach people what it takes to be successful in this industry, because something doesn't have to be perfect to be great. And the trucking industry, if you're the right type of person for the job, it's great. It's an amazing career, but it's really complex and it's really completely different than anything else you could ever relate to. There isn't really anything where you can say, "Well, if you've done this, then trucking will seem familiar to you." It's just very alien.

I think it's great. I think it can be great for a lot of people. And so I wanted to really just focus on the driver and what the driver has to do to give him or herself the best chance at being successful and getting a great start to this career.

So that's why I put together Trucking Truth for anyone from the moment they consider a career in the industry, all the way until about the end of your first year. At that point you have a solid foundation. You get how trucking works.

We're not trying to change the industry. We're not trying to change the way companies operate. We're not trying to change any laws or anything. We're just trying to help people focus on themselves and what they need to do to be successful. So that was the whole purpose of starting the site.
Brett explained that his first venture into helping prospective and new drivers understand the trucking industry was writing a book. It is titled, "Becoming A Truck Driver: The Raw Truth About Truck Driving," and is available as an ebook on Amazon for $3.49. But Brett said it is also available for free at TruckingTruth.com.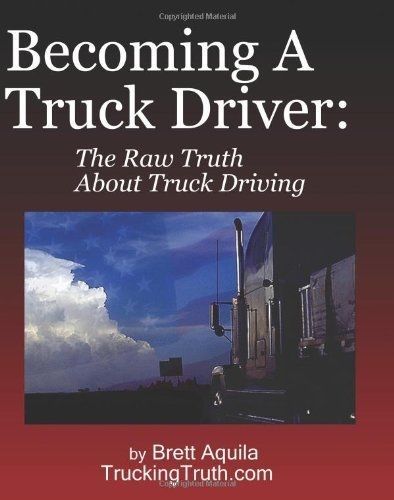 Brett said that the book needed a website, so he created TruckingTruth.com in 2007, and within a year it had begun to evolve to what it is today.
"I started to throw a few articles up there, and started growing it. And I added more articles and I put a forum in there. And it just kept growing and growing and growing as I added things, and it just got so big. I was like wow I think this could be a thing," Brett said.
He said that creating Trucking Truth's online forum had a big impact on the growth of Trucking Truth. "We have a forum, a very active forum, and a lot of the questions that come in through the forum have really inspired us to put out new content to help people."
Brett said that the moderators and others on the forum don't sugar-coat the negatives of driving truck, but their advice always comes back to new drivers taking personal responsibility for their own careers.
Brett and others at Trucking Truth do not like to hear a lot of gripes from truckers who constantly blame their companies for not achieving what they think they should be accomplishing the minute they step into a truck with a newly minted CDL in their pocket.
Brett: The major carriers, they all have the tools for you to succeed. All of them. They have the equipment, they have the support staff, they have the freight available. Anything you want to do. They've got you.

They're gonna hand you all the tools, all the support everything you need. You have to figure out what you're doing. You have to take the time to be committed. Work hard, get to know the right people. Develop good relationships and that focus on yourself, and you're already,

You get on with one of the major carriers you're already with a winning team. You're already with an elite team that has the best tools in the industry. You're the one that needs to get up to speed so you can take advantage of those tools and start a great career for yourself.

So yeah, we don't allow people to blame the company, blame their dispatcher, blame the government. We don't play that game. This is about you have a great opportunity. And we're going to teach you how to maximize that opportunity by being the best you can be. That is our exclusive focus.
Brett said that he sees TruckingTruth.com and its forum as providing an independent source of advice and encouragement for drivers who find themselves in those tricky kinds of situations.
Improving driver training

Leah: We're also curious on what is it that we need to do to improve driver training so that drivers, stick with it. Brett, what do you think about that?

Brett: I think there's a few things they could do. For one, I think the paid programs that the major companies have, I think they keep drivers out away from home too long in the beginning.

The industry is it's such a shock to your lifestyle to your family. The career is stressful. It's exhausting. You know I think taking the driver out of their home, day one, and putting them out in a truck for two months, sometimes three months at a time without getting home or without getting home very often, I think it's too much of a shock to the driver and to their family.

I think they should focus on getting drivers home and let them take a breath for a minute. It's exhausting it's overwhelming it's stressful, but take a breath. Let them get back to their family and friends and absorb things a little bit, and then get back out there.

I've also always thought that it would be beneficial to everybody if they would rotate drivers amongst different trainers instead of sticking one driver with one trainer, shoving them into a walk in closet for two or three months at a time until they finally kill each other.

You're not getting along with your trainer, when you have problems, you really, really need to turn to somebody that you can trust and you can count on to help you out. And it's a scary thought to call your company. They just hired you, you're brand new, you've been out there for two, three weeks. The last thing in the world you want to do is call your company and complain or criticize somebody.
The conversation then turned to new driver attitudes and how it affects their time with a trainer and as new solo drivers.
Driver attitudes

Leah: Do you think that the new entrants coming in today want to be trained? Do the folks that come through your forum seem to want feedback and explanations, or do they seem like snowflakes that don't want any input?

Brett: There are a lot of people that come in thinking they have it all figured out, they already know.

It's really the worst thing you can do when you're new at anything. You really need to come in with an open mind. Be very humble, listen and learn, follow directions until you start to get a feel for what's going on. But the misconceptions about the trucking industry is one of the biggest reasons that people fail quickly.

They come in, they think they know how it works they think they know how training is supposed to be done. And so they come in with these really rigid expectations. And right from day one nothing gets done the way they expected it to be done. So they either assume that the company is a lousy company, or they don't know how to train people or they don't care about their drivers, when in reality, they're doing everything right. But because it doesn't meet your expectations you think they're doing it wrong.

Now it's super important to come in very humble with an open mind ready to work hard and listen and follow directions and just go with the flow. Just chill out go with the flow.

It's going to take a long time before a lot of this stuff makes sense. The trucking industry is a very strange beast. It does not operate the way most people would expect it to operate. So just go with the flow and learn, and you'll pick up on it. You really have to be willing to listen and learn and be humble.
Brett has a surprising answer for a common complaint in the Trucking Truth forum that the major carriers put new drivers on the road in charge of a truck after a very short training period.
"That really surprises people. People think, well I'm going to be in training until I'm good. And then they'll send me out on the road," Brett says he hears often. "But the reason that they don't put a lot of time and money and energy into training people up front before they go on the road is they have never figured out a screening system to figure out who is going to thrive on the road and who isn't.
"And so you really don't know if someone is going to make it in this industry until you put them out on the road and see if they can handle it. So instead of putting months of time and money and energy into training somebody to drive the truck, and then sending them out in the road only to find out a week later they can't handle it, they put you right out there right away to see what happens.
"And that's really surprised the heck out of people. They can't believe they're out there that quick. They don't know what they're doing and that it's overwhelming to them. And, that's how it's done. You really don't know until you're out there if it's going to be for you or not."
Brett emphasized again that Trucking Truth is there to help folks who find themselves in those kinds of situations.
Staying with the first company for at least one year

Leah: Brett I want to ask you, you and I both believe in driver retention, that number one, it's going to look best on a professional drivers resume or job record, and number two, it's going to give you the best experience as you make your way as a noob in the truck and on the road. Why is it better in the long run to stay with your company for that first year rather than job hopping.

Brett: Oh, there's a long list of reasons.

First of all, there's so much to learn. It's so much more complex than you would expect. So it takes months and months just to figure out how to manage your time, how to manage your personal life, adjusting to the erratic schedules, learning how to handle that rig. It takes a long time to do that kind of stuff.

But it's also super important to understand how your company operates. How do they distribute freight, what is the dispatchers responsibility. What responsibility is above your dispatcher that it's somebody else's to take care of. Developing a strong relationship with your dispatcher takes time. Developing a strong record for yourself, takes time.

And so to come into the industry and figure you know after two or three months, well things aren't going as well as I'd like them to I must be at a lousy company, and people wind up jumping ship to another company. And then they wind up figuring out right away they have all the same problems they had at the last company because the problem wasn't the company.

The problem is you are new, and you just haven't learned how to work within their system, you haven't proven yourself you haven't developed the relationships yet. So just stay where you're at, develop that relationship and that reputation, and learn how this industry works. After you've been out there for a year, at that point you know a whole lot more than you did before. And then you can decide, well maybe I'd like to try to haul a different type of freight, maybe I'd like to run a different region of the country. Something along those lines, so you might have an idea of what you would prefer different than what you have now.

There's just no advantage to job hopping. You're not going to find that you're making more money, you're going to start at the bottom again, and have the same problems that you didn't figure out the first time at your last company. So it's just best to stick it out for a year, really learn your trade, and then decide what you want to do at that point.
Some final thoughts
"Everybody looks like an idiot in the beginning, the worst thing you can do is pretend that you know more than you do. Because people who really do know what they're doing. they know when they're watching you."
"I think it really all starts with understanding that trucking is performance based. You really have to be fully committed. Trucking is not something you can dip your toes in, or you can kind of put out the effort only when you feel like it."
"One thing that's tough about being a trucker is you have no authority over anybody. You have exactly one piece of authority, and that is you can refuse to drive that truck if either you're not safe to drive or the truck isn't safe to be on the road. Other than that, you have no authority over anybody -- not your company, not the DOT, not the customers. So I see a lot of drivers really trying to force things to happen. They go to the customers, and they start screaming and yelling and threatening, but the most powerful thing that you can do is to make somebody want to help you."
"One of the things about trucking is everybody's on the same page, everybody wins together or loses together. The more miles you turn, the more money you're going to make, the more money the company is going to make, the better service the customers are going to have. Everybody wins."
"Well, humility and personal responsibility is a huge thing. You make a mistake out there admit it. That's what these companies want to see. You're gonna make mistakes, but they want to know that you care. They want to know that you take responsibility. You want to be the best driver you can be, you're doing everything you can to learn. That's a really big deal."
Tagged Under:
Advice For New Truck Drivers
Becoming A Truck Driver
CDL Training
Changing Careers
Company Trainers
Driver Responsibilities
Driver Solutions
First Solo Months On The Road
First Truck Driving Job
Getting Your CDL
Home Time
Life On The Road
On The Road In Training
Recruiter Issues
Truck Driver Salary
Truck Driver Training
Truck Driving Lifestyle
Trucker's Family Matters