Flooded road over a Missouri River
-- File Photo by Michael Raphael [Public domain]
In response to the extreme weather, particularly flooding, that has continued to plague the central part of the United States, the Federal Motor Carrier Safety Administration has extended its Regional Emergency Declaration of March 19 to July 2.
The renewed declaration applies to states stretching from Wisconsin in the north, to Louisiana in the south, and from Nebraska in the west to West Virginia in the east. It relaxes certain regulations for drivers transporting supplies, fuel and equipment into the affected states.
Drivers in direct support of relief efforts related to the severe flooding are granted exemptions from Parts 390 through 399 of Title 49 Code of Federal Regulations, which includes hours of service regulations.
This latest extension follows a previously renewed extension on April 19. FMCSA declares that another extension is required because "emergency conditions in the affected states have not abated."
Affected states are:
Arkansas
Illinois
Iowa
Kansas
Kentucky
Louisiana
Minnesota
Mississippi
Missouri
Nebraska
Ohio
Oklahoma
South Dakota
Tennessee
West Virginia
Wisconsin
The FMCSA noted that nothing contained in this extension of the declaration exempts drivers from regulations pertaining to controlled substances and alcohol use and testing requirements, the commercial driver's license requirements, the financial responsibility insurance requirements, hazardous materials regulations, or applicable size and weight requirements, among others.
In addition, drivers participating in the emergency declaration are subject to the following requirements:
Compliance with applicable speed limits and other traffic restrictions.
No relaxing of requirement that are to prevent unsafe driving due to fatigue, illness, etc. Carriers cannot require a fatigued driver to continue driving.
Drivers' must note "Emergency Declaration" in their record of duty status, and comply with all other record-keeping requirements.
Any motor carrier whose driver is involved in a crash must report the recordable crash to a FMCSA's Division Office.
A copy of the Emergency Declaration must be in the driver's possession.
Upon ending direct assistance to the emergency effort, the carrier and drivers revert back to the original regulations, except that a driver may return empty to his or her terminal or regular off-duty location.
Once ending his or her participation in the relief effort a driver must not drive in interstate commerce again until having met the minimum hours of duty requirements.
The extreme weather, namely flooding and tornadoes, has prompted road closures in several Midwest states, including Oklahoma, Missouri and Kansas.
Consult the
National Weather Service road closures page
for up-to-date information.
This map from the National Weather Service for Missouri as of Tuesday, May 28, is thick with flood warnings and road closures.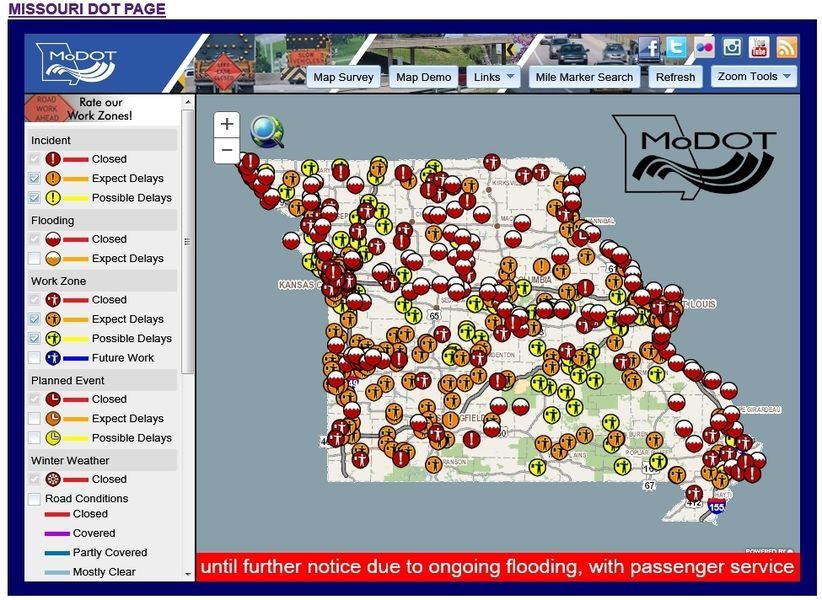 Sources: FMCSA, National Weather Service
Tagged Under:
Adverse Conditions
Dealing With The Weather
FMCSA
Hours Of Service
Truck Driver Safety