California publishes major new freight plan
Last Updated: Mon, July 27, 2020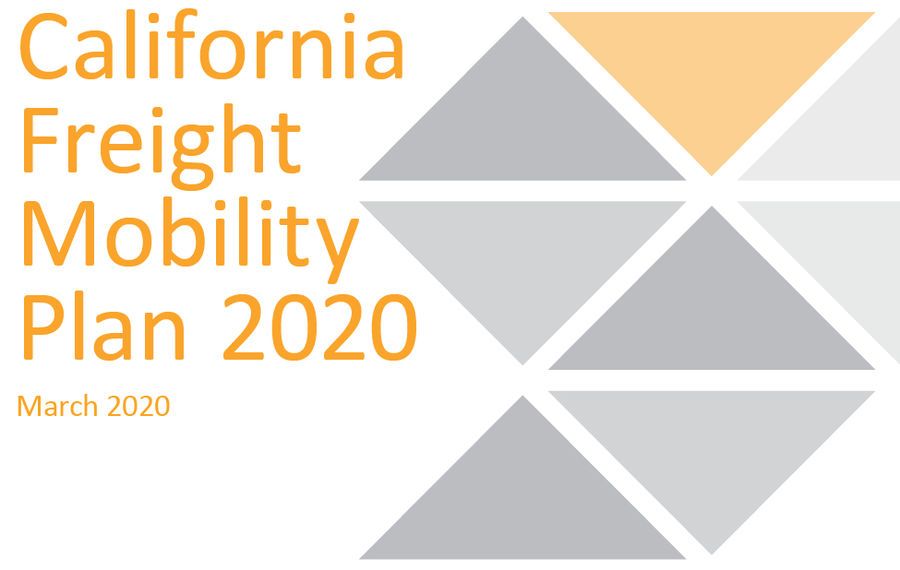 As yet another response to the Federal Fixing America's Surface Transportation Act passed in 2015 the State of California has published a massive document to update the state's freight planning.
Titled, "California Freight Mobility Plan 2020," the 326-page document was released by the California State Transportation Agency, known as Caltrans, to comply with a FAST Act requirement for states to provide state freight plans and update them every five years to be able to qualify for National Highway Freight program funding.
Not surprisingly, California's freight plan addresses many issues important to carriers and their drivers who ply California's roads, highways and the Interstate system.
David S. Kim, Secretary, California State Transportation Agency, led off the report by stating that the report, "articulates a vision of California having the world's most innovative, economically-competitive multimodal freight network that is efficient, reliable, modern, integrated, resilient, safe, and sustainable, where social and environmental impacts are considered equally."
According to Kim, the freight plan supports the state's emphasis on "transitioning to a zero and near-zero-emission freight fleet, supporting marine highways and short line rail, and proposing alternative modes for last mile deliveries."
To accomplish this, the plan encompasses seven main goals, many of which directly address aspects of interest to carriers and drivers within California:
MULTIMODAL MOBILITY -- Strategic investments to maintain, enhance, and modernize the multimodal freight transportation system to optimize integrated network efficiency, improve travel time reliability, and to achieve congestion reduction.
ECONOMIC PROSPERITY -- Grow the economic competitiveness of California's freight sector through increased system efficiency, productivity, and workforce preparation.
ENVIRONMENTAL STEWARDSHIP -- Support strategies that reduce, avoid and/or mitigate adverse environmental impacts from the freight transportation system.
HEALTHY COMMUNITIES -- Enhance community health and well-being by mitigating the negative impacts of the goods movement system across California's communities
SAFETY & RESILIENCY -- Reduce freight-related deaths/injuries and improve system resilience by addressing infrastructure vulnerabilities
ASSET MANAGEMENT -- Maintain and preserve infrastructure assets using cost-beneficial treatment as indicated in the State Highway System Management Plan (SHSMP), per the federal FAST Act, California Streets and Highway Code §164.6, Caltrans Director's Policy 35 Transportation Asset Management (DP-35), and other applicable state and federal statutes and regulations.
CONNECTIVITY & ACCESSIBILITY -- Provide transportation choices and improve system connectivity for all freight modes.
The plan's overview and themes
To accomplish the state's freight goals and to mitigate the greatest freight challenges, the plan emphasizes that the state's most critical freight investments should be consistent and aligned with at least one the following themes:
Improving Port Access Reliability -- With one of the largest concentrations of warehouses and distribution centers in the nation, California's transportation network must be reliable, efficient, and cost effective for operators to ensure continued competitiveness.
Border Efficiency -- Mexico is California's largest trading partner, and trade between the two partners will continue to grow as manufacturers' supply chains continue to integrate the unique workforce skillsets, economies, and resources from both sides of the border. This continued growth will also affect the border's infrastructure.
Inter- and Intra-State Freight Movement and Resiliency -- Improving the inter- and intra-state freight network is a critical component to increase the state's economic competitiveness. Critical freight corridors, such as I-5, I-10, I-15, I-80, SR 99 and others, connect the largest metropolitan areas within the state and serve as the pillars supporting goods movement between regions and other states.
According to the plan, improvements to these will increase travel reliability, reduce congestion, and enable more volume and value of goods to move into and through the state, according to the state's freight plan. With continued increase in severity and frequency of climate change related events, California must plan for efficient and cost-effective routes to ensure the resilience of the freight system in the face of such disastrous climate events.
Proposed projects
The plan emphasizes that freight stakeholders "should use an integrated approach assessing the needs of the freight system and when developing multi-faceted projects that encourage cross-collaboration with public and private partners."
The plan suggests improvements should focus on maintenance, safety, freight rates per mile, system continuity, system redundancy and pavement condition.
Truck parking
Recognizing that the trucking industry is responsible for the greatest impact on freight issues in California the plan also suggests focusing on aspects of bottleneck relief including truck climbing lanes, passing lanes on rural routes, freeway entrances and exits, adding weigh stations and improving east-west connections between the major north-south major highways such as U.S. 101, SR 99 and I-5.
Also addressed in the plan is that truckers often have to resort to parking in "non-sanctioned" parking areas because of overcrowding in rest areas and truck stops. The plan says that the state should "determine where truck parking, rest stops, and truck stops are needed and start a program to provide them by both private and public sectors."
To immediately mitigate the lack of truck parking CalTrans should locate and mark safe stopping spots, possibly along Caltrans right-of-ways when other parking options are not available. The state has an upcoming Statewide Truck Parking Study that will identify where additional parking is needed.
Systems that provide real-time parking availability should be implemented to reduce time searching for parking, including reserved truck parking spaces.
Other freight projects suggested by the plan include:
Clean Truck Corridors – Special corridors for zero-emission and near-zero-emission medium and heavy-duty trucks, with managed lanes or tolls that prioritize "clean" trucks.
Port Infrastructure and Equipment – State's port-emission goals can be met by deploying zero and near-zero-emission trucks.
Truck Parking ZE/NZE Infrastructure – With electric vehicles in mind, the plan also calls for refueling stations for battery and hydrogen-powered medium and heavy-duty trucks. Rest areas are, "where drivers tend to park for long periods of time to meet HOS regulations and could plug in and/or charge their vehicles, making these locations ideal for Vehicle Grid Integration charging technology."
Border Wait Times – Reduce driver wait times at United States and Mexico border crossings with real-time wait-time information.
Eco Routing – Routes can be optimized for the most eco-friendliest routes for truck drivers and carrier fleet managers, with the idea of minimizing emissions and fuel consumption.
Freight Signal Priority (FSP) – Reducing emissions and increased traffic efficiency can be accomplished by giving trucks priority for green lights at intersections when it is appropriate to do so under traffic conditions. The San Diego Port Tenants Association has already implemented FSP at intersections near the port.
Truck Platooning – The report states that "California has been a leader in platooning deployment and demonstration projects," and the concept should be included in freight planning.
Traffic Control and Monitoring Systems – Traffic flow can be controlled more efficiently with "smart" traffic lights, license plate recognition cameras and speed cameras. "Such systems can send updates about vehicle arrival time and delays, improving the efficiency of truck, port, terminal, and warehouse operations. The environmental performance of the transportation operations is increased by decreasing transport time and vehicle idling," the report suggested.
Weigh-in-Motion Systems – Removing overweight trucks from roadways increases safety and decreases damage to pavement, so the plan recommends implementation of weigh-in-motion systems. Also, congestion and accidents can be prevented by reducing truck stopping times at weigh stations, and by identifying overweight vehicles and flagging them for law enforcement personnel.
In addition, "Broad application of WIM monitoring can provide a wealth of traffic operations data across a wide area or along an extended corridor." The report concluded.
Sources: California Freight Mobility Plan
Tagged Under:
Trucking Industry Concerns
Trucking News
Weight and Scales