ELDs might not be the panacea that was hoped for
Last Updated: Tue, April 23, 2019
The law of unintended consequences has struck again.
The purpose of federally mandated electronic logging devices was to prevent log book "cooking" with the goal of reducing accidents and making it easier for trucking companies to verify their drivers' reporting of hours of service.
Now, into its second year of full mandatory use, there are concerns in the industry that not only have ELDs not reduced accidents, but that the devices are causing some to question whether the wall of separation between independent contractor and employee status is disappearing.
The industry admits that use of ELDs by drivers has virtually eliminated log book cheating. But the problem arises when trucking companies deploy telematics features available in the electronic devices to track and monitor drivers. Independent contractors get monitored and tracked just as employees do.
Recent court cases have gone against carriers on the evidence that technology like onboard recorders and now ELDs with advanced telematics have given those companies employee-level control over the drivers that they had classified as independent contractors.
Courts look at factors like how much control the carrier has over when, where and how the driver accomplishes the task of hauling his or her load for the carrier. Today's ELDs with telematics allow carriers to virtually micromanage drivers with no regard for the difference between independent contractors or employees.
Jeremy K. Schrag and Morgan L. Simpson, attorneys with law firm Lewis Brisbois Bisgaard & Smith, told MH&L, "Moving forward, it is important for trucking firms to understand the relationship between wage and hour litigation and the monitoring capability of telematics packages.
"Trucking fleets that use sophisticated telematics tracking devices to monitor, assign and check in on independent owner-operator drivers are at a higher risk of an adverse wage and hour decision."
Not reducing accidents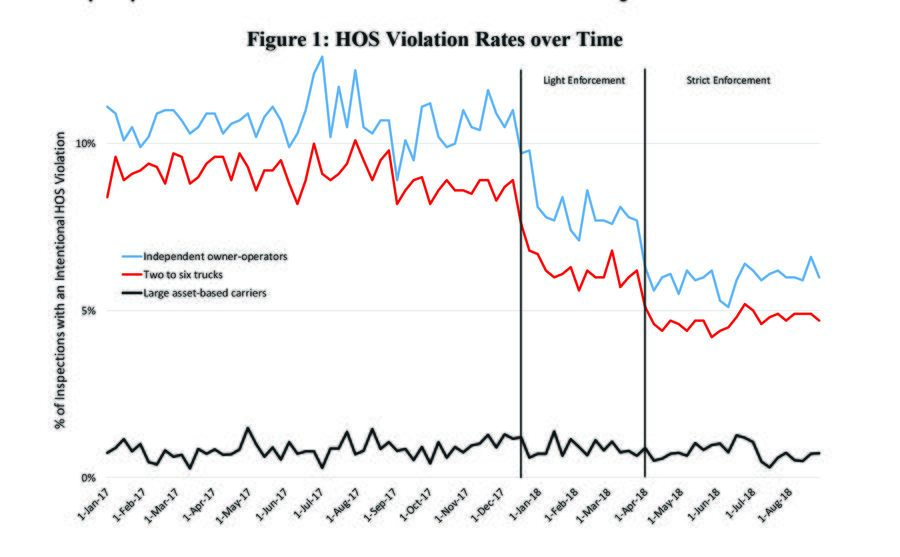 The issue of ELDs muddying independent contractor status notwithstanding, some in the industry are questioning whether ELDs are effective at all for the purpose that they were originally mandated.
The FMCSA has compiled statistics examining data available since the ELD mandate was put into effect in December 2017 and was subject to full enforcement in April 2018.
In summary, FMCSA found that hours of service violations did indeed decrease, especially among smaller carriers and independent owner-operators. Large carriers did not show a marked decrease in violations because most were already deploying ELDs and already had better HOS compliance.
However, at that same time accident rates and unsafe driving violations among smaller carriers and independent owner-operators increased, sometimes significantly, once ELDs were introduced into their driving program.
It is suggested that these smaller trucking firms and independents drove under unsafe conditions in order to make up for lost revenue because of having to maintain a stricter HOS compliance.
The purpose of ELDs was to increase HOS compliance; which FMCSA rule drafters believed should reduce accidents and increase driving safety. But, as the law of unintended consequences rears its ugly head, the FMCSA is learning that quite the opposite has taken effect.

The trucking industry is pinning hopes on some HOS revisions by the FMCSA and the Department of Transportation that are now at the White House Office of Management and budget for review.
Briefly, some of the rules undergoing revision might be those regarding the 30-minute break, a more-driver-friendly split sleeper berth rule, a petition by the Owner-Operator Independent Association to take a rest break once per 14-hour duty for up to three consecutive hours if the driver is off-duty, and a TruckerNation.org petition that would allow drivers to use multiple off-duty periods of three hours or longer instead of the required 10 consecutive hours off-duty.
The research cited in the FMCSA report was conducted by Alex Scott, Northeastern University; Andrew Balthrop, the University of Arkansas; and Jason Miller, Michigan State University.
According to the study, "Our research also provides another example of how policy interventions are fraught with uncertainty in complex systems with many interconnections and possible feedbacks.
"There are many examples of potential policy gains being offset by unintended and often deleterious consequences in these environments: seatbelt usage can potentially increase other unsafe driving behavior (Peltzman 1975), the Endangered Species Act can be detrimental to the species listed (Ferraro et al. 2007), and high-stakes testing increases cheating (Jacob and Levitt 2003)."
The study concluded that the gains from fatigue reduction along with other benefits like reduced paperwork, and more information availability to both inspectors and carriers due to the electronic capture of a driver's activities, were offset by increases in unsafe driving behavior.
The study researchers concluded with, "Nonetheless, with regards to safety, drivers are heavily incentivized to avoid accidents, and this did not change with the ELD mandate.
"Given the legal liabilities involved with being in a crash when outside hours-of-service limits, drivers are incentivized to be extra cautious when driving beyond limits. The ELD mandate has not done much to change the driver calculus in this respect, and so it is perhaps not surprising that we fail to uncover significant accident reductions."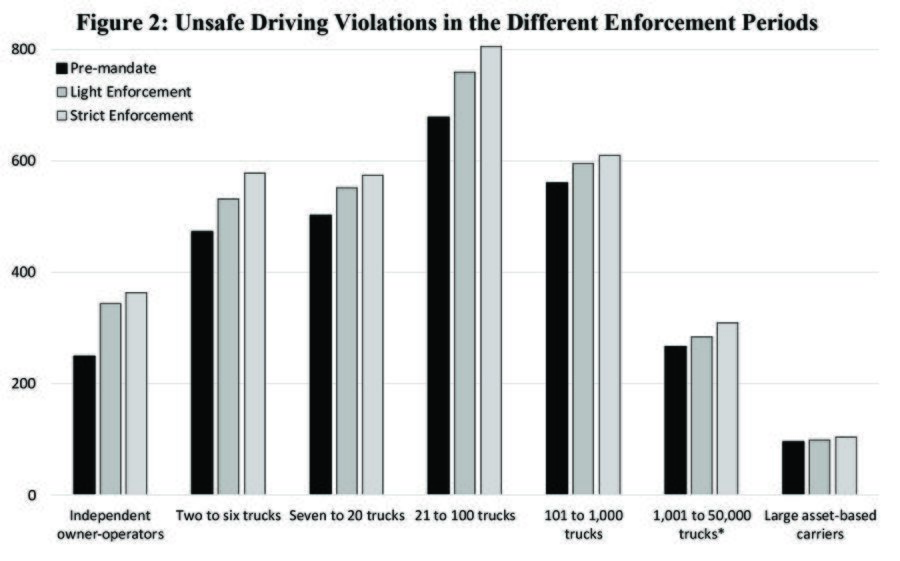 Sources: MH&L, MH&L, ResearchGate
Tagged Under:
DOT
Driver Solutions
Electronic Logbooks
FMCSA
Hours Of Service
Owner Operator
Split Sleeper Berth Rule
Time Management
Truck Driver Safety
Trucking Accidents