Friday Short Haul - Trucker's last ride, FMCSA extension, autonomous trucks
Last Updated: Thu, August 13, 2020
Veteran trucker gets his wish for a final ride
A 50-year veteran of the road is dying of cancer and he had a final wish – to take one last ride in a semi truck. So his wife put out a notice on Facebook asking if anybody was willing to take her husband along for a final ride.
CDL Life caught the plea on Facebook and reported on the amazing story of the truck driver named Gerald "Trucker G" Johnson who answered the wife's plea, met up with the former driver named James Garhart, Jim, and took him for that ride.
When Jim's wife Connie, also a truck driver, put out the plea on a Facebook trucking group, Trucker G and his wife Mary, also known as Mrs. G, said they just knew they had to help.
He was on a load to Texas as an owner operator contracted to Cargill, but managed to get a haul up to Nebraska near the Garhart's home right after dropping his Texas load. He was so determined to reach the Garharts he told CDL Life that he would deadhead it all the way to Nebraska if he couldn't get a load.
"I immediately got off the phone and called Connie and said, 'I'm on my way,'" CDL Life reported.
So, on Tuesday, August 11, Trucker G and Mrs. G met up with Jim and Connie and offered Jim a ride to anywhere he wanted to go.
Trucker G explained that it took some doing to get the cancer-ridden frail former driver out of his wheelchair and up into his Kenworth.
"It look every bit of his energy to climb into the truck but he was determined," Trucker G told CDLLife.
In the video about the adventure Trucker G told Jim he had two days off and asked him where he wanted to go. Jim said jokingly that he would like to go all the way to California, but with his condition he could only manage a short jaunt for a few miles down the highway.
"We took it easy. We went out about 8 miles and I could tell Jim was getting tired. He said, 'There's a truck stop up ahead.' I knew that was my cue that Jim was ready to head back," CDL Life reported.
Trucker G said it was an emotional experience for him, and he had difficulty talking past the lump in his throat, but he said the trip was about getting Jim that final ride and not about his own emotions.
Trucker G told CDL Life that he and his wife will stay in touch with Connie and Jim, and that they intend to be there for Connie with the time comes. "People I help, I don't forget about them. I follow them to the end," he said.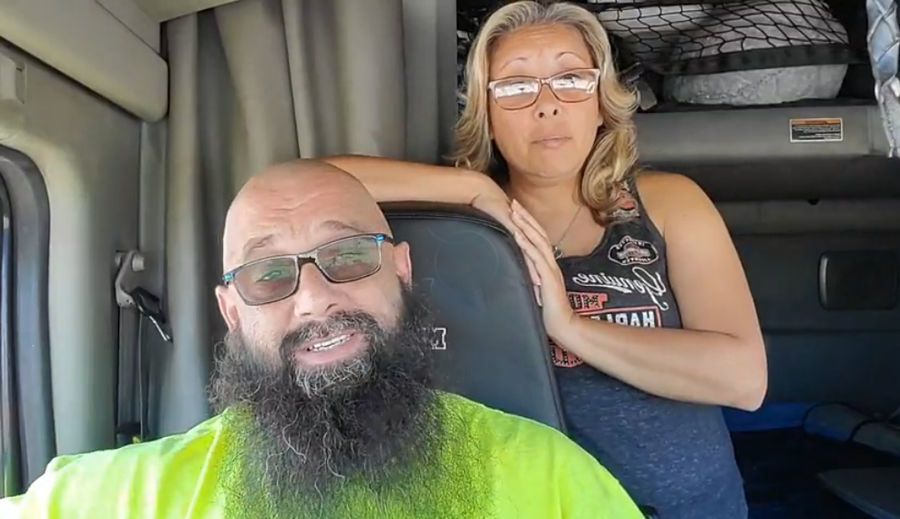 Trucker G and Mrs. G
FMCSA again extends virus HOS exemption until September 14
The Federal Motor Carrier Safety Administration has announced yet another extension until September 14 of its exemptions to hours of service regulations for drivers hauling qualifying freight.
The extension announcement, which continues the exemption period from the previously set expiration date of August 14, comes with the addition of a new category of freight qualifying drivers for the exemption.
Because of current conditions, the FMCSA announced, the agency is reinstating emergency relief for emergency restocking of food, paper products and other groceries at distribution centers or stores.
This new category is added to the existing categories that include transportation of livestock and livestock feed; medical supplies and equipment related to the testing, diagnosis and treatment of COVID-19; and supplies and equipment necessary for community safety, sanitation, and prevention of community transmission of COVID-19 such as masks, gloves, hand sanitizer, soap and disinfectants.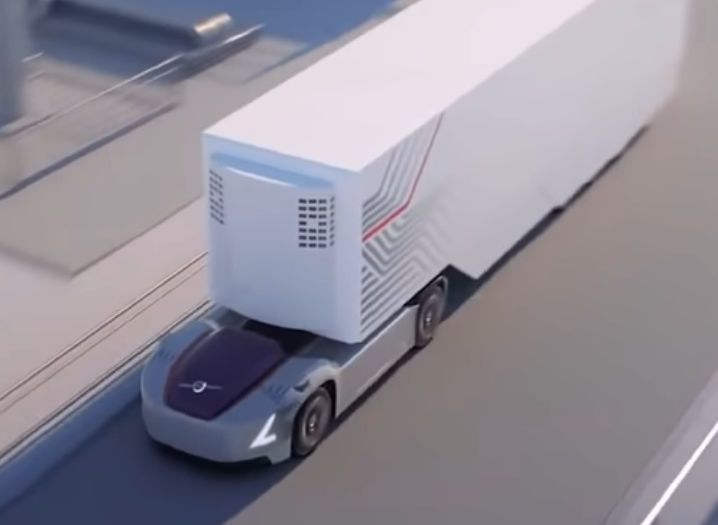 Volvo's concept of a fully autonomous cab-less freight hauler - YouTube screen capture
Fully autonomous trucks not in the picture any time soon
Two recent studies on the viability of fully autonomous trucks plying the nation's highways in the near future conclude that, "this is extremely unlikely to occur."
The combined weight of the two studies, one conducted by MIT researchers and the other by the AAA, as reported at Trucking Truth, lend themselves to the conclusion that fully autonomous vehicles certified under Level 4 and Level 5 authority are still many years down the road.
Perhaps the biggest blow to those who support getting fully autonomous trucks running up and down the nation's highways came from the AAA study; which found that there are significant problems with the active driving assistance systems even at the lesser Level 2 technology employed in some of today's passenger vehicles.
The MIT study gave it a decade at the soonest when fully autonomous passenger vehicles can be allowed on the road … and then only in urban and suburban areas in warmer climates, as winter conditions would be too much for the autonomous systems to handle.
Truck platooning appears to be a transitional goal by some autonomous innovators, but even that technology requires a human driver.
And the MIT researchers weren't optimistic about driverless trucks allowing unattended driving down the road, and cited that even aircraft on auto pilot must have an attentive pilot in the cockpit.
"It may, indeed, take many years before we see a sufficiently reliable automated system that enables a truck driver to sleep soundly, alone in the cabin for an extended journey, without some sort of remote backup supervision for the autonomous system," Land Line reported that researchers stated.
"As one comparison, we have not yet achieved this kind of automation in cargo or passenger aircraft, despite their operating in a simpler environment."
Sources: CDL Life, FMCSA declaration, Land Line
Tagged Under:
Autonomous Trucks
FMCSA
Hours Of Service
Self-Driving Vehicles
Trucking News