Friday Short Haul - Driver awarded $80 million, ODFL driver wins, loading dock black hole
Last Updated: Thu, May 9, 2019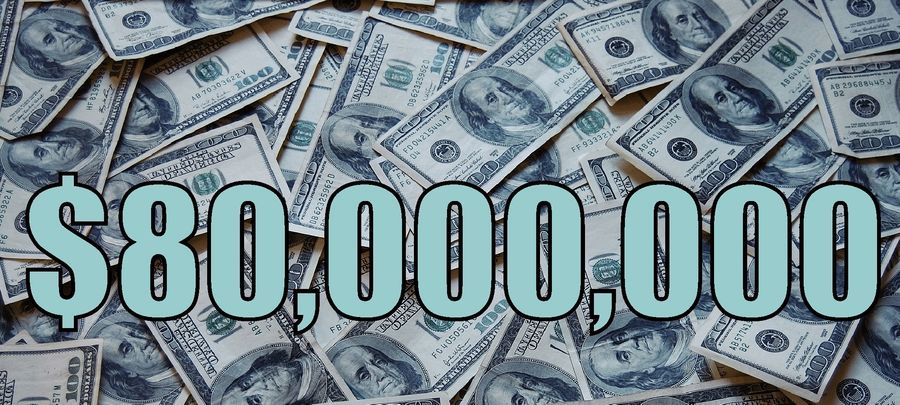 Texas driver awarded $80 million for a crash resulting from a forced load
Back in 2015, driver Lauro Lozano Jr. got into an accident after being forced to cut short his 34-hour rest and alter his logbooks to cover his hours of service violation.
This week, a Texas jury awarded Mr. Lozano $80 million in a settlement from the three trucking companies operating together as one entity.
The settlement, voted unanimously by a Hidalgo County, Texas, district court, included $5 million awarded for his pain and suffering, and $25 million in punitive damages each from the plaintiffs, JNM Express, LLC., Omega Freight and Anca Transport -- all owned by Jorge Marin.
According to the complaint before the court, Lozana was northbound on I-59 in rural Alabama on his way from McAllen, Texas, with a load to be delivered in Maryland, when he fell asleep at the wheel and rear-ended another semi truck.
Mr. Lozano told how he had just finished a delivery to San Antonio, and had returned home for his 34-hour rest after checking in at the company's McAllen yard.
He said that just a few hours later he received a call from Mr. Marin telling him to deliver a load to Maryland. When Mr. Lozano told his boss that he had just returned from his previous load and couldn't safely or legally take the Maryland load, his boss reportedly told him to alter his log book to make it appear that he had taken his 34-hour rest.
He then told Mr. Lozano to be at the yard in the morning to run the shipment to Maryland. Mr. Lozano told the court that he feared for losing his job, and showed up at the yard at 5 am the next morning to head out for Maryland.
He made it into Alabama before falling asleep at the wheel and getting into the crash.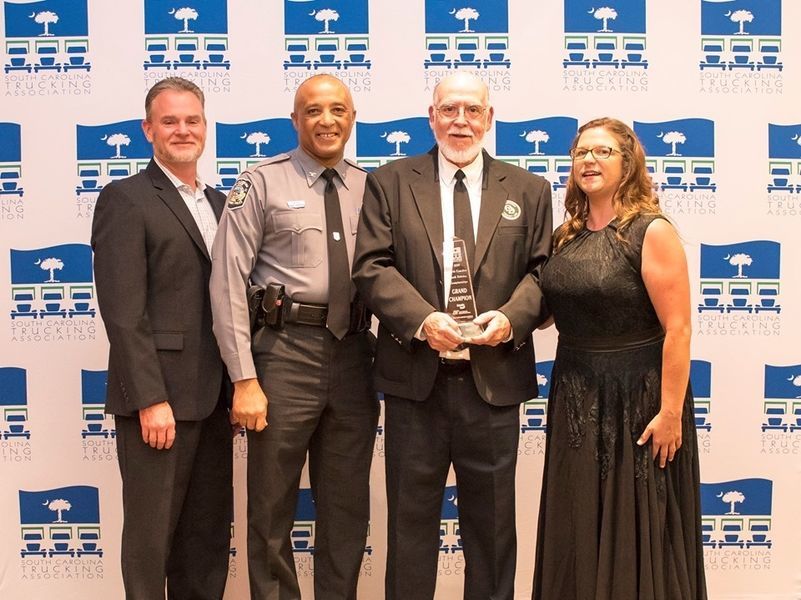 ODFL's Ralph Hamilton with his Grand Champion trophy. With him are (from left) Tim Birmingham, S.C. TDC vice chairman, Col. Leroy Taylor, S.C. State Transport Police, and Casey O'Dell, S.C. TDC chairwoman, in Columbia. (S.C. Trucking Association)
Old Dominion Freight Line driver clinches Truck Driving Championships, moves on to nationals
Ralph Hamilton, a 46-year trucking veteran, and a driver for Old Dominion Freight Line for 41 of those years, beat out 80 other contestants to win the Grand Champion title at the South Carolina Truck Driving Championships.
He will join other state winners to compete in the National Truck Driving Championships in Pittsburgh on Aug. 14-17.
Mr. Hamilton earned his win with a perfect written exam score, a solid pre-trip inspection, and a score of 265 out of 300 on his road skills test. His win the first week in May upended five-time South Carolina Grand Champion Ronnie Luckadoo in the 3-axle division.
The American Trucking Associations had recognized Mr. Hamilton back in 2003 as an America's Road Team captain for his leadership and expertise on the road. He had also served on ODFL's road team from 1998 to 1999.
He had accumulated more than 5 million safe-driving miles during his 46 years on the road.
In other contests FedEx Freight driver Kevin Doll was awarded Rookie of the Year, and UPS Freight was name the best overall team performance.
Here are the winners in the various categories who will be advancing to the nationals from South Carolina are:
3-Axle: Ralph Hamilton, Old Dominion Freight Line
4-Axle: Marty Knopf, Walmart Supply Chain
5-Axle: Richard McCoy, C&S Wholesale Service
Flatbed: J.B. Quarles, Walmart Supply Chain
Sleeper Berth: Kevin Smith, Old Dominion Freight Line
Tank Truck: Bill Driskill, Superior Carriers
Twins: James Belcher, UPS Freight
Straight Truck: David Eggert, Old Dominion Freight Line
Step Van: Eddie Days, FedEx Express

Truck industry leaders discuss loading dock "black hole"
Electronic logging devices have given carriers a minute-by-minute look at drivers' time on the road – arriving at a shipper's and pulling away. But freight industry leaders say that the down time while a truck is at the loading dock is a "black hole," where there is a lot of room for improvement.
This topic was discussed during a FreightWaves-moderated panel during the recent Transparency 19 conference in Atlanta, Georgia.
"Anyone can learn how to drive a truck; the hardest part for drivers is navigating through all the other issues, one of the biggest being the unpaid time spent driving," said FreightWaves Chief Insights Officer Dean Croke, as reported at FreightWaves.com.
With so many other freight efficiency issues being taken care of by advanced technology the problem of driver detention at loading docks still remains a sore point in the industry.
"That's where I see a lack of visibility – when you're on the dock, it's like a black hole when it comes to data integration. We put so much optimization data into our trucking companies, but then you give it to the driver and it reveals a lack of visibility at the dock level. And I see that's where the shipper-carrier integration is a really big issue," Croke said.
As reported here at TruckingTruth.com the technology of ELDs has not demonstrated itself to be a boon to safety. In fact, reports are coming out now that because of the enforcement of strict compliance to HOS, drivers must drive faster and potentially less safely in order to make up for time lost at the docks.
Panelists discussed the possibility of drilling down deeper into the data provided by ELDs in order to "provide more visibility" into the retention issue. One solution, as offered by freight tech startup Emerge is to have shippers and drivers engage in better electronic communication with data provided by the ELDs in order to maximize efficiency.
"What we're doing is creating a marketplace to connect drivers with shippers, because at the end of the day, creating more visibility lowers overhead, which means more money in drivers' pockets," Grant Crawford, president of Emerge, stated during the panel discussion.
Panelists agreed that all sides need to "play nice" in order to come to some kind of agreement to share information; some of which can be sensitive information from a liability standpoint, FreightWaves reported.
Sources: CDL Life, Transport Topics, FreightWaves
Tagged Under:
ODFL
Truck Driving Stories
Trucking Accidents
Trucking Industry Concerns