U.S. military has unique needs for truck platooning
Last Updated: Mon, May 4, 2020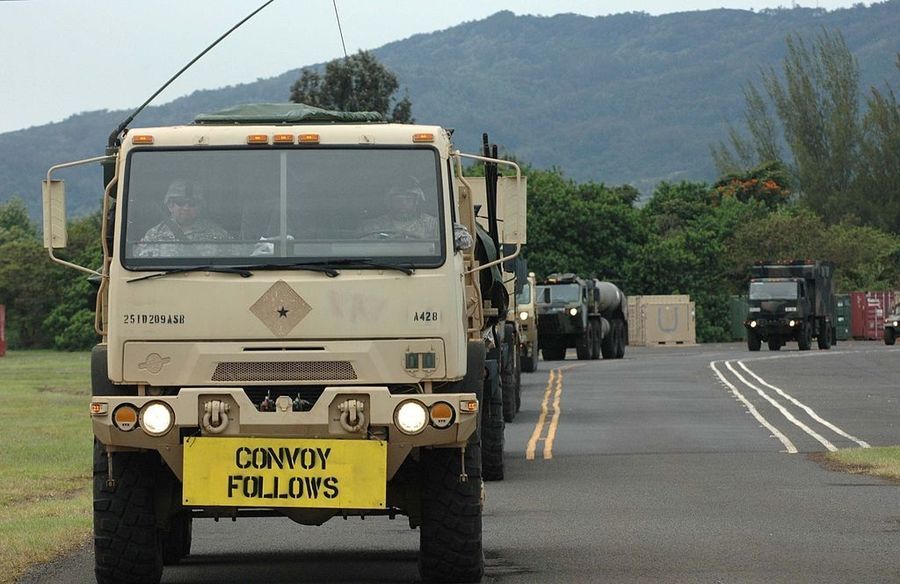 The United States military has been keeping pace with the commercial trucking industry in developing platooning technology, often employing virtually identical mechanical and electronic telematic components to accomplish their purposes.
But the design specifications to meet the needs for the two couldn't be farther apart.
GPS World magazine, which has been covering global navigation satellite systems development since 1989, published an article on its online platform last Thursday that gave an intriguing glimpse into the similarities and differences in the needs and deployment of platooning between commercial carriers and the military.
Broken down into the barest of essentials, according to the article, commercial carriers desire platooning in order to move their Class 8 rigs down the road packed as closely together as possible to take advantage of the drafting effect to save on fuel. The U.S. military, on the other hand, is taking a vastly different approach to platooning, wanting their vehicles to remain far apart in order to sustain less damage to multiple vehicles in the event of improvised explosive devices or other attacks on their vehicles.
These two needs require a different deployment of essentially the same technologies.
Bernard Theissen, division chief for Ground Vehicle Robotics at the U.S. Army's Ground Vehicles Systems Center, was interviewed by GPS World about the U.S. Army's innovations in platooning, and talked about the similarities and differences between commercial carriers' and the military's use of platooning.
For example, he said that both the commercial carriers and the military that wish to use platooning can move on roads and highways that are mapped in great detail for the lidar signals required in the platooning technology, and can communicate using 3G or 4G networks.
But that's where the U.S. military's needs depart from public carriers. "I would love to have all that information," Theisen told GPS World, "every time I send a robotic convoy vehicle out there."
What he means is that in combat the military must be able to deploy a platooning system that assumes none of those features will be available for the infrastructure.
"Sometimes a bridge that used to be there has been blown up or we may have put a new bridge across the water overnight. A building that was there yesterday got blown up and is now blocking the road. You cannot pre-plan that in the map and expect it not to change."
He noted, too, that unlike civilian employment of robotic driving technologies, in the military world there will be situations in combat that software just simply cannot cope with.
Civilian platooning is concerned with following distance in order to minimize fuel use, to minimize crashing, and to comply with Federal and State laws. But, because military convoys in combat situations desire to keep vehicles spaced far apart to reduce casualties in the event of a crash, they don't need technologies to maintain a safe, fuel-efficient distance.
What is needed, according to Theisen, is the ability to reduce to almost millimeter precision the side-to-side difference in the tracks the Army vehicles take down the road compared to the lead vehicle.
That's because each following vehicle in the Army platooning convoy would need to stay within one tire width of the lead vehicle's tracks … on a road that might possibly be mined with IED's for example.
Theisen told GPS World that Army innovators have solved that level of precision by using a three-axis inertial measurement unit system instead of the two-axis kinds used in commercial applications.
In addition to the precision required for the exact positioning of each Army vehicle, the software also differs from commercial applications in the kinds of things the sensors are programmed to detect, like craters in the road, for example.
The military's platooning technology also has to incorporate a much-more robust inertial positioning system than that used by commercial carriers.
Both commercial platooning and military convoying can use the global positioning system service for extremely accurate positioning of their vehicles on the ground. But the Army needs to be able to rely on positioning that cannot be disabled by jamming by an enemy.
"We assume that we will not have GNSS information because sometimes we are jamming ourselves or are being jammed or the enemy could be spoofing us," Theisen told GPS World.
So Army vehicles can navigate for long distances without GPS signals with advanced inertial technologies, as well as a technology called M-code. "We do have capabilities that the civilian marketplace does not have."
The only roadblock in fully developing military-ready platooning technology that satisfies all of the elements needed for deploying in combat is getting approval from the government to test on public roads, with the government requiring them to test drive hundreds of thousands of miles.
Also, Theisen told GPS World they need better processors, sensors, including cameras, radars and lidars, and software. "There is way more sensor data that you can collect and process in real time."
TuSimple is close to driverless operations next year
https://www.truckingtruth.com/news/Article-112/ups-joins-tusimple">TuSimple, an autonomous trucking innovator that is often featured at Trucking Truth, announces it could be starting driverless operations as early as next year.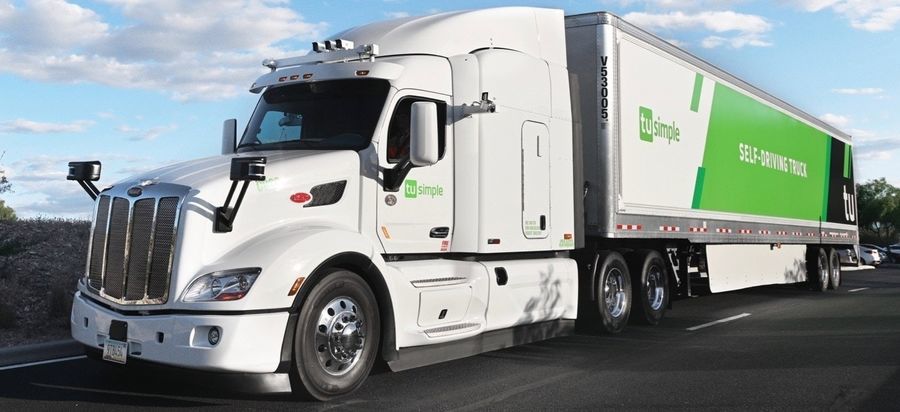 That announcement comes as the result of two circumstances at the new company, one planned, and one not planned.
The planned development with TuSimple is their hiring of two new leaders for it strategy and fleet operations: Lee White from UPS, and Conrad Miller from Walmart.
White comes from 35 years of experience with UPS, and he will take the helm as vice president of strategy. Miller spent 15 years as an executive with Walmart's technology and transportation divisions, and he will become TuSimple's new senior director of fleet operations.
UPS is a minority investor in TuSimple as well as being one of the autonomous trucking firm's 18 contracted customers.
As of now, TuSimple has more than 40 self-driving trucks and has been running regular loads for the United States Postal Service between distribution centers in Arizona, New Mexico and Texas.
The unplanned circumstance that has given TuSimple a boost, contrary to the freight industry as a whole, is that because of the coronavirus crisis TuSimple has picked up a lot of freight from essential food providers like the Arizona Food Bank Network, Faribault Foods and McLane, which have increased the amount of freight they are hauling.
TuSimple seems to be one of the few survivors of what was a rush a few years ago by autonomous Class 8 truck innovators to edge into the commercial carrier market. Several of the biggest names in autonomous trucks, like Kodiak, Ike and Starsky Robotics have dropped out for lack of investor funding.
TuSimple is actively hiring, and has not had to lay off any employees.
Sources: GPS World, FreightWaves
Tagged Under:
Autonomous Trucks
Self-Driving Vehicles
Truckers Technology
Trucking News