State CDL agencies get reprieve from drug & alcohol clearinghouse deadline
Last Updated: Sun, December 15, 2019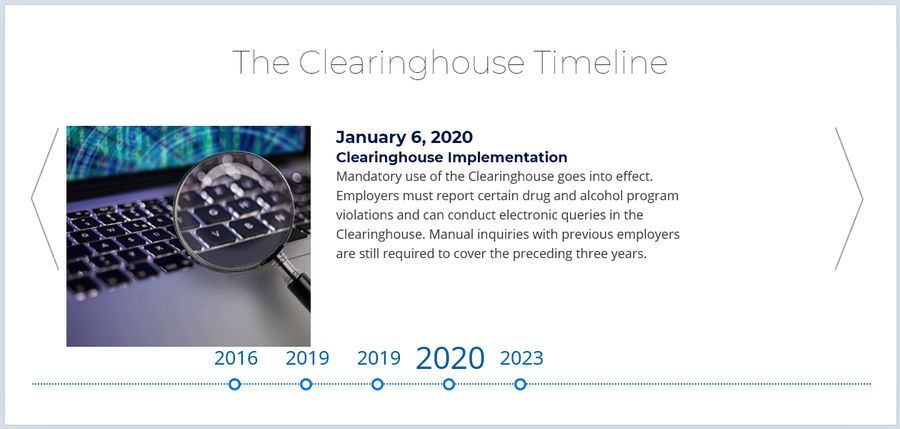 State commercial licensing agencies get a three-year reprieve from the mandatory compliance with the new Drug & Alcohol Clearinghouse mandate that goes into effect on January 6, 2020.
The extended deadline to January 6, 2023, is only for state agencies, and the 2020 deadline remains in effect for all others required to participate in the program, like employers, drivers and medical review personnel.
This news was released in a final rule published in the Federal Register on Friday, December 13.
The ruling has been anticipated as state agencies said they could not be ready to participate in the program by the January 6, 2020, deadline, mostly because of issues with agency IT systems being able to securely access and implement data from the clearinghouse.
"The compliance date extension allows FMCSA the time needed to complete its work on a forthcoming rulemaking to address the states' use of driver-specific information from the clearinghouse and time to develop the information technology platform through which states will electronically request and receive clearinghouse information," the agency wrote in the Federal Register publication.
Opponents to the delay registered their complaints with the FMCSA during the comment period.
Among them was a comment from the Owner-Operator Independent Drivers Association; which stated that the proposed extension may cause confusion because "drivers might interpret any delay in the Clearinghouse as a delay in the entire program, thus failing to register at the proper time."
The group suggested that FMCSA consider extending the compliance date for all Clearinghouse requirements "to allow the entire industry sufficient opportunity to register . . . and provide additional time for the Agency to ensure an efficient rollout."
The American Trucking Associations acknowledged that state agencies need more time to implement their clearinghouse participation with the FMCSA but expressed disappointment at the proposed delay. ATA's proposed interim solution was to recommend that FMCSA would encourage states to "adopt their own procedures to review Clearinghouse information through the FMCSA portal before issuing, upgrading, renewing, or transferring a CDL."
In answer to comments that the delay be implemented across the board for everyone, thus preventing confusion among those required to participate, the FMCSA declared those suggestions are "without merit."
"The Clearinghouse represents an important step forward in improving compliance with FMCSA's drug and alcohol use testing requirements and removing drivers from the roadway until the return-to-duty process has been completed, thus enhancing highway safety," the FMCSA wrote. "It is neither necessary nor desirable to delay implementation of the core Clearinghouse reporting and query obligations applicable to motor carrier employers and their service agents, including medical review officers, C/TPAs, and to substance abuse professionals."
FMCSA considered the delay following a request by the American Association of Motor Vehicle Administrators based on five major questions presented by the Association:
What does FMCSA intend that the states do with information they receive from the clearinghouse? What specific information would states receive in response to a request for information about an individual commercial driver's license (CDL) holder or applicant?
What privacy and data controls will be applied to the transmission of clearinghouse information to SDLA's [state driver's license agencies]?
How would an erroneous clearinghouse record be corrected?
What are the cost implications for the SDLAs?
Those questions, and others, will be addressed in the announced new notice of proposed rulemaking that has been dubbed Clearinghouse II.
Among the other issues to be taken up in Clearinghouse II is whether states would be required to make Clearinghouse queries for applicants of conditional learners permits; something that was not addressed in the original rule.
Background
The Federal Motor Carrier Safety Administration's Drug and Alcohol Clearinghouse is a secure online database that will allow FMCSA, CDL employers, state driver licensing agencies, and law enforcement officials to identify – in real-time – CDL drivers who have violated federal drug and alcohol testing program requirements.
Although registration at the clearinghouse is currently being allowed, the date set for making its use mandatory is January 6, 2020. That's when anyone employing drivers requiring a commercial driver's license, including CMV schools, must conduct both electronic queries within the clearinghouse, and manual inquiries with previous employers to cover the preceding three years.
Employers are still required to contact previous employers as well, but by 2023 the rule to contact previous employers will be phased out, and queries must be made exclusively through the online clearinghouse.
Other authorized users, besides employers and drivers, include third-party administrators, medical review officers, substance abuse professionals, state driver license agencies, and law enforcement personnel.
As its name suggests, the clearinghouse will be a catch-all for information accessible by all authorized parties regarding the drug and alcohol-based eligibility of a driver to drive with a commercial license.
Employers will be required to query the clearinghouse before hiring any new drivers, and must query at least once a year for all existing drivers. The system is geared toward preventing the situation where a driver would "job-shop" to a less-diligent carrier to avoid consequences of his or her drug or alcohol use.
There will be a $1.25 charge for each query by employers. Drivers may access their clearinghouse information at no charge.
More information about the Drug & Alcohol Clearinghouse is available at these Trucking Truth articles:
FMCSA announces drug and alcohol clearinghouse website
Clearing up concerns about the drug and alcohol clearinghouse
Not everyone happy with potential FMCSA clearinghouse delay
Sources: FMCSA, Federal Register
Tagged Under:
Background Checks
CDL Qualifications
DOT Physical
Drug and Alcohol Testing
FMCSA
Getting Your CDL
Medical Certification
Pre-Employment Screening Program