States work to toughen up left-lane-hogging laws
Last Updated: Sun, January 26, 2020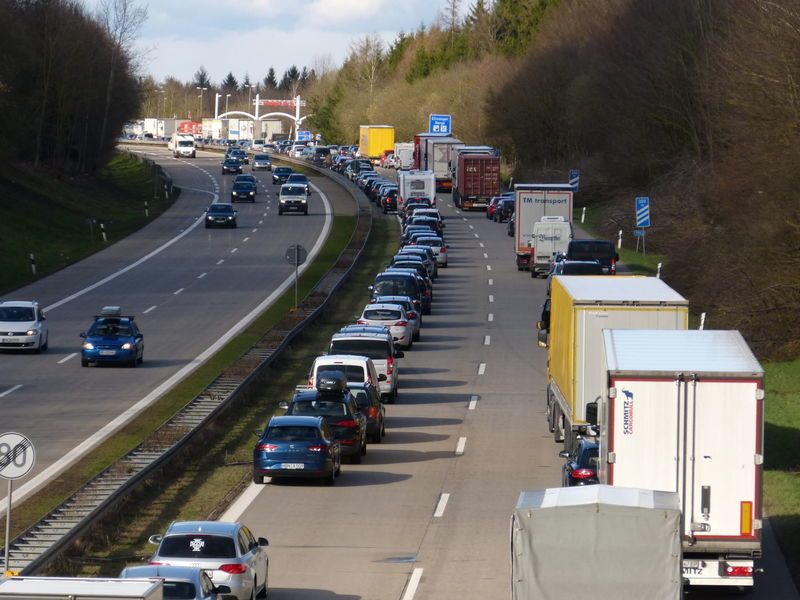 We've all been there.
We're cruising along, stuck behind somebody going slower than we wish to go, and there's a dangety-dang four-wheeler ambling along in the passing lane like glued there by some invisible force, that just won't get out of the way.
Also we've all heard the four-wheelers' complaints about us truck drivers tying up the fast lane doing the 1 mph, slow-motion, snail's crawl passing maneuver. And, let's admit it, sometimes we are that driver, and the other motorists' complaints are justified.
Everybody's thinking: "Isn't there a law about this?"
The fact is that, yes, most states do have laws prohibiting "hogging" the fast lane. But most drivers' knowledge of those laws left their consciousness when they tossed away the drivers handbook before going in to take their very first driving exam.
There appears to be a growing movement among state legislatures now to address the issue of lane blocking.
States propose changes to lane laws
Arizona
Arizona Representative Gail Griffin, R-Hereford, has introduced a House Bill in the current legislative session requiring the Arizona Department of Transportation to put up signs alerting motorists to the state's lane law.
The signs would be similar to signs currently in place specifically for truckers on the state's Interstate freeways notifying them of truck lane restrictions.
Arizona lane laws state that motorists must drive in the right lane if driving slower than normal speed of traffic, except to pass another vehicle or turn left. Certain vehicles over 26,000 pounds (or if pulling pole trailer over 6,000 pounds) must use specific lanes if designated to do so by local authority.
There is a $250 fine for violations of Arizona's lane law.
Delaware
A Delaware bill before the State Assembly, tightens the current lane law and would add a lane restriction for trucks on a certain state route.
Right now, Delaware lane law says that vehicles traveling slower than the posted speed limit must stay to the right, or face a fine of $25 and up.
The proposed law includes a requirement that all traffic must stay to the right except to pass, turn or exit the highway. Congestion caused by slow left-lane drivers prompted a provision in the new bill that on a 50-mile stretch of highway along Route 1 between I-95 and south of Dover trucks weighing 10,000 pounds or more are prohibited from using the left lane except to pass, turn or exit the highway.
Fines for violating the proposed Delaware lane law would increase up to $100, and up to $200 for repeat offenders.
Iowa
The Iowa State Senate Transportation Committee voted to advance a bill last week to target drivers who hog the left lane.
Right now, slower drivers are required to stay to the right or face a $50 fine. Legislators are looking to give some teeth to law by imposing fines from $100 up to $1,000 and driving license suspensions of up to 180 days depending on the severity of the consequences of any accidents, injuries or even deaths caused by the violation.
The bill specifies that left-lane drivers will be in violation if they "reasonably should know" that another vehicle in attempting to overtake them.
Proponents of the bill, including Representative Gary Worthan, R-Storm Lake who has a family trucking business, say the proposed bill would benefit professional drivers, as they have all experienced drivers creating a "rolling roadblock" by not moving back into the right lane after passing.
New Hampshire
A tougher lane law proposed in New Hampshire to specifically target trucks of three axels or more has earned opposition from the Owner-Operator Independent Drivers Association, saying it poses serious challenges for truckers and even decreases safety for other motorists.
Current state law applying to both motorists and professional drivers says that drivers going below the flow of traffic must stay in the right lane except to pass or turn left or face a $50 fine.
The proposed law, however, places a restriction on all trucks over three axels from driving in the left lane except for moving over for merging traffic or for making a left turn. The proposed restriction would apply to travel in the left lane from 6 am to 9 am and from 4 pm to 7 pm.
South Carolina
If a proposed South Carolina House bill passes, drivers around the state will find themselves fined up to $100 for hogging the right lane, and will face points on their licenses.
The law, like Arizona's, would direct the South Carolina Department of Transportation to post signs along the state's highways alerting motorists to the law.
States' current truck-specific lane laws
Virtually every state has laws regulating which lanes drivers can "cruise" in. But, some states specify truck-specific lane laws.
Arkansas prohibits trucks of more than two axels from using the farthest left lane on designated six-lane interstate highways, or truck drivers will face a $100 fine per violation.
Not surprisingly, California's truck-specific lane law is very detailed. It states: "Must use lane(s) designated by signs. If no designated lane, must use right-hand lane. May use second-to-right-hand lane if there are four or more lanes. To pass, must use designated lane, second-to-right lane, or right lane."
California considers a "truck" to include motor trucks; truck tractors with three or more axles; or truck tractors trailing another vehicle.
Fines range from $100 for the first offense to $200 for the second offense, and up to $250 for the third offense in one year.
Commercial vehicles driving in Connecticut are prohibited from the far left lane on designated highways of two lanes or more, with a fine of $88 per violation.
Georgia restricts vehicles with six wheels or more to designated lanes. If no lanes are designated trucks are prohibited from using the far left lane on a two-or-more-lane highway except to pass or turn.
A find up to $500 can be imposed on truck drivers in Indiana for violating the requirement to drive in the far right lane, or the two right lanes on a multi-lane highway, except to pass or turn left.
Any commercial vehicle in Massachusetts over 2.5 tons used for transporting freight must stay in the far-right lane except to pass. Fine for violation is $100.
Trucks over 10,000 pounds in Michigan must use the two far right lanes on freeways of three or more lanes except to pass, with a fine up to $250 for violations.
Missouri restrict all trucks of 48,000 pounds or more from the left lane on freeways of three or more lanes within urbanized areas of the state.
Imprisonment up to 15 days and a fine of $200 are the top penalties for truck drivers in New Jersey who drive in the far left-hand lane of a roadway with three or more lanes, except for up to one mile before a left-hand turn, to enter or exit roadway, or due to emergency conditions.
Truck drivers in Oregon must drive in the right lane on any roadway of two or more lanes except to pass, with fines up to $1,000 for the driver per violation and up to $2,000 for the corporation.
Pennsylvania imposes the standard restriction of not driving in the left lane of a three-or-more-lane highway except to pass, but has lowered the fine for violation to $25.
Utah is another state that imposes a tougher fine for corporations for violating the restriction for trucks driving in the far left lane of a three-or-more-lane highway except to turn left or to move over for emergency conditions. Fine for violations is up to $750 for the driver and up to $1,000 for the corporation.
A fine of $750 can be imposed in Virginia for driving in the left lane of any interstate highway with more than two lanes where the posted speed limit is at least 65 miles per hour. Truck drivers also may not drive in the left lane on an interstate highway within Eighth Planning District or on Interstate Route 81 regardless of the speed limit. And they must drive in the right lane of an interstate highway with no more than two lanes when driving 15 miles per hour or more below the speed limit. An exception is when exiting to the left.
Trucks in Washington are prohibited from using the left lane of a three-or-more-lane freeway except to turn left. On a two-lane highway, trucks can use the left lane only to pass, turn left or exit or to allow for merging traffic if traveling at greater than the speed of other traffic. Fine for violation is up to $250.
Sources: Land Line, MIT, Jalopnik, FindLaw
Tagged Under:
Driver Responsibilities
Understanding The Laws