Association launches to take CDL driver training to high school students
Last Updated: Tue, July 20, 2021
Notwithstanding the debate about whether there really is a truck driver shortage, one non-profit organization launched just last week to help fill the driver pool from the next generation.
Aptly named The Next Generation in Trucking Association, the organization helps build relationships between fleets and schools to train future drivers. And they are registered with the official apprenticeship program through the U.S. Labor Department as part of the requirements for young drivers to participate in the under-21 driver pilot program.
According to the NextGen Trucking website, the organization is a "non-profit trade association with the mission to promote trucking as a positive career field; create programs that encourage CDL and Diesel Technician training of our nation's youth; and connect them to training and employment opportunities."
Although the estimate is controversial, some believe that the driver shortage could increase to more than 174,000 within the next five years. The driver fleet is aging, with many opting for retirement. And since the average age of a commercial truck driver is 46 years old or 55 years old by different measures, and the average age of drivers going into CDL school is around 35, it's incumbent on fleets to seek new drivers from the younger generation.
The organization's leadership volunteers are comprised of industry professionals from such areas as trucking companies, schools, and state trucking associations from Kentucky, South Carolina, Tennessee and Wisconsin.
This brand new Next Generation association claims that membership provides value in many ways:
Create CDL driver and diesel tech programs throughout the United States
Promote trucking as a career technical education choice
Focus on diversity, equity and inclusion
Educate high school administration and counselors, students and parents on the benefits and opportunities in the trucking industry
Provide fresh, up-to-date curriculum to create a new professional drivers and technicians who are highly trained • Connect schools and industry
Serve as a liaison between young people and trucking partners to provide a pipeline of talented, trained drivers and technicians
Foster community for young people in trucking
Lobby for the Drive-SAFE Act
Saying that Next Gen is focused on a long-term solution to the driver shortages rather than just applying quick fixes, co-founder Lindsey Trent, emphasizes:
"We are trying to get to the root of the problem. So, we are not an overnight fix to their driver shortage today. We are trying to bring awareness to young people, that the trucking industry is a great career field, you can get trained as a truck driver or a diesel technician, and make a great living," she said in a Next Generation in Trucking Association video.
Next Gen Trucking can help high schools and community colleges get some of the $1 billion in federal funding each year for technical education that has been going to thousands of high school construction and woodworking programs. Currently there are only six CDL programs and 45 diesel tech programs being funded, but Trent says driver training should get a bigger portion of that.
"We want to create more programs, so we can be a part of ... getting that federal funding for the trucking industry," Trent said. "All the other industries are kind of beating us to those young, skilled talents. And we're trying to ... just work with educators and schools and institutions to be able to reach that talent."
Another of Next Gen's founders is former truck driver Dave Dein, who was instrumental in creating one of the first high school CDL programs in 2016 at Patterson High School, in Patterson, California.
The program has since expanded to partnerships with more schools across the country, including Lawrence County High School in Louisa, Kentucky; Jessamine Career and Technology Center, Nicholasville, Kentucky; Fairdale High School, Louisville; and Lux-Casco, Luxemburg, Wisconsin.
A diesel technology program was launched by Alabama's Wallace State Community College, where student participate remotely using virtual reality technology. Garner Trucking is one of the large carriers that builds relationships with teachers and administrators at high schools and trade schools to encourage the next generation of drivers and mechanics.
When Next Gen starts a high school program they seek a local private or public driver school to come beside the program and partner with the high school to receive their students for training.
They also work with technical colleges to start Next Gen programs for dual enrollment credit for high school students. Once graduated from high school, students continue at the technical college to get their CDL.
"We would like to come alongside the industry to help them form relationships and partnerships with schools in those areas, to see if we can help start some different programs to help them create that pipeline of skilled talent for their companies," Trent said.
Drive a truck, stay out of jail … or worse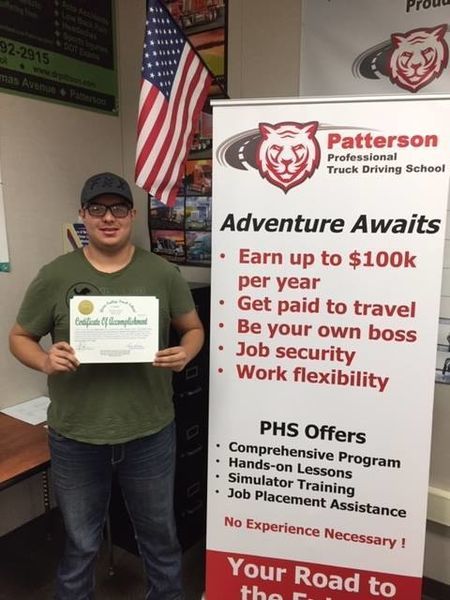 Javier was the first student to come out of Patterson High School's driver training program.
During his senior year, after running with the wrong crowd and making poor choices, he followed his parents' encouragement to sign up for the brand new CDL program at the high school.
He thrived in that class, and turned his life around. He says that of his nine friends in high school four had ended up in prison, and two had been killed because of gang violence. But Javier is now a professional CDL driver, and has his brother, Alejandro, following in his trucking career footsteps.
Javier's career choice paid off during the COVID period, he says, because his parents were out of work for some time and he was able to support his family with his driving earnings.
---
Dave Wickenhauser went on the road driving big rigs after retiring from 33 years in newspaper journalism. His trucking novels, Crimson Highway, the first in the Hugh Mann series, and the sequel, Road Test, are available at Amazon as paperbacks, and as Kindle ebooks.
Sources: NextGen Trucking, Transport Dive, Fleet Equipment, ACTE
Tagged Under:
Becoming A Truck Driver
CDL Training
Choosing A Truck Driving School
Getting Your CDL
Truck Driver Training