Overdrive honors Small Fleet Champs
Last Updated: Sun, July 19, 2020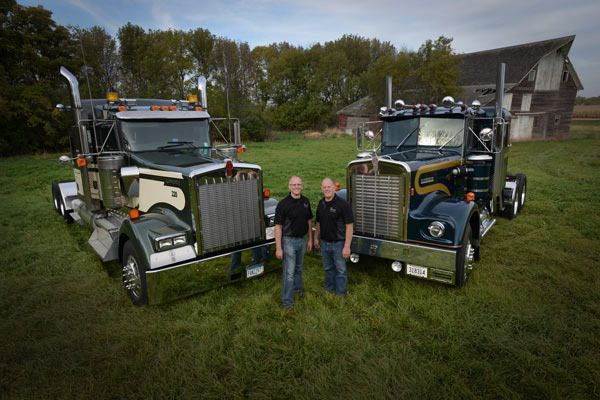 One of Overdrive's Small Fleet Champ semi-finalists, Truck Transport co-owners Since 2000, Jay TeBrake and Joel TeBrake - From Truck-Transport.com
At a time when so many carriers are in financial trouble, and reading news about smaller fleets you'll encounter terms like, "bankruptcy," "layoffs," and "closing doors," there are still some smaller carriers that have not only survived this tumultuous year but have apparently thrived.
Overdrive online has decided to honor those successful small fleets with its first ever contest to find the Small Fleet Champ for 2020.
The online trucking news magazine says that it is looking to recognize small fleets that have been demonstrating best practices for at least the past four years, and that have remained stable, and even have grown, during the COVID-19-reaction that has caused contractions of the trucking industry.
The list of semi-finalist candidates to be awarded Small Fleet Champ during Overdrive's August GATS Week event has been pared down to nine small fleets:
Ed Burns & Sons, Denver, Indiana; 13 drivers; steel, lumber, other open-deck freight.
Venice Enterprises, Venice Center, New York; seven drivers; general commodities.
JDT, Central Point, Oregon; 22 drivers; lumber, plywood, beams, steel and rebar.
John McGee Trucking, Simsboro, Louisiana; 16 drivers; oil field waste and production fluids, grain.
STS Delivery Services, Avon, Ohio; 18 drivers; steel drums, cleaning supplies, large plastic containers.
Hallahan Transport, LaCrosse, Wisconsin; six drivers; dry van freight requiring special attention to detail, securement or logistics.
PTS Worldwide, Somonauk, Illinois; 28 drivers; security-sensitive U.S. Department of Defense freight.
Warren Hartman Trucking, Forrest, Illinois; three drivers; window glass, commercial A/C units, agricultural-related products.
Truck Transport, Willmar, Minnesota; 19 drivers; often oversize agricultural equipment.
As might be expected, the nine have highly varied operations, and numbers of drivers ranging between 3 and 28. But most have very low turnover rates, and some even have no debt, according to Overdrive. All in all, organizers of the contest wish to recognize "small fleets that have built strong, safe operations and a loyal driver force."
Size and success doesn't necessarily equate to longevity. Some of these finalists are relatively new, but some have operated for decades. Many smaller fleets offer benefits like those that are offered by the larger fleets.
During the GATS Week event, to be streamed live on Overdrive's Facebook page, three finalists' representatives will sit on a panel discussing the advantages of smaller fleets. The winner will be announced at the event, and will receive an oversize championship belt trophy, will be profiled in Overdrive and in Commercial Carrier Journal.
Pilot Company's One9 Fuel Network is sponsoring the Small Fleet Champ contest. One9 offers benefits for small fleets.

John McGee Trucking's success attributed to the Golden Rule
John McGee Trucking, one of Overdrive's Small Fleet Champ semi-finalists, was featured in a July 17 article at Overdrive online.
McGee's small but successful operation has always enjoyed positive growth; which the owner John McGee attributes to his following the Golden Rule. "Treat all people — employees, customers, vendors — as we wish to be treated," he told Overdrive.
Operating out of Simsbory, Louisiana, McGee employs 16 full-time drivers driving Mack daycabs hauling mostly tankers with wastewater from oil wells in an around his operating area. Drivers generally stay within a 125-mile range and get home every night.
He pays his drivers by the hour with overtime, and told Overdrive that with salaries and bonuses his top drivers do better than $100,000 a year. The company average is about $70,000 for drivers working 10-hour days, four days a week.
All totaled, McGee reported that he cleared about 30 percent profit in 2019.
McGee said his future plans include gearing up to haul for a chicken-feed mill that is under construction across the street from his facility. With that in mind, he bought his first hopper bottom trailers this year, and began hauling grain for another customer, but hopes to get a contract to haul grain with the new mill.
In addition to following the Golden Rule, McGee told Overdrive his company emphasizes dependability and quality service.
"There are people still out here that appreciate quality," he told Overdrive. "Some can haul for a dollar a turn cheaper, but are they going to be reliable and dependable and safe? Some shippers do want more than just the cheapest price. We try to go over and above our competitors" in that respect.
Tagged Under:
Choosing A Trucking Company
Trucking News