ATA chief takes on truck-accident lawyers
Last Updated: Tue, October 8, 2019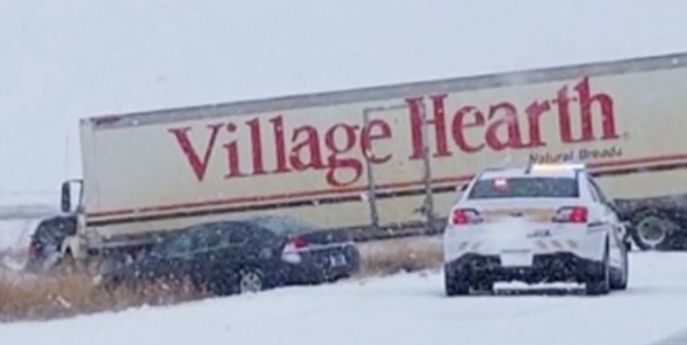 Fatal I-29 accident near Grand Forks, North Dakota
American Trucking Associations President and CEO Chris Spear is fed up with exorbitant lawsuits against trucking companies and their drivers, and is asking trucking industry leaders to join him in lobbying Congress for tort reform legislation.
"I'm sick of playing defense while trial lawyers buy jets and yachts at the expense of trucking jobs," Spear told an audience at the recent annual Management Conference & Exhibition held in San Diego this year.
He recounted as an example a Texas case from a few years ago where a plaintiff won a $89.7 million judgment against Werner when two children were killed as the driver lost control of the pickup truck they were in, swerved to the other side of the road, and crashed head on into the Werner truck.
According to court documents, conditions on the Interstate were poor, with freezing rain creating limited visibility, and black ice. The court awarded the huge judgment to the surviving family based on the contention that Werner should have told its driver to pull over and quit driving until the poor road conditions had passed.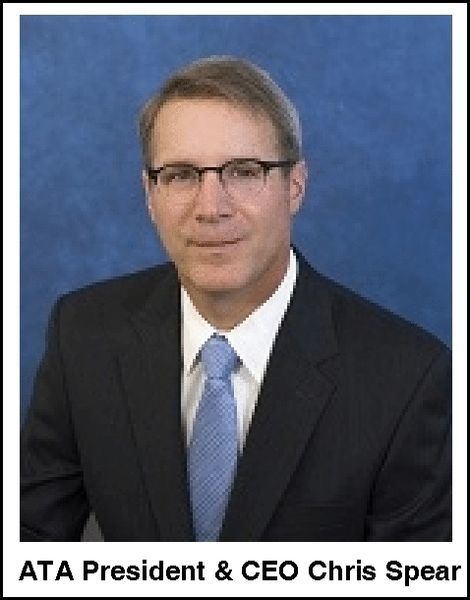 "If a car going the opposite direction veers out of control, crosses the median and crashes into a truck going 25mph below the speed limit and is brought to a controlled stop after the collision, you shouldn't have to pay $90 million for a tragedy your [truck] driver didn't cause!" Spear told the crowd.
"It's time to go on the offensive, tell our story to policymakers... and take the Hill."
Spear might also be having in mind a case currently in litigation that more perfectly illustrates the stranglehold that lawyers have on the trucking industry when a truck driver just happens to be on the road at the exact time that a driver loses control of his or her vehicle and swerves into the truck.
In this ongoing case, a North Dakota mother is suing a carrier for $10 million, claiming the truck driver and the trucking company are responsible for the deaths of her two children.
She has filed the lawsuit even though all investigations into the accident declared the truck driver innocent of any wrongdoing.
The crash occurred in March 2018 when Fargo, North Dakota, resident Trista Curry was driving her vehicle on icy Interstate 29 near Grand Forks. Because of icy conditions, Curry's vehicle spun out of control and slid into a Pan-O-Gold Baking Company truck being driven by Michael Soyring.
Soyring saw the out-of-control vehicle coming toward him and made a steering maneuver and braked to try to avoid the crash.
Curry lost her nine-year-old and one-year-old sons in the crash. Her three-year-old daughter survived with serious injuries, and Curry suffered broken ribs, a liver laceration and a fractured arm.
Soyring was not injured in the crash.
During the investigation into the collision, no charges were filed against either driver. Soyring was found to not be driving distracted, was driving safely for conditions, and his equipment was all in good working order.
Also, there was no evidence that Curry was driving distracted, and her children were all properly restrained. In the lawsuit documents, Curry is claiming that Soyring, "failed to exercise extreme cautions by driving too fast for weather conditions and not managing a reasonable following distance for traffic ahead of him, which resulted in him crashing his tractor trailer into Trista's car."
The lawsuit also alleges that Pan-O-Gold should have ordered Soyring to pull over because of the weather and poor driving conditions, and accused the company of negligence for allegedly not equipping the truck with safety equipment that would have prevented the collision or lessened the severity of the crash.
"If anyone in this convention hall thinks the plaintiffs' bar is going to give the trucking industry a free pass, think again. These 'nuclear' verdicts are strangling our industry," ATA's Spear said in his "State of the Industry" speech, referencing just this kind of egregious litigious behavior that is encouraged by greedy lawyers.
Suing trucking companies is a lucrative law firm specialty
Nothing in Spear's speech about tort reform for truck accident litigation indicated he wished to diminish the fact that there are many accidents where the truck driver is clearly at fault, and compensation is owed to the victims.
He is merely wanting to do something about the exorbitant judgments against trucking firms in general, and especially when the trucking companies are not found to be at fault. He also seeks reform about the law firms that pursue these kinds of accidents to litigate for huge dollar amounts.
One law firm, for example, which will remain nameless, that was selected at random from the first page of listings during an Internet search for "truck accident lawsuits," illustrates the eagerness with which law firms seek out victims of vehicle vs. truck collisions.
This law firm's online advertising blatantly states that truck accident settlements are often very large dollar amounts because of the insurance requirements for commercial carriers.
They warn their potential clients viewing their website that trucking companies employ "teams of attorneys," that put pressure on accident victims to either drop their lawsuits or settle for much less. But they say that experienced truck accident attorneys, such as themselves, know the ways that "difficult" insurance companies employ to "try and get out of paying for a victim's injury claims."
Even though these truck accident attorneys admit that the accident victims might not know who is responsible for causing the accident, they say they can name anybody and everybody as a defendant who might have had any role in the accident.
Potential defendants can include the truck driver and the company he or she drives for, the truck manufacturer, the insurance company, other drivers, and even the city or county government in whose jurisdiction the accident occurred.
Spear emphasized that actively lobbying legislators is critical for the continued growth of the trucking industry, and reducing large payouts for accidents through tort reform is one place to start.
"The U.S. trucking industry now spends more than $10 billion each year on safety... including technology, training and compliance -- all part of a concerted effort to save lives, not our bottom line. This, despite the fact that two-thirds of the accidents involving trucks are caused by passenger vehicles," he said in his speech.
Sources: CDLLife, ATA, CEO Spear's speech
Tagged Under:
Adverse Conditions
Dealing With The Weather
Trucking Accidents
Trucking Industry Concerns
Werner Enterprises