Carriers' virus response gets kudos at TCA virtual meeting
Last Updated: Sun, June 28, 2020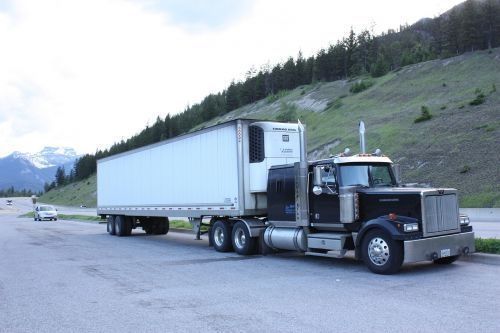 The loneliness of the long-distance trucker. One benefit of drivers' on-the-job social distancing, at least recently, is that truck drivers on average have a much lower rate of COVID-19 infection than the public as a whole.
Ironically, a truck driver's biggest defense against becoming infected during the COVID-19 virus threat is something that many drivers complain about while living on the road – often to the point of having to quit driving -- the self-quarantining and extreme social distancing that comes with the job … in other words, being lonely on the road.
Who would have thought that drivers being isolated for hours and even days at a time, and living in a 60-inch long box, and going days sometimes without other human contact would be earning the trucking industry praise for "doing a fantastic job" during the COVID-19 era.
That's the consensus of some during a discussion at the Truckload Carriers Association's June 23-25 Safety and Security Meeting – itself conducted "virtually" this year because of concerns about spiking virus infections.
As reported at HDT (Heavy Duty Trucking) online, Kim Beck, vice-president and sales executive with Cottingham & Butler, told virtual attendees, "We have seen a pretty low frequency of positive tests in the trucking industry. I think, for the most part, y'all are doing a really fantastic job getting in front of this and have from day one been very cautious about the risks you're exposing your drivers and employees to, and because of that, it's been less of an issue we thought at first."
According to HDT, some highlights of Beck's presentation include that:
Trucking companies were quick to equip drivers with hand sanitizers, facemasks and other personal protective equipment, as well as training on how to use them.
Drivers found it easily to self-isolate while on the road, as it was something they were already accustomed to.
Industry-wide, there are about two positive COVID-19 test results for every 1,000 employees -- well below the average for the general public.
Large carriers report minimal infections, with one carrier of 12,000 employees reporting only five, and another having 10,000 workers in a "hot spot" state reporting only nine positives.
"I think what that has shown us is, you guys are being overly cautious and doing all the right things in terms of protecting your drivers," Beck said, as reported in the HDT online report. "Your drivers are naturally every day social distancing in their trucks — self-isolating is part of what they've always done."
Trucking representatives shared with attendees their plans for returning to "normal" as lock-down orders are lifted.
Jessie Burnette, vice president of human resources for Hirshbach Motor Lines, said the company has returned about half of its workforce to the office, and plans to bring back three-quarters by the end of this month.
Returning employees get a "welcome back" kit with hand sanitizer, masks and gloves. Desks are situated six feet apart, with masks being worn anywhere employees might encounter each other in close quarters.
Visiting by non-employees is restricted, but when they must be allowed into the offices they must practice safe hygiene including "wiping down any area they've touched and washing their hands frequently," and temperature checks are taken throughout the day, HDT reported Burnette stated.
Hirshbach, like the others noted here, has so far found only a couple of drivers who tested positive for the virus.
Another possible threat looms post-virus
Cottingham's Beck told attendees that a surprising result of virus awareness and mitigation is that there has been a 40-percent drop in health plan use in recent months.
While that might sound like a good thing because companies are seeing "significant [cost] reductions" in health-care costs right now, Beck said, but what it really means is that drivers are putting off making necessary, and sometimes critical, visits to their doctors for treating such things as high blood pressure, pain, diabetes, and even cancer.
Prescription fill rates have dropped by 15 percent for some medications and, alarmingly, by 6 percent for medications related to cancer treatment. And, physicals are not being performed at all because of the lack of facilities where those services are performed, and because of the relaxing by FMCSA's emergency declaration of deadlines for renewing medical cards.
Among women drivers, their visits to services that perform breast cancer screening have dropped off by 94 percent.
"What happens 12 months from now, when people are not getting the care needed to manage the chronic conditions they have?" Beck asked, as reported by HDT. "We have to do everything we can now to mitigate the future risks in front of us for the people who haven't done the things they should have. We have to try to get everybody back on track. If we don't, I fear the aftermath will be devastating."
Hirschbach Motor Lines has adopted a program to encourage employees to stay with treatment programs and doctors' visits. Wellness coaches are assigned to drivers in its All In To Your Health program, and drivers will find their health care premiums increased for letting their health care slide.
FMCSA says they are looking into hair follicle testing
During last week's TCA meeting virtual attendees got to sit in on a "fireside chat" between the TCA and the FMCSA that centered around the agency's Drug and Alcohol Clearinghouse and specifically hair follicle testing.
FMCSA reported that currently some 24,000 drivers are reported to have tested positive for drugs or alcohol since the Clearinghouse began, which FMCSA Administrator Jim Mullen said is the point of the clearinghouse in preventing drivers who have failed drug or alcohol tests from not disclosing that during job applications.
When the discussion turned to hair follicle testing Mullen explained that because the Clearinghouse doesn't have a category for hair follicle testing the carriers that do perform the tests can't report positive results to the Clearinghouse.
Besides being significantly cheaper to administer, hair follicle tests can get positives on some narcotics for up to 90 days, compared to only two to three days for the urine tests.
Several trucking organizations like the American Trucking Associations and the Trucking Alliance; which represents some of the largest carriers like Knight-Swift Transportation, J.B. Hunt, Maverick Transportation, and U.S. Xpress, among others, have been advocating for stepping up testing with hair follicle tests.
Mullen advised that the FMCSA is looking into including that into the Clearinghouse.
Tagged Under:
Adverse Conditions
CDL Pre-Hire
Drug and Alcohol Testing
FMCSA
Health Concerns
JB Hunt
Knight Transport
Life On The Road
Maverick Transport
Medical Certification
Swift Transport
US Xpress Transport