2020 closes with probably one of the most bizarre truck crash lawsuits ever
Last Updated: Thu, December 31, 2020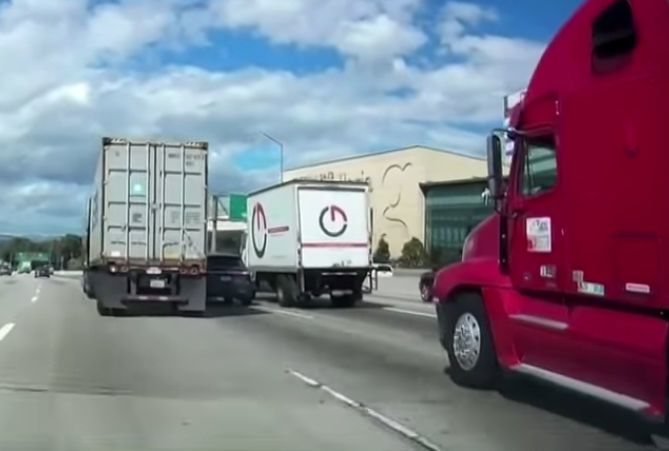 YouTube footage of a truck moving from the center lane squeezing out a passenger vehicle. (Not the accident in the article)
This is a truck vs. car accident case that lasted for years in the courts that defies understanding, much less the ability to explain, but we'll do our best because the bizarre nature of the story is worth it.
In short, the case involved:
A crash between a truck and a passenger vehicle
The carrier admitting liability for the crash
The victim winning a $1 million verdict
The award being reduced to $250,000 on appeal by the carrier
The victim turning down that award in favor of a new trial
The victim in the new trial asking to settle for $0
The judge in that new trial granting him his $0 request
The victim appealing that order
In the appeal, the judge ruling the victim owed the carrier $3,000 for costs
The victim appealing the $0 award and $3,000 damages
And the Seventh Circuit Court of Appeals upholding the $0 award and damages saying basically he got what he asked for.
According to the Land Line articles that followed this bizarre course of events the accident occurred on May 17, 2012, on Interstate 94 in Indiana when a Red River Supply semi truck rig changed lanes suddenly, colliding with a Dodge Caravan driven by Richard Spinnenweber.
Spinnenweber sustained some injuries in the crash, but according to court documents, he did not seek medical treatment at the time, and he "continued on his road trip to a go-kart event, where he slept in his van for three nights before driving back to his home approximately 1,000 miles away."
Court documents also state that Spinnenweber did have medical bills later on for whiplash and a possible minor concussion he sustained in the crash.
Then in February 2014 Spinnenweber sued Red River Supply. Because the carrier admitted liability the trial was only to determine causation and damages.
But, according to the Land Line article, the victim only asked for compensation for his relatively minor physical injuries, and sought no compensation for medical expenses, lost wages, punitive damages or mental/emotional damages.
After years of court filings back and forth, finally at the end of a two-day trial in December 2018, the jury awarded Spinnenweber $1 million against the Red River Supply.
In filing its motion for a new trial in January 2019 claiming that the $1 million award was "grossly excessive," Red River Supply argued that not only did the medical evidence not support such a large award but that the jury was swayed by Spinnenweber's attorney's plea to them to send a "message to trucking companies."
Court documents, as related in the Land Line article, quoted Spinnenweber's attorney saying in his closing arguments that they need to deter such bad conduct by trucking companies "because money speaks volumes to these companies."
Then in June 2019, in explaining his granting of a new trial a District Court judge ruled the $1 million award excessive and gave Spinnenweber two options: Either accept a reduced amount of $250,000 or go for the new trial.
The judge gave Spinnenweber one month to make his decision, and then Spinnenweber decided for the new trial.
And this is when the story becomes really bizarre
During this new trial, a bench trial which took place on March 9 of this year, Spinnenweber decided to represent himself.
According to the court documents as quoted in the Land Line article, Spinnenweber decided against asking for any damages at all, instead seeking merely a "symbolic verdict."
He asked the court to allow for a moment of silence in place of an award. All he wanted was a zero verdict, a $0 award.
Spinnenweber provided no witnesses, refused to testify on his behalf, and the judge had no choice but to grant the $0 award. So, Spinnenweber's fortunes, over time went from a $1 million award, to a $250,000 award to a zero-dollar award.
Then it got worse
Spinnenweber appealed the $0 award ruling on April 1, and on May 6 the district court judge not only denied Spinnenweber's appeal but ordered him to pay Red River Supply almost $3,000 in costs.
Spinnenweber then took his appeal to the Seventh Circuit Court of Appeals; which is one level below the U.S. Supreme Court.
Which brings us to very recently, when on December 18 the Court of Appeals denied Spinnenweber's appeal stating that there was no medical evidence of injuries supporting the original $1 million award.
And the Court of Appeals concluded, "We recognize that the result of our decision is that Spinnenweber gets no money on a claim for which (Red River Supply) conceded liability and indisputably owed him something – in the district court's eyes, as much as $250,000."
"But Spinnenweber was hoisted with his own petard. He did not have to seek $0 in his second trial, and we can't change that he did."
Tagged Under:
Trucking Accidents