Smog checks in the future for California truck drivers
Last Updated: Mon, September 23, 2019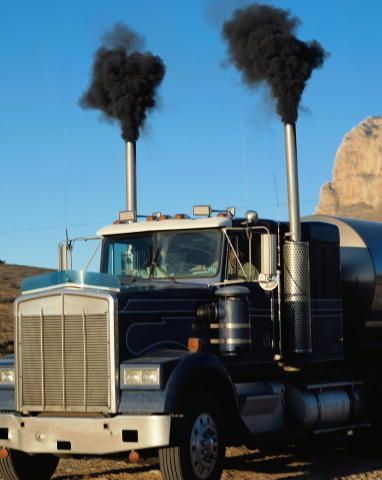 As if California truckers didn't have enough to worry about with the signing of the independent contractors law by Governor Gavin Newsom on Wednesday, a proposed new law that mostly flew under the radar got signed into effect by him on Friday that requires smog testing on heavy-duty diesel trucks.
The law, emanating from California Senate Bill 210 titled "Clean Trucks, Clean Air," once it is fully implemented will force anyone driving a diesel vehicle over 14,000 pounds in California to undergo a smog check and receive a smog certificate or risk being fined by law enforcement.
California is the first state in the nation to enact mandatory smog checks on big rig vehicles.
The bill's author, State Senator Connie Leyva, D-Chino said, "Just as car owners have to get their own personal cars smog checked every two years, so too should truck operators be required to maintain their emissions controls so that we can ensure long-lasting air quality improvements here in California," as reported in Courthouse News Service online.
Critics of the smog-check law say that there will be financial implications for trucking companies of all sizes. Smaller owner-operators can see their older, paid-for equipment being forced off the road without expensive upgrades, or they will be forced into debt to buy new rigs – or worse, bankruptcy.
Large carriers could similarly face having to make expensive changes, but the financial impact would be compounded by the large number of vehicles in their fleets.
The bill caps the smog-check fee at $30 per vehicle, but there will also be a financial burden on fleets to accommodate testing and regulation compliance.
Farm-related vehicles in particular don't see how compliance will be anything but extremely burdensome, citing the likelihood that testing facilities will be out of range of their agriculture-only licensed equipment that are only licensed for short distances on local roads.
"Driving special equipment plated trucks to facilities to test that their emissions equipment is property functioning would be in violation of their license and registration," the California Farm Bureau Federation wrote in an opposition letter. "For trucks located in rural areas, they may use up to 25 percent of their annual miles driving to the nearest testing facility."
The California Air Resources Board reports that once the law is fully implemented it could have the effect of eliminating the emissions of 145,000 trucks.
During the signing of the smog-check bill, Governor Newsom also signed a companion bill requiring the air resources board to begin studying to adopt stricter air standards by 2030 and further stricter standards by 2050.
Also on Friday the Democrat Governor issued an executive order pushing state agencies to divest from oil and gas investments and favor cleaner technologies instead. For example, managers of California's $700-billion pension investment portfolio must work with Newsom's administration on divestment.
Newsom made it very clear that these recent moves are an answer to what he calls President Donald Trump's inaction regarding climate change. As the Trump administration ramps down on climate change regulation, the California governor aims to beef up climate change restrictions.
"In the face of the White House's inaction on climate change, California is stepping up and leading the way," said Newsom, as reported on Courthouse News Service online. "Our state is proof that you can reach some of the strongest climate goals in the world while also achieving record economic growth."
On Friday, also, California joined a number of other states in suing the Federal government, asking a judge to block proposed Federal rule changes that would revoke California's establishment of its own fuel efficiency standards.
Governor Newsom signs independent contractor/employee bill
Ending a much-watched and controversial period of uncertainty over California State Legislature's review of independent contractor versus employee status Governor Gavin Newsom signed AB-5 into law during a private ceremony in his office on Wednesday, September 18.
The new law is titled "Worker status: employees and independent contractors," and it will take effect on January 1. As it applies to the trucking industry it will require California carriers to meet a three-pronged test for qualifying drivers as employees rather than independent contractors.
Opponents to the bill say that the middle prong, that no driver can be classified as an independent contractor while driving for a carrier who is also in the business of hauling freight, will be impossible to meet, and will severely impact independent contractors and owner-operators in California.
The law will give jurisdictions the ability to file suit against companies they believe violate the requirements for independent contractor status.
During deliberations over the State Assembly bill, lobbyists from a number of job fields managed to wrest exemptions to the new law, including doctors, accountants, architects, real estate agents, travel agents, graphic designers, barbers, cosmetologists, some sales people and investment advisors.
Notably absent from any list of exemptions are workers in the ride-share industry such as Uber drivers, and freight-hauling industries representing hundreds if not thousands of carriers who use independent contractor drivers.
Three prominent ride-share companies – Uber, Lyft and Door Dash – have announced a $90 million campaign to get the issue before voters in 2020 as a ballot measure.
Sources: Courthouse News Service, LA Times
Tagged Under:
Owner Operator
Trucking Industry Concerns
Trucking News
Understanding The Laws