Carriers, others, honor drivers during National Truck Driver Appreciation Week
Last Updated: Sun, September 13, 2020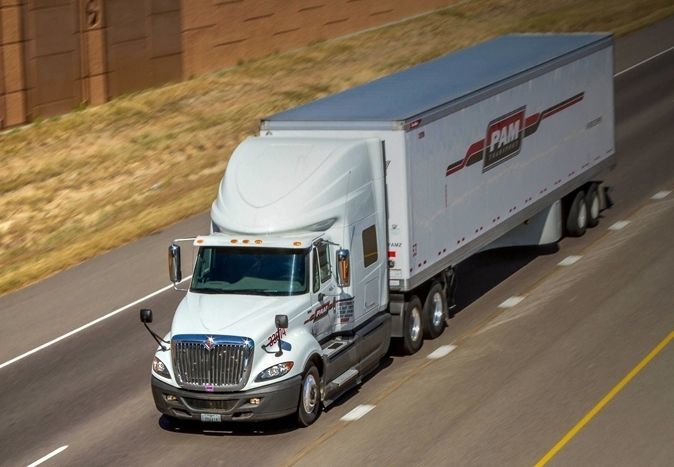 As part of its celebration of truck drivers during the 2020 National Truck Driver Week the American Trucking Associations has teamed up with Peterson Manufacturing to award 10 professional truck drivers $1,000 each for hardships they have undergone during the virus pandemic.
Truck Driver Appreciation Week runs from September 13 through September 19, and the ATA and Peterson will announce the awardees on September 20.
There is no deadline date listed for nominees for the award, so persons interested in nominating a truck driver, or someone interested in telling their own story, may still be on time to fill out the nomination form at the Shining a Light On America's Truck Drivers submission page.
The sponsors are interested in hearing compelling stories that could include but are not limited to financial, medical, social, or emotion hardships and/or challenges since the pandemic has begun.
A panel of judges will review the nominations, and the awardees will be notified individually.
"For nearly six challenging months, drivers have kept the store shelves stocked, hospitals operating, and the economy moving," said Elisabeth Barna, ATA executive vice president of industry affairs, in an ATA news release.
"While most of us stayed home, they got to work, and demonstrated why they are truly our highway heroes. We are forever beholden to them and their families for how they have delivered for us during our moment of need."
This combined initiative with the ATA is part of Peterson Manufacturing's own campaign to celebrate truck drivers; which they want to highlight and honor "the crucial role truck drivers have played during the COVID-19 pandemic."
Al Anderson, vice president of sales, Peterson Manufacturing, said, "We are indebted to the service and sacrifice of these national highway heroes, and proud that we are able to support them through their own difficult times.
"Hearing the stories and hardships of these incredible men and women leaves us no choice other than to give back however we can, lessen some of their burden, the way they have relieved ours."
ATA and Peterson recognize that throughout the pandemic truck drivers kept going despite the possibility of their own health risks because they knew that America's economy depended on them keeping freight moving.
"The untold stories of these heroes are deserving of recognition, praise and reward," the ATA news release expressed.
"ATA is grateful for Peterson Manufacturing's generous contribution, which has made it possible for us to give back to the remarkable individuals who need it most, and we thank America's 3.5 million professional truck drivers, who have once again proven that they are an indispensable part of our country," Barna concluded.
Carriers and others plan events and prizes for truck drivers
Trucking companies and others involved in the trucking industry have planned events and prizes for truck drivers in celebration of National Truck Driver Appreciation Week.
Here are just a few examples of some of the activities and prizes planned:
PAM Transport will enter all active drivers into drawings for a large number of prizes that were donated by Driver Solutions, including $500 Amazon gift cards for 5 drivers, a Beats by Dre Solo Pre Wireless Headphones, a Fire HD 10 tablet, a 32-inch Smart HD Toshiba television, a JBL Charge 4 wireless Bluetooth speaker, and a YETI Hopper Flip Portable cooler.
Schneider Transportation's offering to their truck drivers include them being entered into drawings for such prizes as iPads, heated lunch boxes, deluxe truck organizers, Bluetooth speakers, and certificates for Loyalty Points to the company store.

The carrier's Driver Appreciation Days run from September 15 through September 17. In addition to the prizes, and in view of virus restrictions, Schneider plans to adjust its annual event to meet safety protocols and social distancing requirements. Drivers will be able to participate through social media chats and other live events; the company app for exclusive Schneider Buzz videos, fleet messages and content; finding gifts waiting for them at Schneider facilities, and perks and Pilot Points from the Pilot app.

Five Averitt Express over-the-road drivers picked from a drawing will find themselves seated into brand-new Freightliner trucks as part of the carrier's Driver Appreciation Week celebration.

Averitt also plans events during the week including meals and daily prize drawings for CB radios, wireless headsets, GPS units, gift cards, televisions, tablets, iPads and more.

Shell Rotella will honor truck drivers with giveaways and promotions during National Truck Driver Appreciation Week at select LubeZone Truck Lube Centers and Pilot Flying J Truck Care Service Centers from September 17 through September 20.

Thank you packages will include to-go coffee mugs, flashlights and pull-top backpacks. Shell Rotella encourages drivers to find the participating locations by clicking on the above links.

The Nevada Trucking Association will be at the Truckee Scales, Truckee, California, to deliver gifts to drivers traveling through the state during the Annual Truck Driver Appreciation Day segment of the National Truck Driver Appreciation Week. The trucking association says it wants to thank the 51,860 professional truck drivers who come from the state of Nevada.
Excel Courier will show appreciation for their drivers by hosting daily raffles, prizes and other giveaways.

According to Chris Marchetti, Excel Courier's CEO said, "I believe every day of every week of every month should be the time to show driver appreciation. If they weren't out there people wouldn't be getting their important deliveries taken care of. There would be no medicine, no lab samples, and no auto parts getting to the folks that need them…just to mention some of the important things we bring to people."
Sources: PRNewsWire, Yahoo, The Trucker, FreightWaves, KTNV
Tagged Under:
Averitt Express
Coronavirus
PAM Transport
Schneider National