Trucker 'drones on' with unique approach to teaching driving skills
Last Updated: Sun, July 14, 2019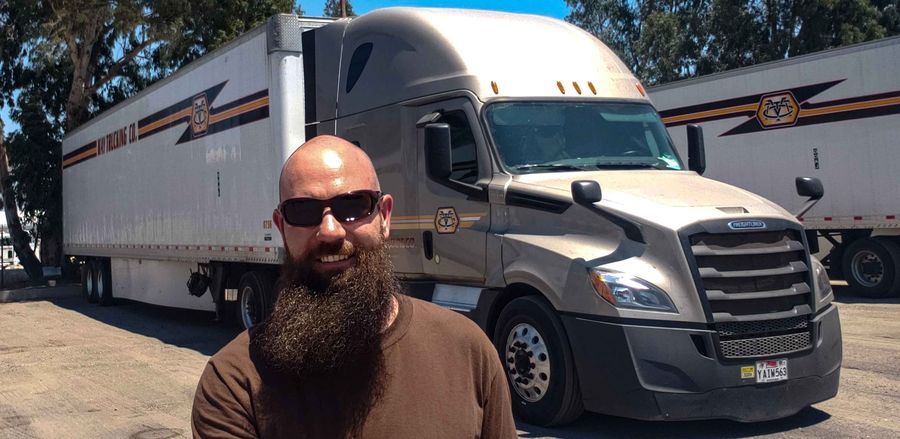 We all know that for learning truck driving skills nothing beats being behind the steering wheel with a qualified instructor sitting in the passenger seat.
And while there are a number of YouTube videos offering instruction as a second-best choice, none have the thoroughness and realism of those produced by YouTuber David Crowley of My Trucking Skills. He has taken his instructional technique to a higher level – literally.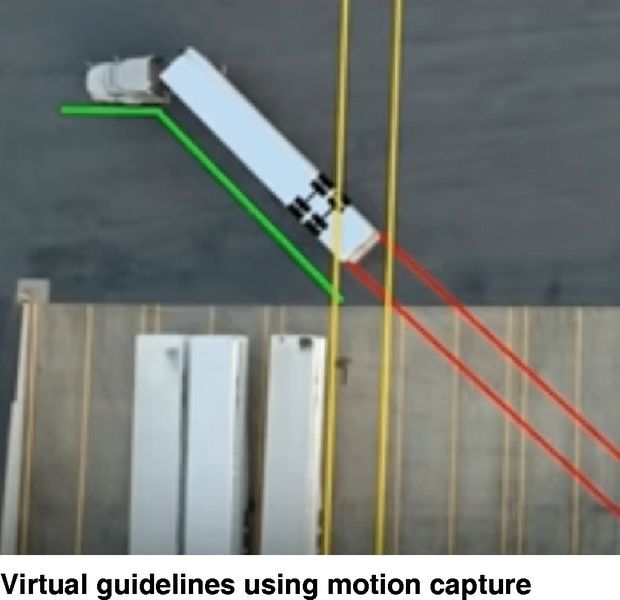 David's unique contribution to the YouTube instructional video genre is he gives his viewers a drone's-eye view of every maneuver he makes with his truck and trailer. See one of his recent videos below.
And what especially sets his instruction videos apart from any others is his use of added colored guide lines in those drone views showing his trailer's direction of movement, as well as virtual guide lines "extending" out onto the pavement from the parking spots.
Those, combined with the several cameras he has mounted showing every conceivable view, all but puts the viewer in the driver's seat.
A native of Ireland
David, a native of Ireland, currently drives local for May Trucking Company around the Southern California area. He got his start in 2003 driving for Gordon Trucking Inc., of Pacific, Washington, on their long-haul fleet, and then moved to heavy haul throughout Oregon, Washington and Idaho. GTI sold to Heartland Express in 2013, and no longer operates as Gordon Trucking.
In 2008 he signed up with May driving local around Portland, Oregon, and then later began running the 48 states.
He very recently transferred to Southern California, where he continues running local with May.
He says that during his time with May he has trained more than 120 drivers.
"As I trained new drivers I realized that trucking schools left something to be desired. They were only teaching the bare minimum for drivers to pass their CDL, and not teaching them about real life situations," David said in an exclusive interview with Trucking Truth.
"I also saw that one of the biggest problems for new drivers is lack of teaching ability from trainers. Trainers often give very little instruction, and sometimes get lazy --probably due to lack of accountability -- and I wanted to fill in some of the gaps of knowledge."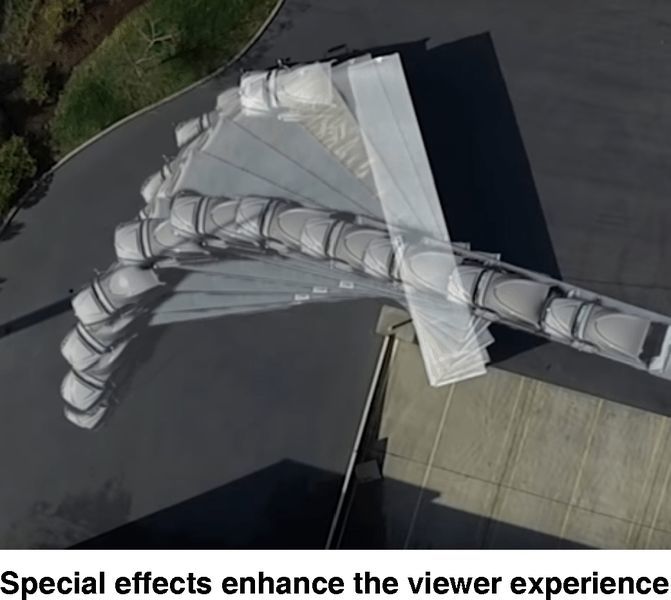 Viewers of his My Trucking Skills videos will notice that unlike many of the other truck-driving instructional videos that are available David mostly concentrates on one particular aspect of a truck driver's day – namely backing … into docks, into tight parking spots, at truck stops – which he believes is what puts the most fear into a new driver.
"That is where I see many drivers struggling the most because it is the hardest part for most people," he says. "I also tend to focus on different backs because many of my subscribers ask for different types of backing. I think it is one of the biggest areas that drivers lack confidence in."
My Trucking Skills has almost 15,000 subscribers. And, of the 83 videos David has produced so far since starting just two years ago the vast majority of them are for teaching backing skills.
David said he is planning to expand his teaching repertoire into other "obstacles in truck driving" encountered by new drivers, and is planning videos to focus on those other areas in the future.
That's actually part of his long-term goal to do less driving and more video producing.
"I wanted to become a video editor and was looking for an excuse to change careers. I saw an opportunity to use all of my trucking and teaching knowledge, while educating myself on video editing," he said.
That's the short version. In his own words, David further elaborates on his blending of truck driving, teaching, and producing videos:
When I was younger, I did have an interest in multimedia and design, but I do not have a background in communications or video editing. I started watching tutorials on video editing. Then I joined an educational website that had more professional tutorials, and taught myself all the skills you see.

I found that I do have an aptitude for this type of work. I feel like I have unique skills and that nobody can do the same things that I am able to do.

Training, trucking, passion for helping others on a large-scale and video editing don't have a large cross-section. I feel like I have found my purpose in helping new drivers.

In the short-term, I plan on starting my website, which will have a low-cost membership program where drivers can access valuable information that will help them keep their careers. It will be like my YouTube videos on steroids (more content and more professional).

In the long-term, I want to help the trucking industry, and make some much-needed changes, especially as pertains to the safety and retention of new drivers. I want to pass my knowledge on so that drivers don't have to make the same mistakes that I did.
How David creates these unique videos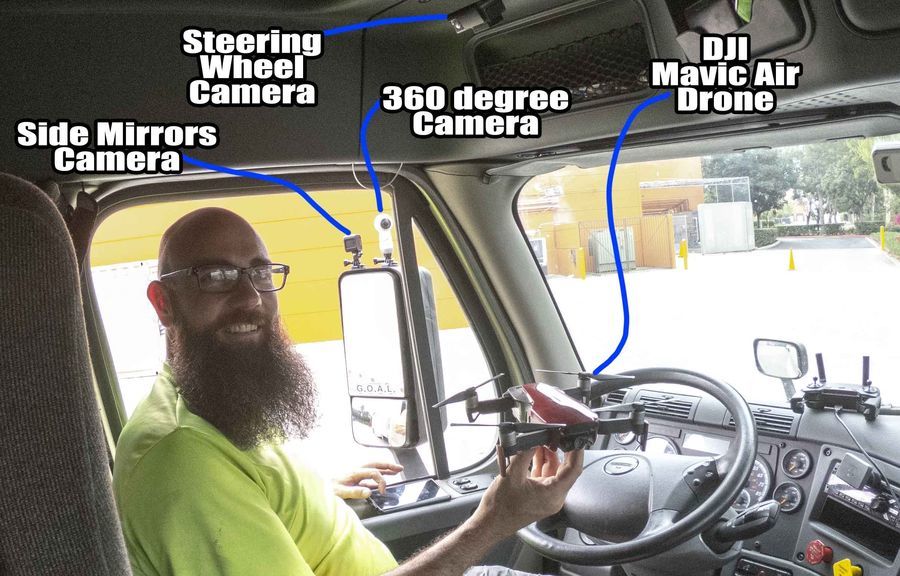 Because his teaching videos are so well done we were curious how he went about creating them, especially his use of the drone, and how he finds the time to do so much teaching and extensive editing.
"As a local driver, I do a lot of sitting at docks waiting to get loaded and unloaded. While most drivers are on their phones, or watching television or Youtube, I have my laptop with me doing video editing or making videos. I sometimes stay in my truck after my shift and get work done while waiting for traffic to clear."
David explained that for each video he:
Finds the time and the place to record. There are a lot of rules when flying a drone. You have to be more than five miles away from an airport.
Makes sure all the batteries are charged on all devices. Connects all cameras.
Gets the drone around 350 feet in the air, and positions it where he wants it.
Presses record on at least five cameras.
Backs up into as many spaces as he can before the drone runs out of battery.
Lands the drone and turns off all the cameras.
David said he got the idea for the drone while thinking about how to give his viewers a better grasp on what is happening. He says that all the other views are important too, especially the camera pointing at the steering wheel, and the camera mounted to record the steer tires.
But the drone gives students a "holistic view," he says, because it is difficult to show new drivers the whole picture of what is happening just using grounded cameras.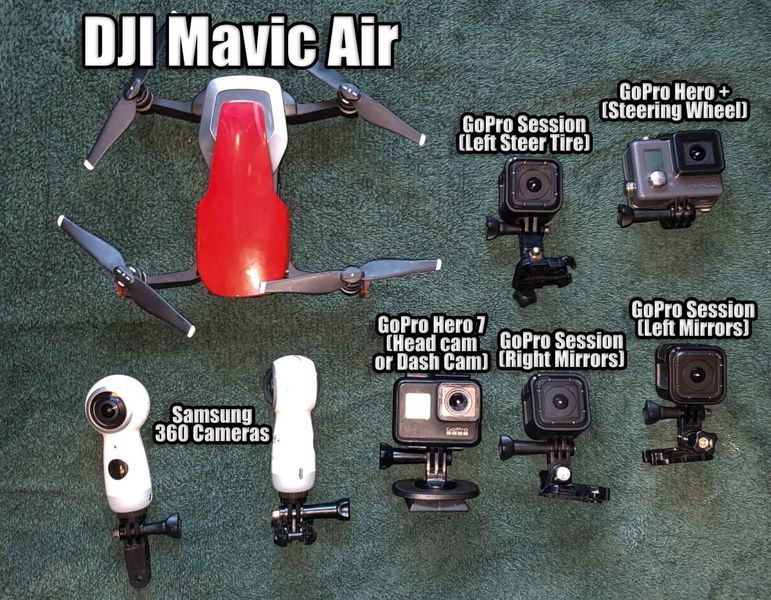 He said the drone, currently a DJI Mavic Air, definitely presented a learning curve, but that he hasn't crashed one yet. "I never do anything technical or difficult. All I have to do is throw it up in the air and, the GPS keeps it in the same place. There is no need to maneuver the drone while I am driving."
Although the GPS does attempt to keep the drone in place, wind sometimes moves it around a bit, so the video is often not perfectly still. David will take the footage and stabilize it using video editing software so it looks perfect.
His video editing workflow involves the following steps:
Uploading around 60 gigs of footage to his laptop.
Stabilizing the drone footage using Adobe After Effects.
Syncing all the videos, using Premiere Pro, making sure that they play at the same time.
Cutting clips and editing them into their appropriate places in the video.
Doing a screen recording, and then cutting that, and then saving into YouTube.
To make the virtual guide lines in the videos he uses motion-capture software that tracks little black dots that he has placed on the top of the trailer. The software slaves the lines to the dots, even as the truck and trailer are moving.
Viewer response
Here is just a small sample of the generally very positive responses in the comments to David's videos:
Great video I've been watching all of your videos a lot my test is coming up in a few weeks you're vids have been a big help keep up the great work
Thank you for your videos. I"m 100% new to the industry and your videos are the next best thing to real-world practice. Plus, you make that practice more valuable since I have a better idea of what I'm looking for. I greatly appreciate the wide variety of backing videos you do as well. I have two suggestions I'd like to see if you don't mind. 1) a "Behind the scenes" video. What cameras do you use? How do you control your drone?
Awesome! I struggle sometimes to get my trailer pointed in the right direction...I sometimes think I have more space than I actually do! Your videos have helped me a bunch!!
WOW.. This is Perfect and amazing, you are a blessing and and a sent Mercy from God to help us with a beautiful and magical way, this video is like a dream coming true for me, please keep this format or similar to it in future video
Advice for drivers
Throughout his video teaching sessions David emphasizes over and over what we have all heard thousands of times – Get Out And Look.
And he also emphasizes to always prepare your route "regardless of how experienced you are." He suggests using Google Maps to scope out the customer before arriving at a destination in order to know how to get in and out again. He recommends scoping out where turns need to be made.
"Know what the right and left-hand turns look like before making them with a 75' long truck using Google Maps; not every turn is equal," he says.
Sources: YouTube, My Trucking Skills
Tagged Under:
Advice For New Truck Drivers
Cameras
Gordon Trucking
May Trucking
Tips For Backing
Tips for Parking
Truck Driver Training
Truck Stops