Research group recommends a national autonomous truck policy
Last Updated: Tue, January 14, 2020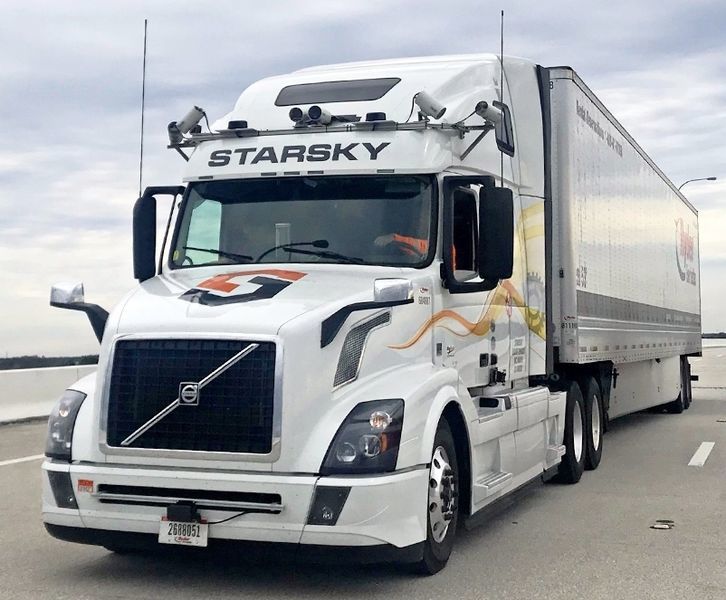 So far, 35 states have some form of a policy regarding testing of autonomous vehicles on their highways. And some 50 cities have seen pilot tests of autonomous vehicles on their roads, or are planning to allow testing in the near future.
But following the results of research on autonomous vehicles by the American Transportation Research Institute, autonomous semi truck innovators are hoping that Congress will step up and propose legislation tying separate state and local AV regulations into one national policy.
In its 54-page PDF document released January 13 titled "Redefining the Role of Government Activities in Automated Trucking," the ATRI concluded that "the potential safety and economic benefits for adopting AV and cooperative operation technologies in the trucking industry are substantial."
ATRI, which is based in Arlington, Virginia, noted, however, that what has emerged from federal and state policy makers' attempts to keep pace with AV development is a "fragmented and incomplete ecosystem for developing, testing, and deploying these technologies."
According to an ATRI news release, states have attempted to create a policy framework for testing autonomous trucks but the lack of a cohesive national policy might be delaying the adoption of AV technologies for the trucking industry, that "ultimately impede the creation of a seamless and standardized autonomous truck network."
For example, autonomous truck innovators emphasize Level 4 capabilities of their trucks although current regulations are not at the fully autonomous level yet, and still require a driver in the vehicle available to take over at any time and an engineer in the cab to monitor the onboard telematics – thereby skewing the real-world capabilities of their autonomous trucks.
"The pace of technology development in the autonomous truck sphere is moving at lightning speed," Jeff Reed, Skyline Transportation President and chair of the ATA Automated Truck Subcommittee in the news release.
"Our industry needs states to collaborate on seamless policies and regulations, and we need more proactive federal guidance on AT development. Government activities at all levels must be dynamic enough to address the constantly evolving technology landscape."
The ATRI analysis found that because AV innovators must navigate around a plethora of state regulations in deploying their testing of autonomous big rig trucks, they have difficulty in developing platforms that work once crossing all state lines.
This becomes especially important concerning a close cousin of autonomous truck technology called truck platooning, where the benefits of close-in convoying can only be had with the technology made available by AV telematics.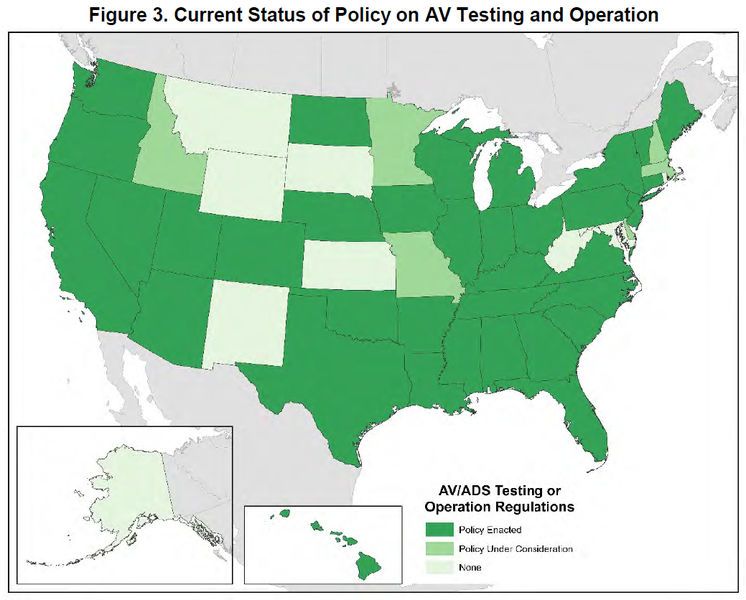 ATRI analysts also concluded that providing a standardized framework across state lines with a national policy would help law enforcement officers as they perform vehicle inspections.
Also, recognizing that there is very like to be pushback from the public regarding the idea of 80,000-pound behemoths plying America's roadways without having a driver at the wheel, ATRI notes that a national policy would "strengthen public confidence in these emerging technologies."
One concern noted in the ATRI study is that state and federal agencies "need to prepare for the implications of interactions between drivers and AVs."
ATRI notes the characteristic of autonomous vehicles to follow the "letter of the law" while human drivers do not.
For example, they have found an increase in accidents when drivers following autonomous vehicles rear-end AVs at stop signs because the AV comes to a complete stop.
ATRI recommends "consideration should be given when programming autonomous vehicles with regards to traffic laws versus what drivers consider standard driving behavior, including speed and yellow light interpretation."
"AV 4.0 brings all of the important work happening on automated vehicle technologies across the federal government under one unified approach. The federal principles released today help foster an environment for innovators to advance safe AV technologies, and put the U.S. in a position of continued leadership in the future of transportation," said U.S. Chief Technology Officer Michael Kratsios in a DOT news release.
The ATRI report recommends comprehensive Federal legislation formulating policies across a myriad of Federal agencies, including:
U.S. Department of Transportation
National Highway Traffic Safety Administration
Federal Motor Carrier Safety Administration
Federal Highway Administration
DOT announces a new set of AV guidelines
Just a few days before the ATRI report was released the U.S. Department of Transportation announced version 4.0 of its new AV guidelines titled "Ensuring American Leadership in Automated Vehicle Technologies."
The announcement was made by Secretary of Transportation Elaine Chao at the January 8 session of CES 2020 in Las Vegas, where she emphasized that autonomous technology can range from lane-departure warning systems to automated brakes and to adaptive cruise control all the way to platooning systems and fully automated big rigs.
As the DOT formulates the new guidelines it will be looking toward prioritizing safety and security, promoting innovation and ensuring a consistent regulatory approach, Chao said.
The new AV 4.0 guidelines will be published in the Federal Register, and a comment period will be opened for discussion.
Sources: Transport Topics, ATRI News Release, DOT news release, Transport Topics
Tagged Under:
Autonomous Trucks
DOT
FMCSA
Trucking News